A Taste Of Home: Chef Ng Tzer Tzun On His Favourite Places To Eat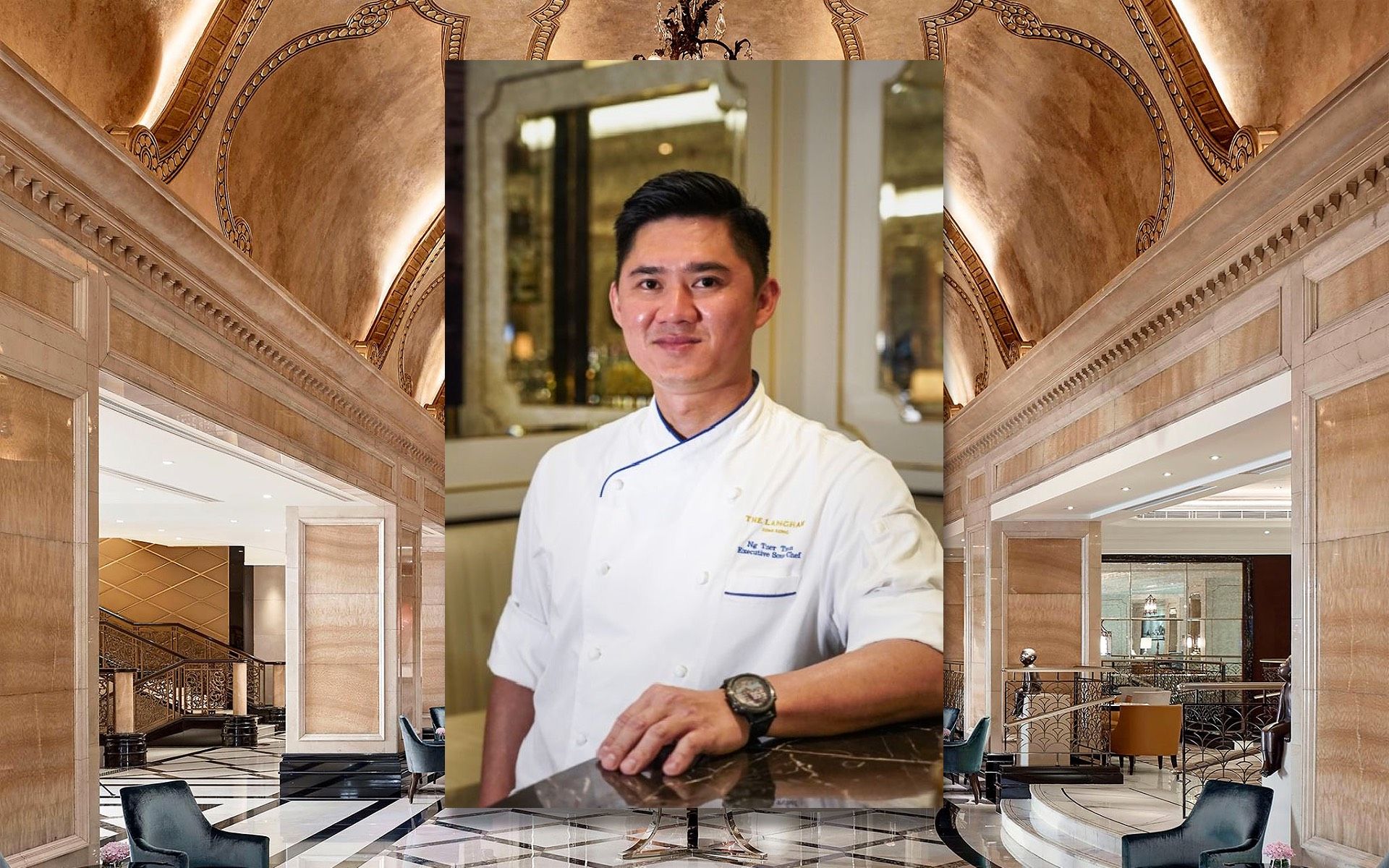 As The Langham, Hong Kong introduces a menu of Malaysian and Singaporean hawker delights, the hotel's new executive sous chef Ng Tzer Tzun discusses his favourite flavours from his hometown of Kedah
Diners can now enjoy an enhanced taste of Malaysian and Singapore hawker delights courtesy of the new executive sous chef at The Langham, Hong Kong. Hailing from Malaysia and bringing with him seven years of experience garnered working in Singapore and the Philippines, chef Ng Tzer Tzun has introduced a new menu at the hotel's Palm Court restaurant that is bursting with comforting classics from both Malaysia and Singapore.
Highlights include his wagyu beef rendang with nasi lemak, which he says delivers a "more tender and quality taste" courtesy of the carefully selected wagyu beef, while his lobster laksa is an elevated version of the classic noodle dish featuring rice vermicelli, prawns, tofu puffs, bean sprouts, fish cake and hardboiled egg alongside meaty Boston lobster in a spicy coconut milk broth. He also spotlights his seasonal fruit rojak starter made from cucumber, sweet turnip, pineapple, fried bean curd and green mango tossed with a specially made chilli paste.
These are just some of the dishes that encapsulate familiar flavours for Ng, who is originally from Kedah in northwestern Malaysia, which not only shares a border with Thailand but also boasts an extensive coastline. It was early 2020 that Ng was last in his hometown, visiting his mother, who was his original inspiration for his culinary journey, and setting up a small bakery in the state. Reminiscing about flavours from Kedah, Ng highlights some of his favourite culinary haunts.
Related: A Taste Of Home: Peter Cuong Franklin Shares His Favourite Places To Eat In Hong Kong
What food and drinks do you miss the most when you're away from Malaysia?
The food I miss the most is my mother's cooking. She is very good at cooking and you can go a month without her repeating the same dishes. My mother inspired me to pursue a professional career in the culinary arts. My favourite dish of hers is vinegar pork leg, which is best enjoyed with rice—I can always eat three whole bowls whenever she prepares this dish.
What is the first dish you eat when you return to Malaysia?
Gan lao mian, a type of dry noodles, is the first dish I eat whenever I return to Kedah in North-West Malaysia. There are different kinds of noodles in Malaysia, however my favourite is specific to Kedah, whereby the noodles are served with shredded chicken, sliced garlic, chilli, and mixed sauces and spices.
Related: A Taste of Home: Chef Aven Lau of Bâtard On His Favourite Places to Eat
What are your favourite Malaysian restaurants for casual dining and special occasions?
For something casual, I adore ikan bakar (charcoal-grilled fish), which has a 70-year history in Kedah. The locals use fresh fish caught off the coast, and grill it with chilli sambal, which gives it a truly authentic flavour.
For fine dining, The Legend Nyonya House in Penang is top of my list. This restaurant offers excellent traditional Nyonya cuisine with unbeatable service in an exquisite building. The food is always presented beautifully, too, which I consider important.
Related: First Look: Whey, Chef Barry Quek's New Central Restaurant Dedicated To The Flavours Of Singapore
If you have guests with you, where do you go to give them a real taste of Malaysia?
Any local hawker stall; there are around 20 to 30 in my hometown. You can always talk to the stall owners, who are happy to share their cooking experiences. I have learnt a lot about cooking and life from chatting with these veterans, and have become friends with many of them.
Where do you like to meet up with old friends for food and drinks?
Malaysian people love gatherings and are very attached to family and friends. I own a small private snooker club with my best friends from primary school. We often gather for drinks, homemade snacks and snooker whenever I'm in Malaysia.
Is there anything you always take with you when you leave Malaysia?
Malaysian coffee that has been roasted by hand and never by machine, so you can enjoy its organic taste. A cup of black coffee made with these beans is my favourite comfort drink.
What else is not to be missed when you are back in Malaysia?
Whenever I am back home, I go hiking. There are various scenic trails in Malaysia that are more advanced—some even require climbing, which I really enjoy. I love bonding with nature and enjoying the fresh air.
Where do you go to find authentic flavours of home in Hong Kong?
Hong Kong is an international city where you can find all kinds of ingredients and spices imported from Malaysia. When I have the time, I cook my mother's dishes, which I learned when I was young.
I also love going to Hong Kong's Sai Kung District, as it resembles my hometown of Kedah with its coastline, fresh seafood and amazing natural views.
Related: Neighbourhood Guide: Where To Eat, Drink And Shop in Sai Kung