At Krug Room, Evan Chow's Childhood Memories Are Crafted Into Haute Cuisine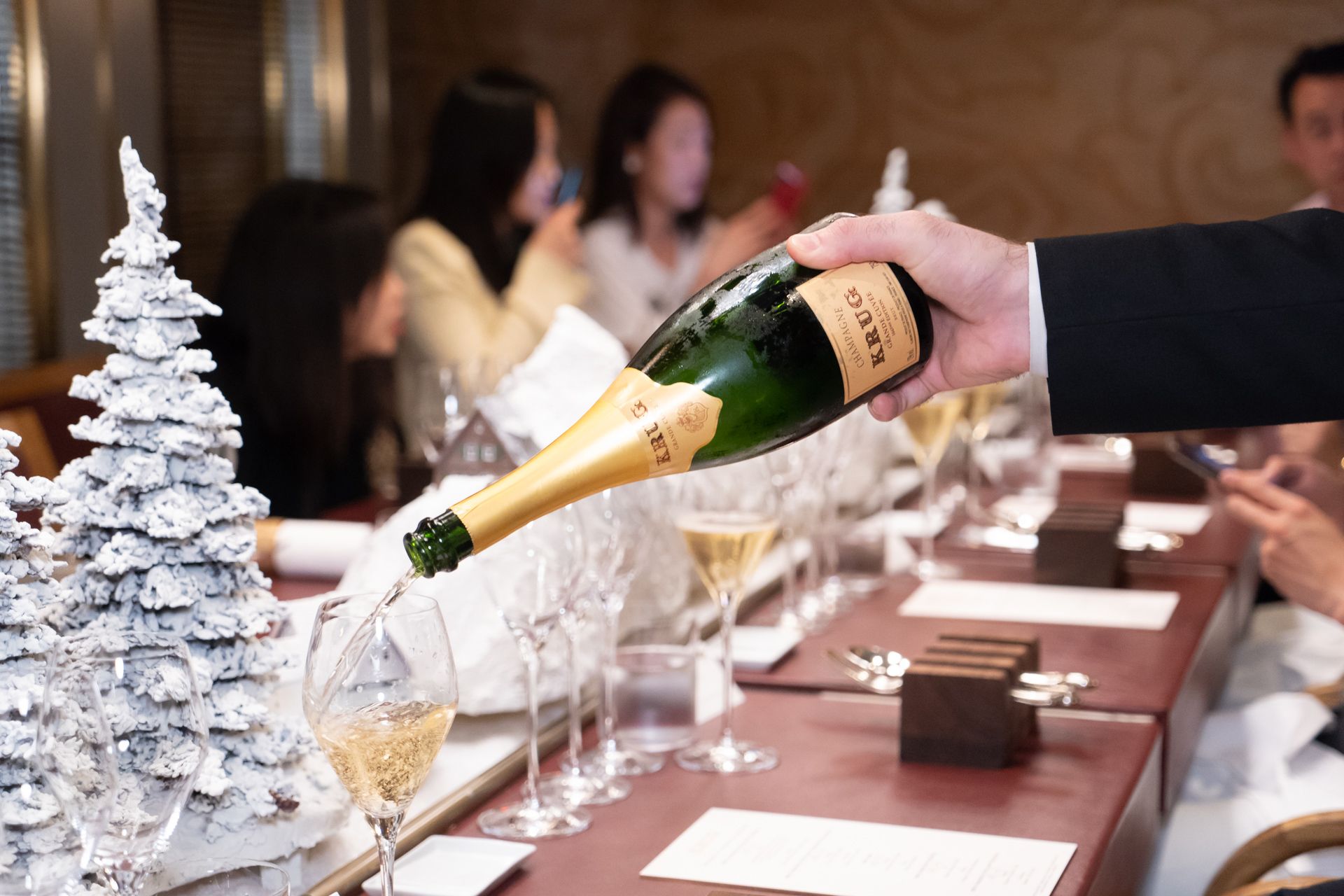 The Tatler 500 lister and businessman hosted 10 of his closest friends for an evening of Krug champagne and reinterpreted classics
Food and drink—their taste, smell and appearance—have the power to evoke vivid memories. This connection between consumption and emotion is the premise of our Creating Memories series of dinners in collaboration with Krug Champagne, which aim to leave guests with a night to remember. The first two dinners, hosted by Hong Kong Tatler 500 listers Peter Cheung, followed by Victoria Tang-Owen and Christopher Owen, took place at Krug Room during the summer and autumn season—by our third feast, Mandarin Oriental Hong Kong's culinary team, led by executive chef Robin Zavou, was transformed into a winter wonderland, ready to receive Evan Chow and his guests.
A few weeks before the big dinner, Chow—the managing director of boutique asset management platform MCL Financial Group—took time out of his schedule to enjoy a glass of Krug while discussing the dishes with Zavou in the Krug Room itself. As the miniature steam train model trundled along a specially made track hoisted high above the dining room table, the two discussed favoured ingredients, dislikes and dietary requirements. Spotting ingredients such as sea urchin and oysters on the proposed menu, Chow couldn't help but chuckle at how easy Zavou was making the job for him: "Everyone loves these, so can't complain!"
Then another dish caught Chow's eye: snails. "As a kid, I loved escargots," he explained. He also mentioned growing up eating a lot of Cantonese food, from fried pigeon (identified as another crowdpleaser) to abalone. Zavou quickly caught on and it was decided that for the third Creating Memories dinner, the chef would take parts of Chow's favourite things growing up and reinterpret them into elegant new dishes to pair perfectly with Krug champagnes.
The guests who gathered for Chow's special dinner on February 27 were, coincidentally, the same set of people who dined with him during the 2011 Hong Kong Tatler Ball—the year he received the Most Eligible Bachelor award. Among them were Bonnie Chan-Woo, Darrin Woo, Brandon Chau, Jenny Chau, Leonard Chao, Candice Chan, Jeffrey Liu, Karena Liu, Melissa Fok and Davis Chan—a diverse table of leaders and tastemakers from industries spanning entertainment to design to real estate.
The table toasted the beginning of the night with Krug Grande Cuvée 166ème Édition—a sound aperitif—paired with a trio of Zavou's signature snacks—elevated versions of foods such as spring rolls (here, filled with eel, crème fraiche and lime and served with salmon roe), croissant (with truffle, parmesan and garlic) and KFC (Korean fried crab, served on a slab of Himalayan pink salt). The champagne, a blend of 140 wines from 13 different years—the youngest from 2010 and the oldest back to 1996—was so named to mark the 166th time that the House of Krug drew upon founder Joseph Krug's dream to compose the ultimate prestige champagne, regardless of climatic variations. Judging by the reactions, this dream has been realised through the masterful compositions that form Krug champagnes today.
The next course had Zavou utilising Krug to prepare a dish instead of simply using it as a drink pairing—fresh lobster was finely chopped and the champagne liberally poured over to imbue its flavour, before the shellfish was lightly cooked and served with a rich sea urchin cream, soy jelly and garam for plenty of umami notes. It was this dish, as well as the scallop with oyster, hijiki seaweed and turnip that was Brandon and Jenny's favourite—the pair lauded the complex layering of flavours and textures in both dishes.
An exceptionally complex Krug Grande Cuvée 164ème Édition En Magnum was brought out for the scallop course as well as the kinmedai dish—which became the runaway favourite of the evening thanks to its combination of crisp fish skin and scales, and toothsome abalone, another one of Chow's childhood favourites. The citrus aroma of this fresh and subtle champagne was echoed in the use of lemon in the kinmedai dish, both working in unison to cut through the richness of the fish and the abalone with its liver—a truly symphonic experience for the senses.
Krug Rosé 21ème Edition led guests through the final savoury courses, with its bold, spiced notes sitting well with dishes of duck pie with pancetta and truffle, and wagyu with cabbage, chocolate and blackberry. The latest edition of this maverick Krug Rosé expresses a broad palette that makes it especially suitable for food pairing with more intense flavours, its pale pink elegance betraying its muscular depth of pepper, cured ham and mulberries on the nose. Its silky texture and astonishing breadth and depth means Krug Rosé can replace a great red wine when it comes to pairing with savory dishes, as it did here.
As always, the desserts at Krug Room delight the eyes before they do the palate—with strawberry season in full swing during Hong Kong's mild winters, Zavou decided to pay homage to local gems with his whimsical mimicry of the berries, rendered in chocolate and sugar. Leonard and Candice declared this one of their favourites—and it was Candice who discovered that even the strawberry "stalks" and wooden tray were actually also edible and fashioned out of chocolate. With a lighter set of desserts on show this time, the perfect accompaniment would be Krug Grand Cuvée 163ème Édition, with toasted bread, hazelnut, nougat, barley sugar and jellied fruits dancing on the palate. A perfect finisher to an evening of culinary magic, and sure to leave guests with lingering memories.
Restaurant, $$$$, Western, Central

---