Chaat's 'Cook For India' Charity Dinner Brings Together Hong Kong's Leading Indian Chefs For A Great Cause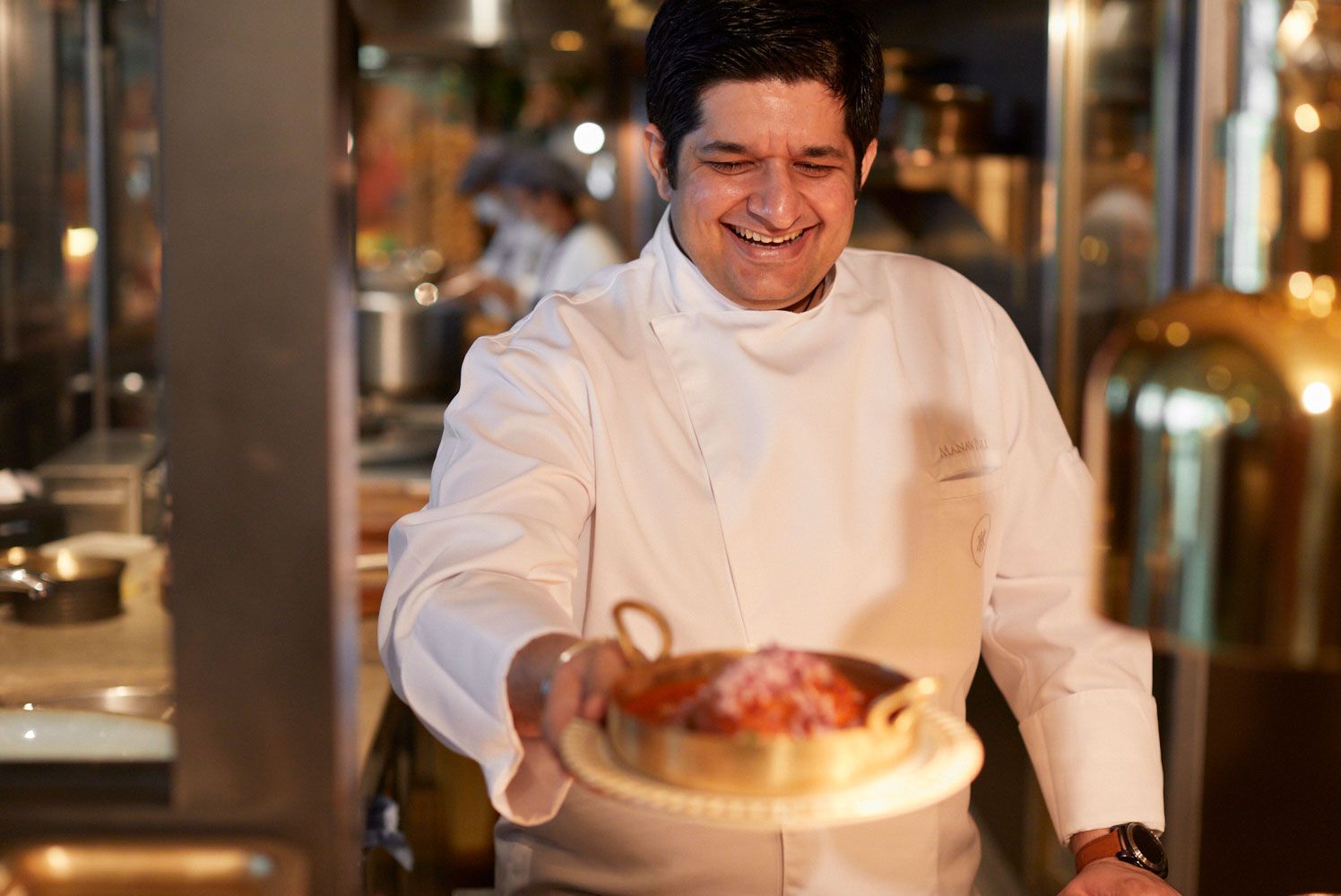 By Gavin Yeung
May 20, 2021
For one night only, this 16-hands collaboration will provide a timely and tasty reminder of India's stunning gastronomic diversity while garnering some much-needed support for the country in its time of need
Having just recorded the the pandemic's highest known daily death toll for a single country so far, India is far from out of the woods as it experiences its second and most deadly wave of coronavirus yet. From a comparatively enviable position of relative normality, the Hong Kong restaurant industry has already made efforts to deliver aid to India in this time of need.
One week ago, Tatler Dining partnered with Chaat's chef de cuisine Manav Tuli and spirits consultants John Ng and Samuel Kwok of Partners & Advisors to organise a one-night-only 'Help India Breathe' charity event at Tatler Dining Kitchen; while early June will see Tuli again lead a charity drive at Chaat, this time as part of an ambitious 16-hands dinner with seven of Hong Kong's top Indian chefs.
See also: Meet The Tastemakers, A Series Of Pop-Up Events At Tatler Dining Kitchen Happening This May
The lineup includes Yogesh Yadav of the longstanding Gaylord Indian Restaurant, Sheldon Fonseca of The Mira Hong Kong, Pardeep Kumar Ray of The Foreign Correspondents Club, Samaira Coutinho Kavatkar of The Bombay East Indian Girl, Caprice sous chef Suveg Kavatkar, Prabir Banerjee of Chaiwala, and Pondi's Taran Chadha. Each chef will contribute a dish for a total of 14 dishes, which, in addition to welcome cocktails from Darkside and a wine pairing, will be available for HK$2,788 per person. 100 per cent of the proceeds will be donated to UNICEF, along with other donation efforts by Rosewood Hong Kong.
"I read the news every day about my country's COVID-19 cases and deaths and it really saddens me," says Tuli. "I am extremely privileged to be living and working in Hong Kong, where some sense of normality is beginning to resume. I want to use our powers and resources to support my country as much as we can and I believe there is no better way to do this than through the universal language of food."
With dishes like pani puri with sea urchin and Gillardeau oyster by Caprice's Suveg Kavatkar, lamb chop masala by the FCC's Pardeep Kumar Ray, and truffle spinach kofta by Gaylord's Yogesh Yadav available for the night of June 7 only, this is a special opportunity to do good and eat good at the same time.
For bookings and enquiries, contact Chaat at +852 3891 8732 or visit chaat.hk for more details.
Related: Renowned Mixologist Devender Sehgal On Leading The Aubrey's Bar Programme
Restaurant, $$, Indian, Tsim Sha Tsui

---