French Fries Day: 14 Best Places To Eat French Fries In Hong Kong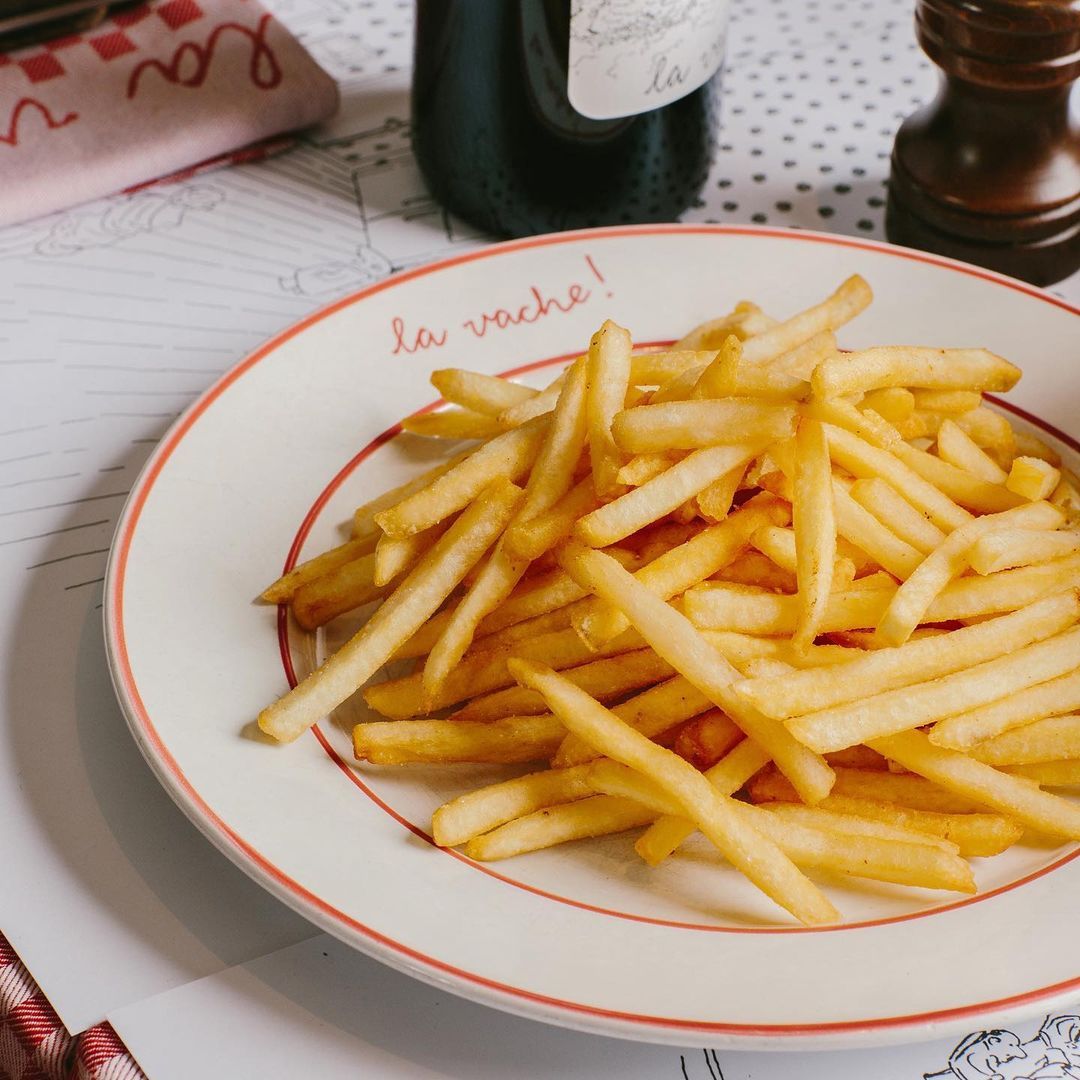 By Jianne Soriano
July 13, 2021
Celebrate French Fries Day on July 13 with the best French fries places in town
You can never go wrong with good ol' French fries. It's the perfect go-to snack when we're out for a drink and then a bite, when we're in need of some comfort food or if we're just looking to munch on something while binge-watching on Netflix.
The humble French fries come in many styles and forms, whether you're a truffle lover, need extra cheese or want something with more kick and spice—there's always something for you. In time for French Fries Day, we're rounding up all the best places in Hong Kong to get your French fries fix.
1/14 Honbo
Beyond winning countless awards for its burger concept, Honbo has also won the hearts of burger and fries lovers. Their iconic homemade fries and sweet potato fries can be enjoyed as a snack on their own or as a perfect companion to every Honbo burger. This French Fries Day, you can opt for the much-loved cheese fries or chilli cheese fries.
Honbo Wan Chai, Shop B, G/F, 6–7 Sun Street, Wan Chai, Hong Kong, +852 2567 8970
Honbo The Mills, Shop 303, 3/F, The Mills, 45 Park Tin Par Street, Tsuen Wan, Hong Kong, +852 2567 8616
Honbo Basehall, LG/F, Jardine House, 1 Connaught Place, Central, Hong Kong, honbo.com.hk
See also: Your Guide To Basehall, Hong Kong's Trendiest New Food Hall
2/14 The Veggie Club
The Veggie Club is The Butcher's Club plant-based concept, the latest addition to the city's growing plant-based dining scene. Partnering with Impossible Foods, The Veggie Club is offering show-stopping vegan and vegetarian burgers alongside a range of enticing fries including the finger-licking butcher's fries, delicious truffle fries and timeless favourite, sweet potato fries.
The Veggie Club, G/F, Rialto Building, 2 Landale Street, Wan Chai, Hong Kong, +852 2528 2083
G/F, Westland Gardens, 12 Westlands Road, Taikoo Place, Hong Kong, +852 2388 9644, thebutchers.club
See also: What Does Tindle, Hong Kong's Newest Plant-Based Chicken Meat, Taste Like?
3/14 Quinary
4/14 La Vache
Hassle-free meals? Steak frites fix? La Vache is the answer. This restaurant is reminiscent of the typical Parisian brasseries thanks to its red leather upholstery and checkered tablecloths but diners just keep coming back for its affordable steak frites. The crispy golden fries together with delicious steak cooked to your liking is a tried and tested formula that's well-loved, so much so that a new branch just opened in Pacific Place.
La Vache, 48 Peel Street, Soho, Hong Kong, +852 2880 0248, lavache.com.hk
12 Hart Avenue, Tsim Sha Tsui, Hong Kong, +852 2666 6818
Shop 007, Pacific Place, 88 Queensway, Admiralty, +852 2801 6122
See also: Syed Asim Hussain On What's Next For Black Sheep Restaurants And Building A Restaurant Empire
5/14 Jean May
Jean May—helmed by chef Tiffany Lo, who previously worked with Pierre Koffmann—is bringing her own take of comforting French food to Hong Kong. Reminiscent of the neo-bistro style dining, Jean May offers what you would expect from a bistro but the lone side dish, the hand-cut pomme frites isn't to be missed. Among the array of snacks, starters and main dishes, this classic comfort food tops them all.
Jean May, Shop A, 14 Gresson Street, Wan Chai, Hong Kong, +852 3590 6033
See also: Meet Jean May, The Newest Independent French Bistro In Wan Chai
6/14 Little Bao
7/14 375
375 is the newest burger and chicken place in town. The fast-food concept established in New York comes to Hong Kong but it's not the same unhealthy fast food—in fact, it uses a unique process when frying the chicken and fries. Every single item is made to order and the meat is all halal.
But we can't recommend the fries enough as the premium Idaho potatoes are freshly cut and fried to perfection. You can opt for the triple-cooked fries (comes in small, medium and large), the truffle-parmesan fries or the Ludlow fries—each is equally as good.
375, 79–83 Queen's Road Central, Man Hing Commercial Building, Central, Hong Kong, 375chicken.com
See also: 10 Best Restaurants To Eat Korean Fried Chicken In Hong Kong
8/14 The Alp at Lounge Hakuba
Missing Japan? The Alp—the cafe arm of Lounge Hakuba—offers an après-ski vibe so if you're longing to see snowy Hakuba amidst the hot weather in Hong Kong right now, this is the place to be. Expect to see Japanese-inspired cafe food and drinks with a hint of Nepali flavours thanks to the cafe's up-and-coming sous chefs and Nepalese-born, Italian-restaurant trained chef. But if you can't decide among its many offerings, the truffle fries always saves the day.
The Alp at Lounge Hakuba, Shop 302, 3/F, Tower 535, 535 Jaffe Road, Causeway Bay, Hong Kong, +852 2111 1707
9/14 Funky Monkey
Speaking of Nepali flavours, local Nepali bartender Gurung "Dipen" Dammarsing's Funky Monkey is a new addition to Hong Kong's vibrant dining scene with its cocktails and palate-pleasing fusion food. With vibrant and retro vibes, the ambient tiki bar elevates ordinary cuisine with homegrown recipes and funky flavours. Can't decide what to get among the unique-sounding food? You can always opt for the classic fries, available with additional truffle, chilli and cheese toppings.
Funky Monkey, G/F, 17 Wai Ching Street, Jordan, Hong Kong +852 2469 0055, funkymoneky.com.hk
9/F, Koon Fook Centre, 9 Knutsford Terrace, Tsim Sha Tsui, Hong Kong, +852 6347 2018
Shop 101, 1/F, T-Bay, 9 Yi Tung Road, Tung Chung, Hong Kong, +852 2427 1111
10/14 Meat the Sea
Meat the Sea champions sustainability. The European-style deli has its own supply chain directly from Europe, allowing its diners to get a taste of the freshest ingredients in their food. Though they specialise in meat and seafood products, Meat the Sea also has vegan, lactose-free and egg-free nibbles and of course, French fries is one of them. The homemade French fries with truffle mayonnaise is absolute finger-licking goodness.
Meat the Sea, Shop D, G/F, 108 Hollywood Road, Sheung Wan, Hong Kong, meatthesea.com
See also: The Best Vegetarian And Vegan Tasting Menus In Asia
11/14 Terrible Baby
Looking for al fresco dining? Look no further than Eaton Hong Kong's al fresco oasis, Terrible Baby. Their French fries go well with the all-day Happy Hour offers—whether you're looking for cocktails, wine or bottled beer. Those feeling peckish will love the double truffle fries with truffle salt, a flavourful truffle mayonnaise sauce and exciting burger or spicy chicken wrap combos that are served with homemade, freshly prepared French fries.
Terrible Baby, 4/F, Eaton HK, 380 Nathan Road, Jordan, Hong Kong, +852 2710 1866, terriblebaby.com
See also: The Best Al Fresco Restaurants And Rooftop Bars In Hong Kong
12/14 Ink
Ink combines two concepts: al fresco all-day seafood bar together with grab n' go bites. Located on the ground floor of the Hong Kong Museum of Art, Ink is the place to be if you're looking to relish some delicious snacks and refreshing beverages with a front-row view of Victoria Harbour. Ink offers a range of all-day delights, brunch, snacks and drinks. But the black lava salt fries and the amazing toppings just hits all the right places for us.
Ink, G/F, Hong Kong Museum of Art, 10 Salisbury Road, Tsim Sha Tsui, Hong Kong, +852 2500 5581, inkcafe.com.hk
See also: 11 Luxurious Restaurants Offering The Best Views Of Hong Kong
13/14 Morton's The Steakhouse
Dining at this celebrated steakhouse isn't complete without its signature parmesan and truffle fries, the most decadent version of the classic potato dish—perfect for sharing at the table, alongside a premium cut of steak and other delights such as Morton's prime burger. Drop by Morton's The Steakhouse for a quick drink or meal before taking in a show at the nearby Culture Centre.
Morton's The Steakhouse, 4/F, 20 Nathan Road, Tsim Sha Tsui, Hong Kong, +852 2732 2343, mortons.com
See also: 11 Best Steak Tartares In Hong Kong
14/14 Draft Land
Draft Land is the first overseas outpost of the Taiwanese restaurant, co-founded by award-winning mixologist, Antonio Lai who pioneered the multi-sensory mixology concept in Hong Kong. With its Taiwanese origins, you can expect the same in the Hong Kong branch, offering over 40 craft cocktails on a rotational basis on 24 taps on top of easy-to-devour street food-inspired snacks. The Taiwanese poutine fries is a must—sizzlingly hot, freshly made Taiwanese braised pork belly are placed over cheese. Finger-licking goodness? Yes.
Draft Land, 63 Wyndham Street, Central, Hong Kong, +852 2711 8809, draftland.tw/hk
See also: Antonio Lai To Open Draft Land With Taiwanese Cocktail Maestro Angus Zou