Review: Daarukhana Updates Indian Cuisine With Familiar Flavours In A New Format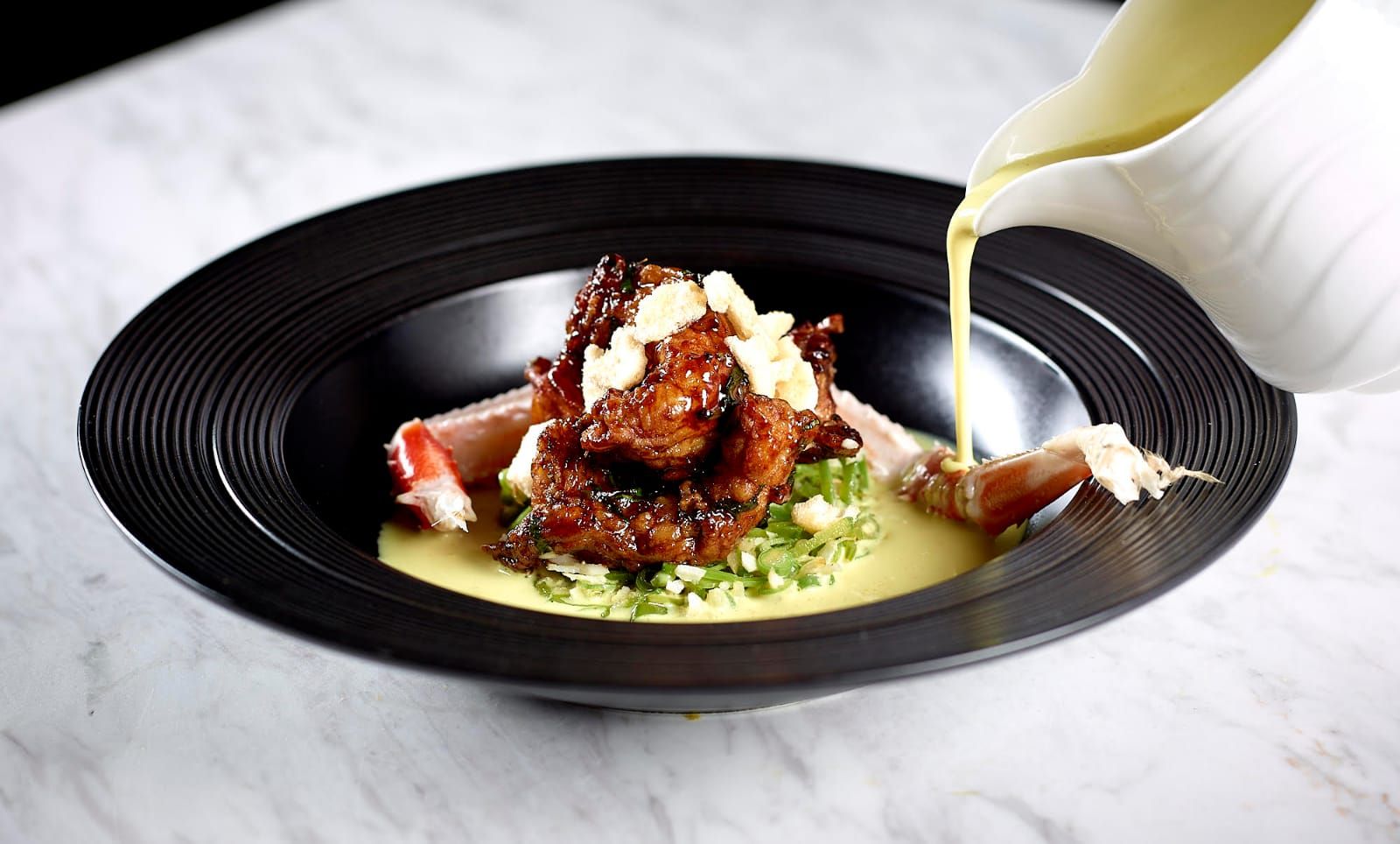 The new Indian restaurant introduces novelty ingredients with a tropical twist
Indian cuisine in Hong Kong is due for a little revamping, and as the popularity of restaurants such as Salt & Barrel and Pirata Group's Chaiwala show, there is evidence of a strong fan base for creative interpretation of the genre. The latest to open in recent months is Daarukhana, an independent contemporary concept in Wan Chai.

Residing in an upstairs space in a quieter stretch of Thompson Road, Daarukhana welcomes its guests with modern design elements—there is an abundance of gleaming marble table tops, matched with geometric patterns of muted brass and metalwork embellishing the high-ceiling space. Warm amber lighting is dim, but appropriately setting an intimate mood for dinner service.
The new establishment offers sharing plates that offer a modern interpretation of Indian classics, either through form or by ingredients. We began with the Palak Paneer Pinwheel, where the traditional spinach stew with cottage cheese reimagined in a snack form. The greens, simmered down into rich green pulp with cottage cheese weaving through, stuffs stubby fingers of pastry tubes before being deep-fried. The crunchy texture of the pastry roll offers a contrast in texture, while the mildly-spiced profiles are spot on similar to that of its original stew form.
Baby pork ribs are wonderfully prepared. The 'mango leather', resembling pate de fruit, was too sweet to top a sweet-and-sour glaze for the meaty ribs, while the meat falls off the bone and tender throughout. Chicken tikka masala was wonderful with plenty of sauce reduced from slow cooking. The fork-tender chicken morsels stay juicy while the meaty juices melt into the mildly-spicy gravy which is best accompanied by freshly made naan.
Homemade kofta curry is a winner. The house-special mutton meatballs were petite in size, and a handful of chopped mint mixed into the loosely-formed meatballs added a refreshing note amidst the richness. However, the tomato and yoghurt sauce contradicted the freshness of mint. If one must order naan bread, the butter naan is of a good standard –fluffy with even browned spots, and the texture is soft with the right level of chewiness, yielding only slightly to the bite but great for mopping up spicy sauces in curries.
The Papadam platter features five types of thin, deep-fried crisps made of rice -or lentils; some peppered and some sprinkled with chilli powder. We love them with plenty of black pepper and served with the coriander-mint chutney, although a sweet mango chutney also came highly recommended. Daarukhana offers a small selection of desserts, but the Kheer with custard apple and saffron foam is a fruity and fresh dessert with just the right floral notes, thanks to the ethereal texture of the custard apple cream and feathery saffron foam on the top.
Daarukhana prides itself on a humble wine list, with plenty of wine-by-the-glass options to choose from. Guests can indulge in tropical-themed cocktails, such as the Palace On Wheels, where Bacardi rum is blended with pineapple and chilli, flavoured with Rajastani chilli-infused honey. The cocktail can be fiery at first, but the honey adds freshness to a rounded finish.

Service is adequate and mostly attentive at Daarukhana, although at full capacity the service team can be disorganised, as main courses could take up to 40 minutes to arrive. Some of the members of the service team can improve with more familiarity on the menu's offerings but overall the service is helpful.
With high consistency in food quality, it is wonderful to experience Daarukhana's contemporary approach to Indian cuisine with good service, and it shows promise even in its first month of opening.
A dinner for two with cocktails amounts to HK$1,300.
Daarukhana, G/F – 1/F, Tai Yip Building, 141 Thomson Road, Wan Chai, Hong Kong
Rating: 3.5/5

How we rate
Each of our reviewers score restaurants based on four main criteria: setting, food, service, and drinks, taking into account more than 35 different points of reference including manners of staff, usefulness of the wine list, and whether or not the restaurant makes an effort to be environmentally aware. 5/5 indicates an exceptional experience; 4-4.5/5 is excellent; 3-3.5/5 is good to very good; and 2.5/5 or lower is average to below average. Before visiting a restaurant, the reviewers will book using a pseudonym and do not make themselves known to restaurant staff, in order to experience the venue as a regular guest—if this is not possible, or if we are recognised, we will indicate this in the review.