Thibault Pontallier And Arthur De Villepin On Why Producing Wine Is A Form Of Art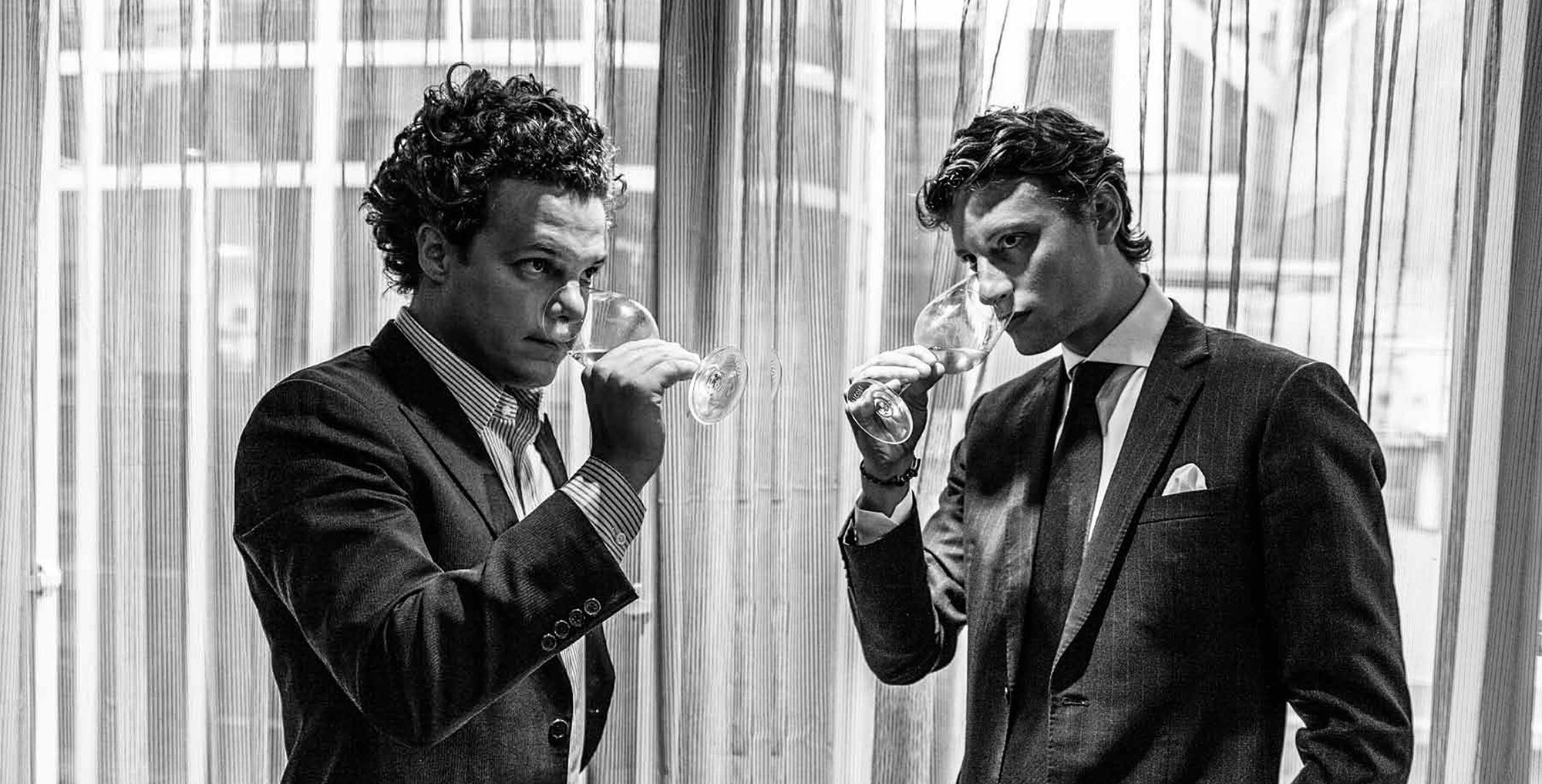 With their sixth wine and art blend for Pont des Arts a sell-out, the two young entrepreneurs reflect on the parallels between their shared passions
The end of May welcomed the sixth edition of the wine-meets-art collection of three fine wines in a custom-made lacquered presentation box, conceived and designed by Hong Kong-born project: Pont des Arts.
The story goes that six years ago, two French nationals working in Hong Kong made a plan to combine both their expertise in a fun project that drew on both their passions. The two in question were Thibault Pontallier, who was working for Bordeaux wine legend Château Margaux, and Arthur De Villepin—founder of Arte de Vivre, an art gallery and consultancy company. They brainstormed the launch of an annual special release of a small collection of three exceptional wines, pre-selected to be in harmony with a carefully chosen internationally-known artist's artworks that would adorn bottle labels on archive-quality paper.
The annual three-bottled boxed collection, along with an additional later release of a quality spirit – also selected to complement the year's designated artist, and bearing its own custom label are now in great demand.
So much so, that by the time Pontallier and De Villepin were in Hong Kong recently to meet with their local clientele, the global release of 100 sets for this year's Pont des Arts trio of wine, featuring artwork by the late Dutch painter Piet Mondrian were all but sold out. Previous years saw larger editions, but Pontallier explains: "Year after year people saw what we have done, they trusted us and now we have managed to get an amazing access to some rare premiers crus and grands crus in many great terroirs. Obviously for such quality the volume is very small as it is rare and hard to find, exactly like the great artists we work with."
This year's encased special-edition bottles from Champagne, Burgundy and Bordeaux are indeed something special.
The Champagne Pierre Péters - Réserve Perpétuelle is a Grand Cru blanc de blancs, and the all-Chardonnay blend takes wines from more than 20 years of the house's back-vintages. As a result, this is a complex blanc de blancs that builds and lingers on the palate. The artwork on this label is Mondrian's oil on canvas Woods near Oele, painted in 1908. "Mondrian's abstract works are quite famous," says De Villepin, "not many people know that he started out painting very natural landscapes like this."
The Corton Grand Cru Les Maréchaudes 2015 was produced in extremely small quantities from one of the most renowned appellations in Bur­gundy, by Domaine de Montille. Mondrian's early Pointillist Crest at Right of 1909 graces the label.
Château La Conseillante Bordeaux 2016, is a stellar vintage from the Pomerol producer, blending 80 per cent Merlot with Cabernet Franc. Mondrian's linear abstraction Composition with Red, Blue, and Yellow of 1930 is on both this wine label and the lid of the hinged box that holds the 2019 collection. The 6L format of this particular wine was auctioned for an incredible HK$62,500 at Christie's at the end of May 2019.
So is producing wine a form of art? Pontallier has no hesitation answering this question: "Absolutely. When you see the painting that we chose for La Conseillante,the winemaker, Arthur and I love it. It was painted by Mondrian in 1934, and these lines seem to show the terroir, the puzzle of the vines, and the blending that goes into La Conseillante. And what does a winemaker do in the end? He blends great parcels of great varieties—Merlot and Cabernet Franc in this case—with amazing colours and aromas, and it's like a painter. We always consider wine to be a piece or art—and what better way to magnify wine than to pair it with art?"
With Pontallier coming from a pedigree of 500 years in wine down the generations and being the son of the late winemaker and MD of Château Margaux, Paul Pontallier, it is no surprise that his knowledge and wine-world connections have captured the interest of such noted wine producers to take part in Pont des Arts. Like the artists or art foundations who have also shown enthusiasm to be involved, it's not so much a money-spinner lure as the opportunity to be involved in a truly original cultural blend.
While this year's Mondrian wine sets may be sold out, fortunately—at the time of writing—some individual bottles of each of the three wine styles still remain available. And for those interested in a premium aged spirit bearing a special Mondrian label, keep an eye on the company's website for its release later this year; the two Frenchmen are giving nothing away on what it might be just yet.
For more information about Pont Des Arts, visit pontdesarts-wine.com