13 Best Vietnamese Restaurants In Hong Kong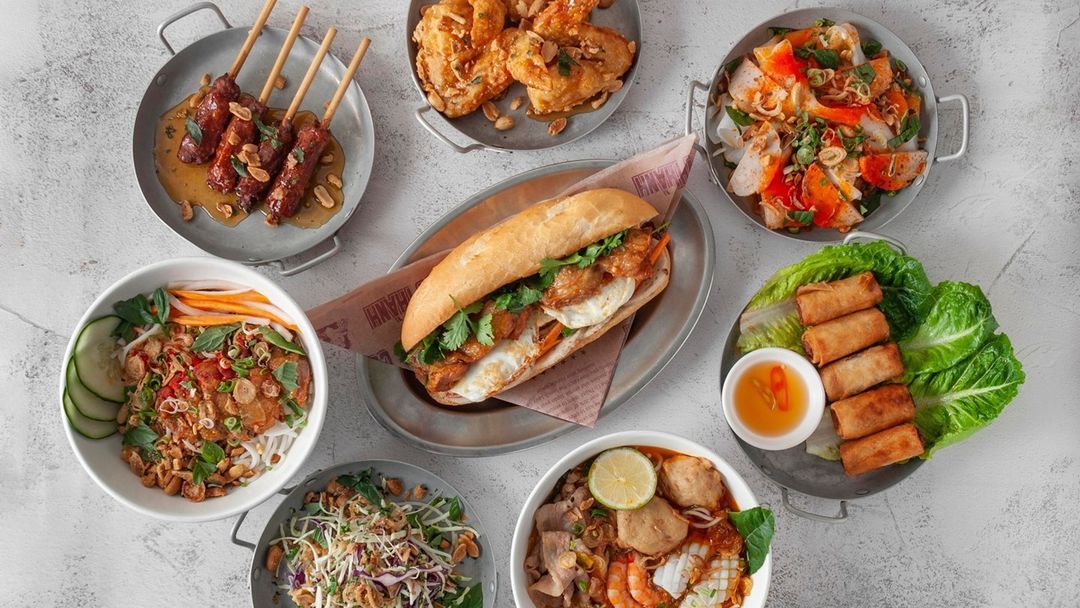 By Jianne Soriano
June 23, 2021
We break down some of the best Vietnamese restaurants in Hong Kong that are made just pho you
When you think of places to travel in Asia, Vietnam might always not top the list compared to the more popular Thailand or Japan. It feels like a crime to overlook the country, with its historical architecture, buzzing street markets, beautiful scenery, lush mountains and golden sand beaches.
One cannot help but also think of Vietnamese food, conjuring up images or soups served in Ho Chi Minh City of the delicious street food offerings in Hanoi, cementing it as one of Asia's best food cities. These images certainly appeal to a lot of Hongkongers, given the range of Vietnamese food in the city. In fact, you're spoiled for choice here, whether you're looking for the humble banh mi or the ever-favourite pho but there's so much more on offer as well.
With international travel still on hold, we can't fully munch on great Vietnamese food in Vietnam. But there's also nothing wrong with checking out what our city has to offer. Here, we break down some of the best Vietnamese restaurants in Hong Kong that are made just pho you.
See also: The 10 Best Restaurants For Filipino Food In Hong Kong
1/13 Le Garcon Saigon
This charming Vietnamese brasserie in Wan Chai invites you to truly dig in thanks to its DIY rice paper rolls that come with pickled cucumber, carrot, lettuce, Asian herbs and vermicelli noodles. You can also choose from a range of ingredients that include tofu, beef, pork or even a whole yellowfin snapper.
Le Garcon Saigon is helmed by head chef, Theign Yie who used to spend her days off exploring the vibrant Vietnamese communities in Syndey's suburbs. With that, she developed her understanding of traditional Saigonese ingredients while experimenting with new flavours and techniques. Other than any of the DIY rice paper rolls, we also recommend the banh xeo, Ranger's Valley wagyu bavette and charred sweet corn.
Le Garcon Saigon, G/F, 12–18 Wing Fung Street, Wan Chai, Hong Kong, +852 2455 2499, legarconsaigon.com
See also: The Best Thai Restaurants In Hong Kong
2/13 Bun Cha Vietnamese Cafe
Bun Cha Vietnamese Cafe boasts three branches in Hong Kong Island—Soho, Sai Ying Pun and Kennedy Town—ready to serve you the best bun cha (grilled pork and noodle) in town. This eatery also specialises in simple Vietnamese food, giving you a homey and casual vibe that's perfect after a long day of work or when you're out meeting with friends.
We recommend the traditional bun cha Hanoi that comes with grilled pork patties. But there are also other varieties such as the bún thịt nướng with lemongrass pork bellow and bun cha nem with fried spring rolls.
Bun Cha Vietnamese Cafe, various locations across Hong Kong, facebook.com/bunchacafe
See also: Asia's Best Food Cities According To Tatler Editors
3/13 Co Thanh Restaurant
If you've ever been or want to go to Saigon, chances are you might have seen Nguyễn Thi Thành (also known as The Lunch Lady) on a travel guide somewhere or probably even met her in person. She's known for serving one dish a day, rotating local Vietnamese noodle soups made fresh daily from scratch. Gaining international fame after being featured in Anthony Bourdain's No Reservations, Co Thanh taps into The Lunch Lady's recipes, aiming to provide authentic Vietnamese dishes to celebrate the flavours the cuisine has to offer.
Over 70 per cent of the ingredients used in Co Thanh are handpicked by the team and shipped directly from Vietnam to ensure the correct flavour, texture and aroma. Co Thanh's interiors boast a simple furnished charm: plastic stools and stainless steel tables. Customers can also see how their noodle soups are being prepared through the kitchen bar. Out of their extensive menu, we recommend the bun mam (seafood vermicelli with preserved fish and shrimp soup) which is rich in flavour while the bun bo hue is a better option for beef lovers. You can't miss the simple yet class spring rolls, draped in taro rich filling.
Co Thanh is also hosting Sunday's Session until the end of July on every other Sunday. They will be collaborating with different restaurants and bring various flavours to you. Stay tuned on their website or social media accounts for more details.
Co Thanh Restaurant, G/F, 2–4 Kau U Fong, Sheung Wan, Hong Kong, cothanhrestaurant.com
Baseball Food Court, LG, 1 Connaught Place, Central, Hong Kong
4/13 Chom Chom
While travelling to Vietnam is still the best option, Chom Chom is bringing Vietnam's lively bia hoi tradition of sipping fresh beer on the street to Hong Kong—an ideal alternative while international travel is still on hold. Chom Chom is a great addition to Hong Kong's vibrant Soho district, offering a selection of small but flavourful bites which give you a taste of the delicious street food found in Hanoi.
The menu is impressive, packed with freshly made rice paper rolls, side dishes such as Vietnamese fried chicken and salads that are best eaten alongside the large plate selection. With decor designed by Sean Dix—who also designed the look of Yardbird—the interior is fitting for the neighbourhood, fitted with wood-panelled walls and white marble countertops. It feels like the perfect hang out spot when you're in need of a drink and a meal.
Chom Chom, 58–60 Peel Street, Central, Hong Kong +852 2810 0850, chomchom.hk
5/13 Xuan
Xuan takes its name after an 18th-century female poet, Hồ Xuân Hương who's known for her risque and forward-thinking works that established her as a national icon. Just like her, Xuan takes a similar progressive attitude towards Vietnamese cuisine. Helmed by veteran Vietnamese chef, John Nguyen, Xuan promises to bring next-level cuisine with a northern influence together with killer cocktails inspired by Vietnam's signature flavours.
Xuan's menu is different for lunch and dinner but there's a myriad of choices for salad, starters, the main dish (noodles, bun, rice) and drinks. The lunch set menu is affordable while the dinner selection allows more flexibility. We recommend the braised beef tongue salad to start off, the Cha Gio crispy spring rolls and the Zuan signature beef pho, although whatever you pick is surely mouthwatering.
Xuan, G/F, 18 Lun Fat Street, Wan Chai, Hong Kong +852 2891 1177, xuan.com.hk
See also: 7 Foods You Might Be Mispronouncing
6/13 An Nam
An Nam brings Vietnam's haute cuisine to Hong Kong in a relaxed, modern setting. Serving upscale Hue-style food, An Ham transports guests to another time from a bygone era, combining elegant French refinement and an Asian perspective. The Kowloon Tong outpost is spearheaded by chef Giang Muoi, a Vietnamese-Chinese who grew up with her family in a little eatery in Vietnam. She spent her youth, immersed in the real tastes of Vietnam and has since brought her culinary experience to Hong Kong.
For those unsure what to pick from the menu, we recommend the lotus root shredded chicken salad, An Nam pearl snapper hot pot and steamed coconut crab if you're dining at the Kowloon Tong branch. Over at the Causeway Bay branch, the An Nam signature king prawn isn't to be missed, as is the steamed rice flan in Hue style and Vietnamese beef rice noodle soup.
An Nam, 4/F, Lee Garden One, 33 Hysan Avenue, Causeway Bay, Hong Kong, +852 2787 3922, annam.com.hk
Shop L1-20, 1/F, Festival Walk, 80 Tat Chee Road, Kowloon Tong, Hong Kong, +852 2866 2803
7/13 Moi Moi Represented by J.A.M
By eschewing MSG and artificial ingredients, chef Dinh Dinh-Tuan presents a host of healthy family-style Vietnamese recipes focused on fresh produce, aromatic herbs, and homemade sauces at Moi Moi Represented by J.A.M. The rotating menus will offer a glimpse into Vietnamese cuisine, including savoury flavours from under-the-radar regions of northern Vietnam and to the sweeter and spicier flavours from southern Vietnam.
The menu consists of delectable starters such as Bánh Bột Chiên (fried Vietnamese rice cake) and Bánh Tôm (sweet potato prawn fritters). For the main course, we recommend digging into the Bún Chả Cá (Vietnamese fish cake noodle soup) served with turmeric sole and cold rice vermicelli, sourced locally from Vietnam or Bánh Canh Cua (crab meat short rice noodles), an authentic noodle soup often served in Saigon.
While dining here is recommended any time of the day, we cannot help but recommend the recently unveiled series of attractive new breakfast items, such as shredded chicken pho and Vietnamese, sausage, cheese and pork floss croissant that's available from 8:00–11:00 am from Monday to Friday (except public holidays).
Moi Moi, J.A.M. Joint Asian Market, Lobby, Nexxus Building, 41 Connaught Road, Central, Hong Kong, +852 2808 1086, j-a-m.hk
See also: 10 Best Restaurants To Eat Korean Fried Chicken In Hong Kong
8/13 Le Soleil
Le Soleil makes quite an impression. It's the first Hong Kong branch of award-winning San Francisco restaurant and its location—perched on The Royal Garden's third-floor mezzanine that overlooks lush foliage and water fountains—is enough to draw anyone in. Le Soleil offers Vietnamese cuisine with a touch of Asian fusion, further amplified by the surrounding landscape that feels like a mix of Vietnamese-European aesthetics.
To go with the stunning scenery, we recommend an equally picture-worthy dish, the baked rice with crab and garlic in Ho Chi Minh style. The fresh and meaty crab is deep-fried and garlic-seasoned that goes perfectly well flavourful rice, melting deliciously in your mouth with every bite. We also recommend the stir-fried Vietnamese live crab with curry sauce, classic pho beef noodles soup and steamed rice flour pouches with minced pork and dried shrimps.
Le Soleil, 3/F, The Royal Garden, 69 Mody Road, Tsim Sha Tsui, Hong Kong, +852 2733 2033, rghk.com.hk
9/13 Nhau
This contemporary Vietnamese restaurant is helmed by chef Que Vinh Dang and built around the nhậu, the Vietnamese ritual of eating and drinking with friends and family, although the literal translation is "together". If you've ever been to a Japanese izakaya or a Chinese siu ye, you can expect the same here—sharing plates that go well with wine, cocktails and beer, all while showcasing a refined approach to nhậu-style eating.
The sharable dishes at Nhau are chef Que's own interpretations of traditional recipes from the managatsuo tartare, banh mi rice tacos to the sweetcorn bánh cuôn. Whether you're craving seafood, pork or a mix of both, Nhau has plenty to offer.
Nhau, 12 Circular Pathway, Central, Hong Kong, +852 9166 4409, nhau.hk
See also: Zero Foodprint Asia: Peggy Chan's New Initiative To Address The Climate Crisis
10/13 Pho Bar
It's in the name. Pho Bar specialises in pho but it doesn't end there. This noodle shop also serves finger-licking kaarage and house special chicken wings in addition to a selection of innovative fries.
While most shops serving pho let you choose and customise your order from the toppings to the flavours, Pho Bar offers a simple solution—the Supreme Combo Plus, which mixes a bit of everything. But there are other options to choose from too and you can always just opt for making your own pho too. No matter what you choose, it's going to be pho-nomenal.
Pho Bar, 24–28, Li Yuen Street West, Central, Hong Kong, +852 2109 2028
See also: 7 Best Places To Buy Mochi In Hong Kong
11/13 Another One
Another One is a Vietnamese cafe located in the heart of Tsim Sha Tsui that fuses the best of traditional French and Southeast Asian including a range of banh mi, salad bowls and desserts. The highly-Instagrammable cafe is painted in natural-inspired hues to evoke a sense of calmness and peace.
From their photogenic dishes, we recommend the Vietnamese garlic butter wings, a nice bowl of their Vietnamese pho and the cheesy molten prawn toast. For dessert, the lemongrass Crème Brûlée and multi-layered white cheese and yuzu jelly on an almond shortbread base are great choices.
Another One, 6A, Humphreys Avenue, Tsim Sha Tsui, Hong Kong, anotherone.hk
See also: The Best Matcha And Green Tea Desserts Spots In Hong Kong
12/13 Soho Banh Mi
Soho Banh Mi provides a simple, no-fuss option for a grab-and-go banh mi meal. Although there are only four bahn mi roll options, each one is just as good as the other, whether it's the signature roast pork with homemade pâté, lemongrass chicken with kaffir lime, vegetarian-friendly avocado or fishcakes with turmeric and dill. What's even better is that the baguettes they use are delivered daily by a local baker so you can relish each crunchy bite.
Soho Banh Mi, various locations across Hong Kong
See also: The Best Restaurant Delivery And Takeaways In Hong Kong
13/13 Brass Spoon
What started as a small shop selling pho quickly turned into an in-demand restaurant, leaving the chef Sebastien Vong busy. Learning to cook in France where his family owned a Vietnamese restaurant, he specifically chose Moon Street in Wan Chai—a relatively small street—to recreate the feeling you'd get after coming home from work and coming across a little noodle shop, somewhat similar to ramen shops in Tokyo.
Brass Spoon may just be a small shop but the food—typical Vietnamese favourites—all pack a punch. For the beef noodles here, we recommend the raw beef while the grilled pork belly cold vermicelli is also delicious. There's only one rice option, lemongrass pork chop rice but it's still equally filling.
Brass Spoon, various locations across Hong Kong
See also: 17 Best Ramen Restaurants In Hong Kong