10 Best Boarding Schools In The US
Boarding schools in the US don't come cheap, but that's because they offer superior programmes and facilities at some of the finest campuses in the world. On top of that, these illustrious boarding schools have had the pleasure of educating some of America's most influential individuals.  Scroll through the slideshow to see our top picks for the 10 best boarding schools in the US.
1/10 Choate Rosemary Hall
Ages: Grades 9-12
Admissions: Online application, standardised test results, school report, recommendations plus interview. Application deadline is January 10.
No. of Pupils: 865
Curriculum: Dynamic balance characterises the Choate Rosemary Hall experience, both in and out of the classroom, preparing students especially well for success in a world filled with challenges and opportunities.
Campus and facilities: Rosemary Hall, a school for girls, was founded in 1890 by Mary Atwater Choate; in 1896, she and her husband, William Choate, established the Choate School for boys on the same family property in Wallingford. The two institutions merged in 1974 to become Choate Rosemary Hall, a college- prep, co-educational private boarding school that sits on a 185-hectare campus.
Noteworthy: The school's traditional matriculation ceremony requires each student to sign a pledge card of commitment "to personal growth, to integrity, to self- discipline and to caring for others." Choate offers 32 different sports and puts forth 81 teams in interscholastic competition. Intramural programmes include aerobics, dance, weight-training, yoga, winter running, rock climbing and volleyball.
New: Designed by Robert A.M. Stern Architects, Colony Hall is a 50,000sqft auditorium dedicated to community gatherings and the arts that is scheduled to open in 2019.
Fees: US$59,110 (boarding); US$45,710 (day)
Choate Rosemary Hall, 333 Christian Street, Wallingford, Connecticut, choate.edu
---
2/10 Deerfield Academy
Ages: Grades 9-12 and post-grad year
Admissions: The admissions process comprises an interview, a standardised test, and an online application. Deadlines are available on the school's website.
No. of Pupils: 638
Curriculum: With a wide array of courses across eight academic departments, Deer field's ever-evolving curriculum fosters the development of creativity and intellectual maturity.
Campus and facilities: Set in a quintessential New England village, the school's 113-hectare campus—with more than 36 acres of playing elds and 50 buildings— offers ample resources. Recent additions include a new arts centre and library.
Noteworthy: This independent, co-educational boarding and day school was founded in 1797. The school has impressive athletic and sporting facilities, with 90 acres of fields, 21 tennis courts, a hockey rink, two gymnasiums with three basketball courts, the Dewey Squash Centre, a fitness centre, the Koch Pool, an eight-lane track, two synthetic-turf fields, and The Boathouse, a 5,900sqft facility housing 20 rowing shells. Additionally, the academy is home to Deer field Academy Press, which publishes the work of students and faculty members. The school was featured in Martin Scorsese's 2006 lm The Departed, and in the TV series Mad Men.
New: The 130,000sqft Athletics Complex, featuring an ice hockey rink, group exercise rooms, rowing tanks, golf simulator and more is expected to open in the autumn of 2018.
Fees: US$61,840
Deerfield Academy, 7 Boyden Lane, Deerfield, Massachusetts, deerfield.edu
3/10 Groton School
Ages: Grades 8-12
Admissions: Online application, standardised tests and recommendations plus interview. Applications are due January 1.
No. of Pupils: 381
Curriculum: The Groton curriculum is designed to prepare students for "lives of character, learning, leadership, and service" by encouraging breadth of intellectual exposure and depth of study.
Campus and facilities: A recent renovation and expansion launched the campus into the 21st century with state-of-the-art labs, a new library, and communal gathering spaces. The Campbell Performing Arts Centre provides a main stage for performances, while the Dillon Art Centre caters to the visual arts. The 250,000sqft Athletic Centre features 12 squash courts, eight indoor tennis courts, three indoor basketball courts, two ice rinks, weight and training rooms, an elevated indoor track, a dance studio, and a 23m pool. Outdoors are seven athletic fields, 10 outdoor tennis courts, and a boathouse for the crew programme.
Noteworthy: Founded in 1884, this co-educational boarding school stretches across more than 400 acres of woodlands and down to the Nashua River, but the central campus is conveniently contained around the renowned Groton Circle. The advanced scholarship of Groton students is evident in their superior performance on standardised tests, high rates of admission to selective colleges, and impressive performance in both undergraduate and graduate institutions.
New: Fundraising for Groton Affordability and Inclusion reached US$50 million at the end of 2017.
Fees: US$55,700 (boarding); US$43,390 (day)
Groton School, 282 Farmers Row, Groton, Massachusetts, groton.org
4/10 Hotchkiss School
Ages: 9-12 and post-grad
No. of Pupils: 613
Admissions: Online application and standardised tests plus interview. Applications are due by January 15.
Curriculum: Academically rigorous, Hotchkiss School offers a classical education with 224 courses, seven foreign languages (Chinese, French, German, Greek, Latin, Russian and Spanish), and unique off-campus study-abroad programmes.
Campus and facilities: Located in Lakeville, Connecticut, the school sits on 334 hectares of woods, fields and farmland in the midst of the scenic Berkshire-Taconic region, which the Nature Conservancy calls "one of the most extraordinary landscapes in the Northeast." The school's state-of-the-art facilities include the 116-hectare Fairfield Farm, the 212,000sqft athletic centre, and surrounding streams and trails.
Noteworthy: The Hotchkiss School is an independent boarding school founded in 1891 by Maria Harrison Bissell Hotchkiss, who didn't want yet another "school for the pampered sons of rich gentlemen" and instead instituted a commitment to financial assistance. Remaining true to its founding principle, nearly one-third of Hotchkiss students currently receive some degree of financial aid. Hotchkiss also has a long tradition of enrolling international students, which dates back to 1896. One of the most diverse co-educational schools in the US, the school today has more than 65 clubs, student publications, community-service organisations and musical ensembles.
New: Students and teachers performed musical recitals across Asia this year, making stops in South Korea, mainland China and Hong Kong.
Fees: US$$59,630 (boarding); US$50,700 (day)
Hotchkiss School, 11 Interlaken Road, Lakeville, Connecticut, hotchkiss.org
5/10 Lawrenceville School
Ages: Grades 9-12 and post-grad
Admissions: Online application and standardised tests plus interview. Applications are due by January 15.
No. of Pupils: 818
Curriculum: Lawrenceville's educational focus "is not on teaching what to know, but on learning how to think." A key element to this manner of teaching is the Harkness system, which encourages students to sit around a table (named after oil magnate and philanthropist Edward Harness) while discussing, dissecting and disseminating a wide range of topics, thus replacing lecture and memorisation with shared discovery.
Campus and facilities: Fully committed to its Green Campus Initiative, the campus includes an impressive 30-acre solar farm that covers 90 per cent of the school's energy needs.
Noteworthy: One of the best private high schools in New Jersey, Lawrenceville is also one of the most expensive. Founded in 1810 and modelled on the English public school structure, the school is defined by its house system—each of the 18 dormitories represents a sub-community, and houses often compete for academic and athletic honours.
New: The renowned Nike Tennis Camp, a division of US Sports Camps, returns to the school with day and overnight camps throughout June and July.
Fees: US$64,430 (boarding); US$53,290
Lawrenceville School, 2500 Main Street, Lawrenceville, New Jersey, lawrenceville.org
6/10 Milton Academy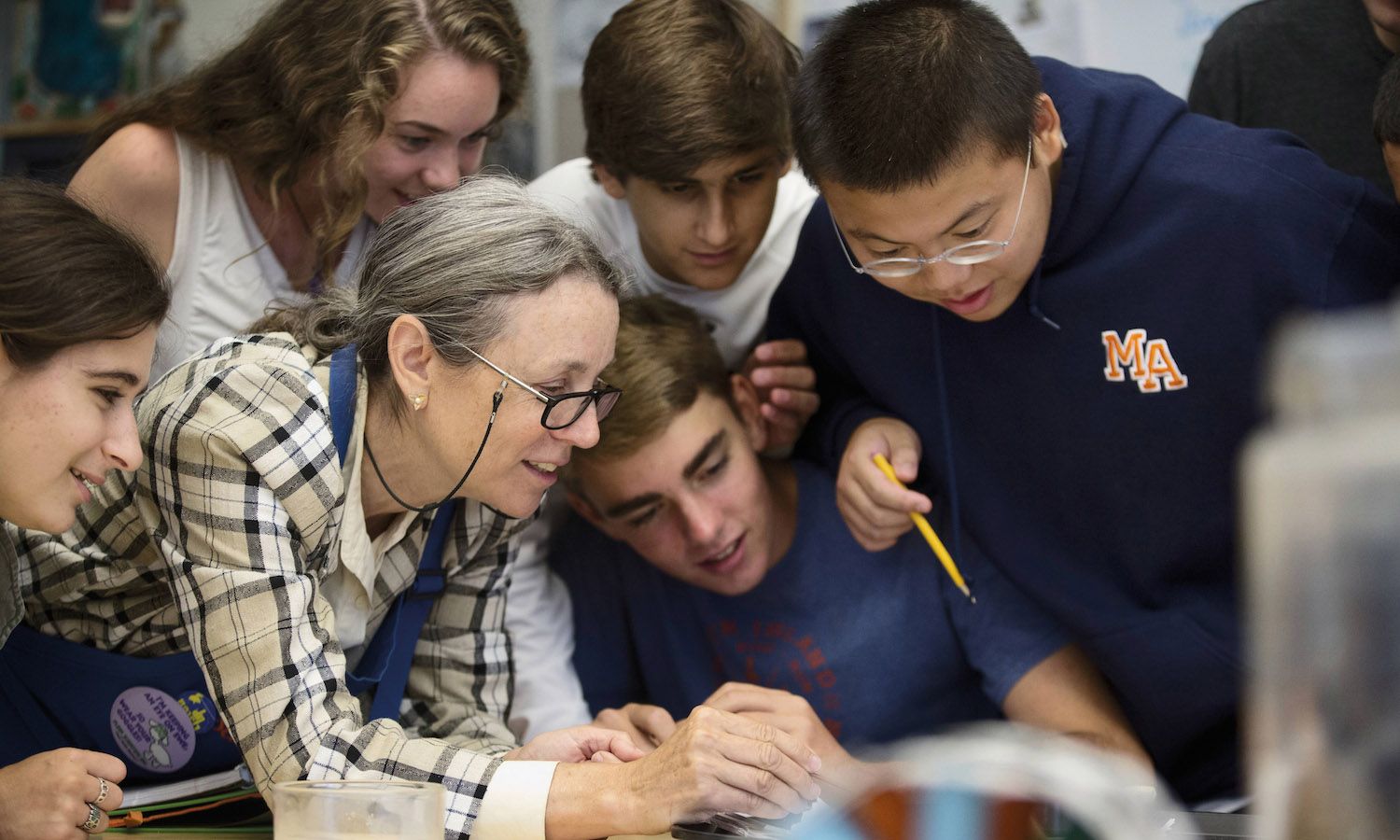 Ages: Kindergarten-Grade 12
No. of Pupils: 1,000
Admissions: Online application, standardised tests, recommendations and school report plus interview. Applications are due January 15.
Curriculum: Learning is discussion-based, not lecture-based. Students will have their own advisor, who counsels a small group of students in course selection and navigating school life—keeping in touch with academic and social progress, acting as a resource and advocate. Classes have about 14 students.
Campus and facilities: The Ruth King Theatre was a gift from novelist Stephen King and is a 20th-century adaptation of Shakespeare's Globe Theatre; the Ayer Observatory is home to a dome refractor; the library has more than 46,000 hardbound volumes; and the visual arts centre features the Academy's acclaimed Nesto Gallery.
Noteworthy: This day and boarding school has long been valued for its prestigious educational standards, and its alumni list includes members of Congress, Medal of Honour recipients and Nobel Laureates. Historically a feeder school for Harvard University, it was founded in 1798, then ceased operations after a few decades, and was re-established in 1884. Approximately half of the Upper School student body consists of boarders.
New: Students stood out in writing and visual arts this year, bringing home awards and accolades from the Massachusetts Scholastic Art & Writing Awards, as well as the Helen Creeley Student Poetry Prize.
Fees: US$57,650 (boarding); US$47,330 (day)
Milton Academy, 170 Centre Street, Milton, Massachusetts, milton.edu
---
7/10 Phillips Academy
Ages: Grades 9-11
No. of Pupils: 1,150
Admissions: Students may apply for entry in grades 9-12 or post-graduate. Application deadline is February 1.
Curriculum: 300 courses, including 150 electives and eight world languages.
Campus and facilities: Facilities include the Oliver Wendell Holmes Library; Addison Gallery of American Art, which comprises 17,000 works; Robert S. Peabody Institute of Archaeology, focused on Native American art and artefacts; Rebecca M. Sykes Wellness Centre; Elson Art Centre; Brace Centre for Gender Studies; the Tang Institute; Gelb Science Centre; a music centre and theatre complex; Office of Community and Multicultural Development; Phelps Stadium; and Brown Boathouse.
Noteworthy: Andover offers nearly two dozen Learning in the World programmes—led by Andover faculty and sponsored by the Tang Institute— offering students the opportunity to study off-campus and engage with cultures and practices different than their own.
New: Andover recently launched Knowledge & Goodness: The Andover Campaign, a US$400 million fundraising effort to support faculty, students and excellence across the academy. Andover also recently opened the 98,000sqft Snyder Centre for athletics and community events, which includes 12 squash courts, an indoor track and convertible in field for basketball, tennis and field events.
Fees: US$53,900 (boarding); US$41,900 (day)
Phillips Academy Andover, 180 Main Street, Andover, Massachusetts, andover.edu
8/10 Phillips Exeter Academy
Ages: Grades 9-12
No. of Pupils: 1,079
Admissions: Online application and standardised test results plus interview.
Curriculum: With more than 450 courses, students have unlimited opportunities to discover their potential. Interdisciplinary and experiential options allow students to develop creative insights, while global programmes open doors across five continents.
Campus and facilities: Retaining its 18th-century New England charm, the in-town campus is divided by the three principal streets of the community, with Georgian-style classroom buildings placed prominently at the centre. The surrounding dormitories are easily accessible from classrooms and other facilities, including an administrative building, post office, library, art gallery, music centre, health centre, bookstore, academy centre, theatre, dining halls and athletic facility.
Noteworthy: Founded in 1781 as a feeder school for Harvard University, Phillips Exeter Academy is considered one of the oldest and most prestigious co-ed prep schools in the US. The school boasts the largest secondary-school library in the world, with 272,000 volumes, and hosts the prestigious Lamont Poetry Series. Exeter is known for its Harkness method of teaching, where a teacher and a group of students work together to exchange ideas and information in a similar vein to the Socratic method. Classrooms don't have rows of chairs and lectures are virtually non-existent.
New: Students shine in the sciences, taking top spots at events such as the New Hampshire Science and Engineering Expo and the Regeneron Science Talent Search.
Fees: US$53,271 (boarding); US$41,608 (day)
Phillips Exeter Academy, 20 Main Street, Exeter, New Hampshire, exeter.edu
9/10 St Paul's School
Ages: Grades 9-12
No. of Pupils: 530
Admissions: Online application, standardised tests, school report, recommendation and interview. Applications must be postmarked by January 15.
Curriculum: At the heart of the school's wide-ranging academic programme is a commitment to learner-centred instruction, in which students make discoveries for themselves with guidance from and in partnership with their teachers.
Campus and facilities: The historic 809-hectare campus boasts facilities that include 18 dormitories, the Ohrstrom Library, the Fine Arts Building, the Oates Performing Arts Centre, the Hawley Astronomy Centre, the Chapel of St. Peter and St. Paul, and the Lindsay Centre for Mathematics and Science. Athletic facilities include the 95,000sqft athletic centre, an eight-lane indoor pool, two climbing walls, two hockey rinks, squash and tennis courts, nine athletic fields (including a lighted artificial-turf field), and a 2km rowing course and boathouse.
Noteworthy: One of the most selective college-prep private boarding schools in the US, St Paul's School was founded in 1856. Students study six days a week, with half- days on Wednesdays and Saturdays to allow for athletics. Interestingly, St. Paul's lays claim to the first hockey game in the US, played on its ponds in 1883.
New: The school's newly renovated, state-of-the-art Crumpacker Gallery exhibits work by students, and by painters, sculptors, photographers, and collectors of local, national, and international reputation.
Fees: US$61,960
St Paul's School, 325 Pleasant Street, Concord, New Hampshire, sps.edu
10/10 West Nottingham Academy
Ages: Grades 9-12 and post-grad
No. of Pupils: 130
Admissions: Applicants should submit a student questionnaire, three recommendation forms, school report, TOEFL, SSAT, iTEP or IELTS score report, and schedule an interview. Applications are due by February 10 of the year of entry, and will be accepted on a rolling basis after that deadline.
Curriculum: West Nottingham Academy offers a project-based curriculum supported by engaging classroom experiences. A positive peer culture, promoted by a committed faculty, encourages growth and results in academic skills and the self-confidence needed to succeed in college and beyond.
Campus and facilities: West Nottingham Academy, founded in 1744, is the oldest boarding school in the US. The 60-hectare campus features a park-like setting dotted with 19th- and 20th-century buildings. The campus also has a fully equipped gymnasium for the school's active athletics programme.
Noteworthy: Life at West Nottingham provides students with a wealth of options, including athletics, fine and performing arts, and opportunities to experience the global diversity of the school community. The social scene offers students the chance to help plan events and participate in long-standing school traditions.
New: The recently opened 2,500sqft Innovation Centre is outfitted with the latest technology, including 3D printers, a laser cutter, woodworking tools, a podcasting station, a green screen and a virtual reality system.
Fees: US$57,800 (international boarding)
West Nottingham Academy, 1079 Firetower Road, Colora, Maryland, wna.org