PT Finder: 10 Guys Who Will Whip You Into Shape
Hong Kong's fitness scene has blossomed in the last decade, transforming from a one-gym town to a flourishing hub of boutique studios and wellness festivals. It's attracted world-renowned health experts and coaching from all over the world, providing us with some of the best personal trainers on our doorstep.
See also: 10 Hong Kong Yoga Teachers You Need To Know
We already took a look at the best female personal trainers in Hong Kong, but we haven't forgotten about the gents. From strongman competitors to gymnasts to bodybuilders, one thing these men all have in common is incredible strength and a commitment to body transformation. Check out the Tatler list of Hong Kong's top male personal trainers.
1/10 Ant Haynes
Instagram: @anthayneshk
Turning his hobby into a career, Ant Haynes lives, breathes and sleeps fitness. Once upon a time rugby was his sport of choice, and his professional career resulted in over 75 stitches in his head and face.
Taking on a slightly less aggressive but equally intense activity, Haynes turned to CrossFit and co-founded Coastal Fitness with his brother Ed in 2008, where he currently works as Head of Health and Performance. As a Nike ambassador, Haynes believes that every person that strives to use their body to do extraordinary things deserves to be called an athlete, and loves result-driven workouts.
2/10 Ian Nam
Instagram: @namstrengthculture
Born and raised in Ireland Ian Nam grew up playing football and rugby. Realising that cardio alone wasn't enough to become a top athlete he began his 14 year journey into strength training. After moving to Hong Kong in 2010, Nam started his personal training career at Fitness First Platinum before co-founding his own personal training company in 2012. Strength Culture provides personalised one-to-one coaching at Hong Kong's top gyms including Topfit, Ursus Fitness, and Optimum Performance.
Nam is a competitive strongman and a sponsored athlete of Clean Nutrition Co and Team Joined—with two Arnold Classic Worldwide Amateur Strongman (90kg and 105kg) under his belt already, his next focus is the Arnold Classic Amateur Strongman World qualifier in August 2017.
3/10 Alex Hunter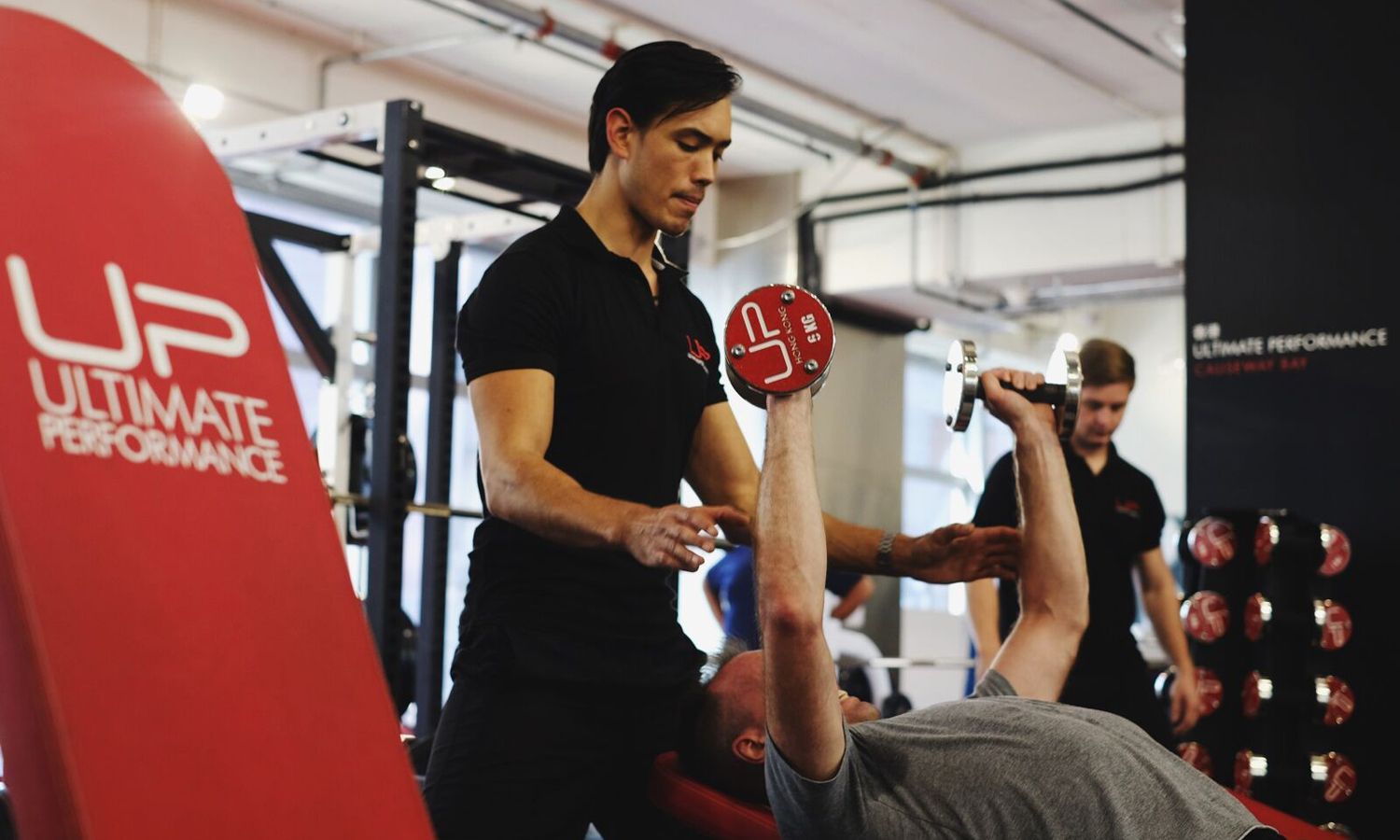 Instagram: @upfitnesslive
Currently a senior personal trainer with Ultimate Performance in Causeway Bay, Alex Hunter was formerly a professional cyclist, competing in BMX racing for Hong Kong for six years. He was a finalist in the 2010 Asian Games, a bronze medallist in the 2009 All-China Games, and a finalist multiple times in the Asian Championship. Much of his training involved time in the gym, which developed into his next fitness passion. Hunter completed a BSC in Sports Science, and moved from elite level sports to elite level personal training. His focus now is resistance training and nutrition, as well as managing and mentoring the Ultimate Performance team.
4/10 Dan Kan
Instagram: @knowikan
He has an aversion to long distance running and celery, but luckily, they're not the only ways to keep fit and eat healthy. Growing up in Scotland, bilingual Dan Kan coached racquet sports and golf before moving to Hong Kong and focusing on strength and conditioning. Kan looks at fitness from a bodybuilding perspective, and has an aesthetic approach in helping clients achieve the physique they want.
Optimising athletic performance at the same time as getting that lean, mean beach body you've been dreaming of, Kan develops personalised training and nutrition programmes for each client. He's worked at some of the top gyms in Hong Kong, starting out at Ultimate Performance, moving to Warrior Academy, and now starting up new wellness and fitness centre, Goji Studios.
5/10 Darrel Erxleben
Instagram: @darrelhongkong
Boys of Yoga Ambassador Darrel Erxleben is breaking stereotypes all over the place. The South African-born strongman competitor and steak-lover has been a personal trainer and yoga instructor since taking up the practice fifteen years ago. Always active in sport, he started practicing yoga in Florida, when trying to improve his flexibility for MMA training.
Impressed by the strength and discipline required, he travelled to India to study and gain his teaching qualification. While his main yoga focus is power Vinyasa, he's also taught Anusara-inspired yoga and Forest yoga, and was one of the Hong Kong yogis invited to the stage at Iris this year. Erxleben now coaches clients in body transformation, strength conditioning and nutrition at Epic MMA.
6/10 Jimmy Pang
Instagram: @jim8_pang
Before becoming a personal trainer with Ursus Fitness, Jimmy Pang had a passion for skateboarding—but he ditched it after discovering the gym (and an injury or three). Three years into his strength training, Pang was approached by a competitive body builder and invited to partake in the sport.
A decade of championship titles later, Pang turned to personal training in 2009: his certifications in everything from TRX to CrossFit Gymanstics to Bulgarian Bag make him the ideal coach for olympic weightlifting, strongman and CrossFit. His fitspiration is Rich Froning, who inspired him to become a better, more rounded athlete.
7/10 Tom Summers
Instagram: @pinnacleperformancehk
With 15 years of experience, Tom Summers founded and is Director of Strength and Conditioning for Pinnacle Performance. Having worked with amateurs and professional athletes alike, Summers is accredited through both the UK and US Strength and Conditioning governing bodies and trains many of Hong Kong's national sporting squads.
As a Nike Performance trainer for five years, he's worked around the globe training teams in the West Indies, South Africa, the USA, and the UK and now focuses on strength coaching and body transformation. In his personal fitness journey, he completed an Ironman Challenge in 2013 and the Pinnacle LIFT event in 2016 and 2017.
8/10 Denn Robles
Instagram: @sweatbloodandtears
Co-founder of Strength Culture, Denn Robles coaches in everything from fat loss to muscle gain, strength improvement to high-intensity outdoor boot camps.
He's been training clients in fitness since 2005 when he became certified through the National Academy of Sports and Medicine (NASM), and his passion for strength training has seen him participate in many Olympic Weightlifting Seminars. Robles loves fitness in all shapes and forms, and is involved in many team sports including American football, basketball, and his current challenge is competing in Strongman competitions around Asia.
9/10 Shingo Moromasa
Instagram: @shingomoromasa
Hailing from Gifu prefecture in southern Japan, Shingo Moromasa started out his fitness career as a gymnast, successfully taking part in and winning multiple regional competitions, and some of his quirkier jobs have included work as a stuntman and at Disney Tokyo.
It was American football that sparked his interest in strength and conditioning, and after training at OPEX headquarters in Pheonix, Arizona, with James Fitzgerald and Danny Nicholls, Moromasa joined Coastal Fitness Hong Kong to coach and share his passion with others. He teaches CrossFit and participates in regional competition as he takes his coaching to the next level.
10/10 James Campion
Instagram: @campionfit
A competitive bodybuilder, James Campion has been bodybuilding for over 10 years and has been a senior personal trainer with Ultimate Performance Causeway Bay since 2012. He coaches group classes and specialises in body transformations in his one-to-one sessions helping clients achieve their dream body and strength goals
When he's not competing in Mr Olympia Asia and bodybuilding competitions, Campion plays the drums and plays for live bands in Hong Kong and overseas.