10 Luxury Yachts You Can Rent For The Day In Hong Kong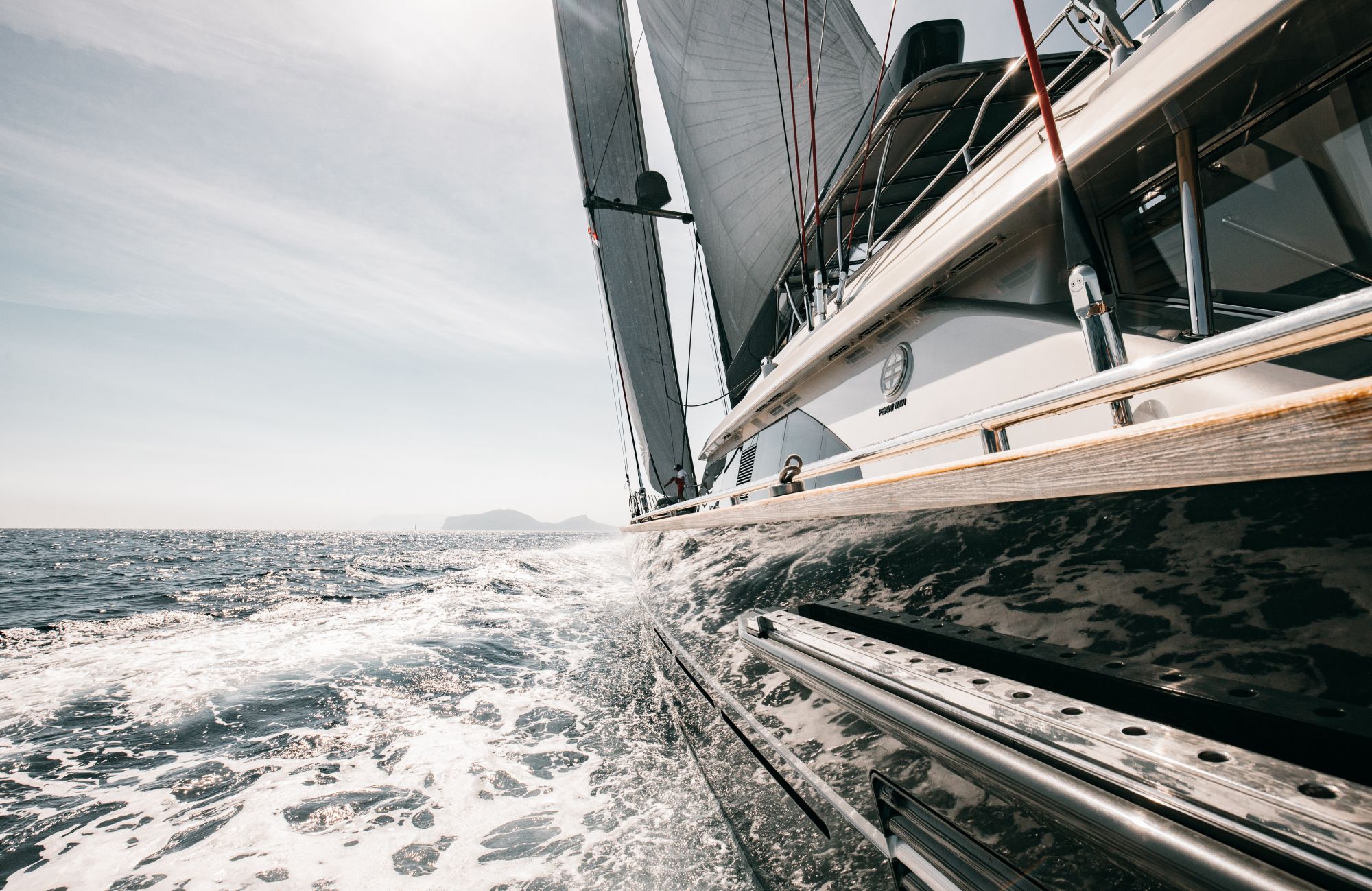 By Coco Marett
May 31, 2021
Is it really summer in Hong Kong if you aren't spending your weekends lounging on the bow of a superyacht? No, we didn't think so. From outdoor cinemas to five-star catering and on-board jacuzzis, we've found the most luxurious yachts you can rent in Hong Kong
Sanlorenzo SX76
All aboard: Fits up to 12 passengers
Crafted in Italy, this ultramodern 80 foot yacht features interiors designed by world famous designer, Pierro Lissoni, and exteriors by the acclaimed Bernardo Zuccon. It was built and delivered to Hong Kong in 2019. Fun is not forgotten, though, as the Sanlorenzo SX76 comes with a fleet of toys including seabobs, paddle boards, foil boards, a jet ski and a tender should you wish to explore white sandy shores.
Find out more and book the Sanlorenzo SX76 at simpsonyachtcharter.com
Aurore Monte Carlo Yacht 76
All Aboard: Fits up to 40 guests
This 76-foot yacht is able to host up to 40 guests, making it a luxurious option for special events such as birthdays or an intimate wedding—or just because, if that's how you roll. Indoor and outdoor seating areas are equally spacious and sophisticated, with various settings for groups to mingle in.
Find out more and book the Aurore Monte Carlo Yacht 76 at asiamarine.com
Sanlorenzo SL106
All Aboard: Fits up to 18 guests
Made in Italy, this superyacht was designed to entertain. The main deck boasts dedicated common areas, including a large galley, circular dining table, and expansive saloon - all draped in luxurious fabrics and fitted with designer Italian furniture. On the top deck, which boasts elegant wooden flooring, you'll find a jacuzzi, a wet bar and a shaded dining area.
Find out more and book Sanlorenzo SL106 at simpsonyachtcharter.com
Michelangelo
All aboard: Fits up to 59 passengers
This stunning 24 metre teak and mahogany restored yacht offers classic elegance tweaked with modern perks. It has three decks and includes an onboard gourmet chef, a state-of-the-art entertainment system, ample indoor and outdoor lounging areas, over-deck hammocks, water sport equipment and even a classical mini orchestra on request, should you require live music on your voyage.
Find out more and book Michaelangelo at michelangelocruises.com
Lady Lorraine
All aboard: Fits up to 42 guests
Dare to be different with Lady Lorraine, a steel-hulled, twin engine gullet built on the south-west coast of Turkey that is the only one of its kind in Hong Kong. Sunbathing under billowing white sails on the expansive wooden deck, you'll be cruising in style and feeling as though you've been transported to Eastern Mediterranean waters.
Find out more and book Lady Lorraine at saffron-cruises.com
See also: The Lifelong Love Affair Between Rolex And Yachting
Saba 50
All aboard: Fits up to 37 passengers
This catamaran's smart and open-plan design gives the feeling of a chic apartment on the water. Its elegant kitchen smoothly transitions into its lounge and alfresco dining area, opening up to stunning vistas for a sunset meal you won't forget. The sprawling outdoor sunbed and thoughtful settee make for a cosy area to relax with a cocktail in hand.
Find out more and book the Fountarin Pajor Saja 50 at poseidonyachting.hk
Sunseeker 131
All aboard: Fits up to 40 passengers
Spanning three decks, the impressive Sunseeker 131 Yacht is a marine masterpiece with ultra-modern finishes and furnishings. The main deck features a lounge, separate dining area and full galley, while the upper deck features a sky lounge, cocktail bar and access to the skydeck - where we assume you'll be spending most of your day. Here, you'll find a large jacuzzi and plenty of comfy loungers to soak up the sun.
Find out more and book the Sunseeker 131 at saffron-cruises.com
See also: 10 Swimwear Brands To Wear This Summer
Sunseeker P74
All aboard: Fits up to 14 passengers
This yacht is a classic with its elegant aesthetic, rich wooden details and no-frills approach to a day out at sea. In place of toys and trinkets, the sophisticated Sunseeker P74 keeps things simple with plush outdoor seating, an open-plan modern saloon and two luxurious suites.
Find out more and book the Sunseeker P74 at simpsonyachtcharter.com
Numarine 62 Flybridge
All aboard: Fits up to 15 passengers
Don't let the size of this smaller 18 metre yacht fool you—its grand design allows you to enjoy the open seas while comfortably escaping the heat in its chic lounge surrounded by soaring glass panels. Of course, if you want to bask in the great outdoors, a sun-pad on the bow and a cocktail table on the rooftop are perfect places to unwind while working on your summer glow. Equipped with a full Bose sound system and an outdoor cinema, this is an ideal yacht for intimate events.
Find out more and book the Numarine 62 Flybridge at skippermyboat.com
See also: Yachting Etiquette: The Dos And Don'ts