5 Luxurious Staycation Packages In Hong Kong
Looking for ways to take a relaxing time out without straying too far from home? We've picked five glamorous Hong Kong hotels offering some of the best staycation packages in the city:
1/5 "A Spectacular Summer" at The Upper House
Situated in the heart of Hong Kong Island, The Upper House provides a modern tranquil escape for you recharge and rejuvenate. Whether you're looking for some "me" time or to spend a long weekend with your partner, the hotel's "A Spectacular Summer" package provides the perfect opportunity.
What's included: Special room rates for stylish accommodation that boasts breathtaking views of the city and Victoria Harbour, with complimentary benefits including your third or fourth night stay free, breakfast for two at Café Gray Deluxe, in-room manicure or pedicure treatments, and House credit.
"A Spectacular Summer" at The Upper House is available from May 1 to early September 2018, with a minimum stay of two consecutive nights. Find out more at upperhouse.com or call +852 2918 1838
---
Want to win a one-night staycation at The Upper House's Studio 70 Island View room? Stay tuned on our Instagram page for a chance to win a luxurious stay that includes breakfast and dinner for two at Café Gray Deluxe. Winners will be contacted via direct Instagram message.
Stay period is from 1 July to 31 August, on Friday or Saturday. Blackout dates may apply and subject to availability. Terms and conditions will apply.
2/5 "Suite Family Affair" at Mandarin Oriental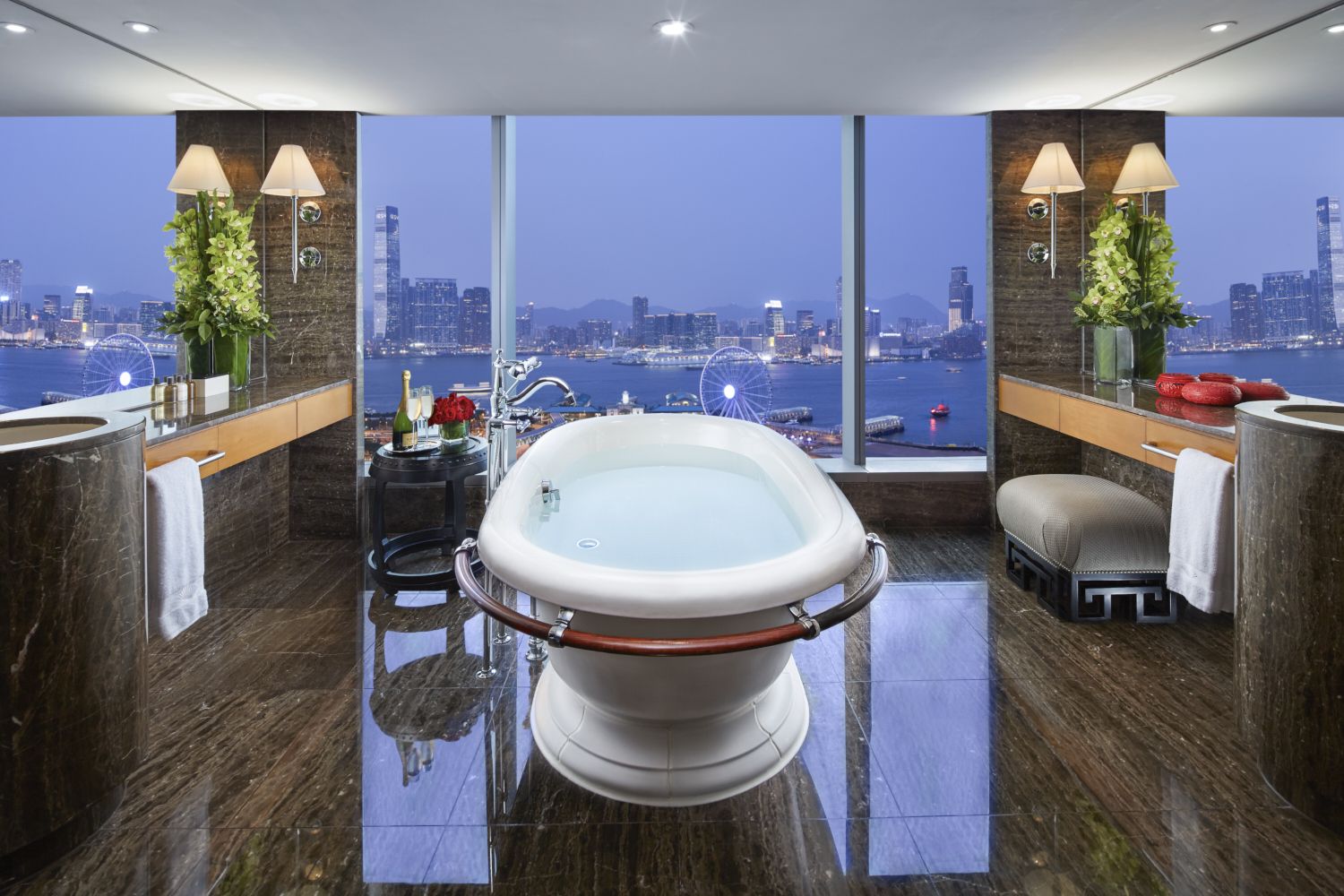 One of Hong Kong's most iconic luxury hotels, the Mandarin Oriental offers a perfect city-based staycation for families. Enjoy complimentary privileges like tasty homemade treats and a free room when you book your suite, so the kids (and mum and dad) get their own space.
What's included: Complimentary breakfasts (for two persons per room) are included in The Clipper Lounge, Café Causette, or Mandarin Grill + Bar. Keep the young ones entertained with activity packs and colouring books, and enjoy free babysitting services so that Mum & Dad can enjoy a romantic date night.
The "Suite Family Affair" package at Mandarin Oriental is available year-round. Find out more at mandarinoriental.com or call +852 2522 0111
3/5 "Glamping Experience" at Tai O Heritage House
For a getaway that's off the beaten path, whisk away to the charming village of Tai O, where fresh air and lush green hillsides meet ancient temples and quaint village lanes. Formerly the old Tai O Police Station, this historic building has been transformed into Tai O Heritage Hotel, a beautiful nine-room boutique hotel that has retained its colonial aesthetic.
What's Included: The hotel offers a unique "glamping" experience in a comfortable and well-equipped outdoor tent structure. For those who want the option to move back indoors before bedtime, the package also includes a one night stay in a Ground Floor Suite. Other benefits include breakfast and dinner at the hotel's glass-roofed restaurant, Tai O Lookout, and a jet boat tour around Tai O Fishing Village to soak up some local culture.
The "Glamping Experience" package at Tai O Heritage Hotel is available year-round. Find out more at taioheritagehotel.com or call +852 2985 8383
4/5 "Great Friend Getaway" At Four Seasons
As far as gal pal retreats go, you'd be hard-pressed to find anything better than Four Seasons' "Great Friend Getaway". Gather your girlfriends—the package includes four Deluxe Harbour View rooms for two weekend nights, accommodating up to eight adults—for this action-packed getaway. Don't forget to enjoy the sunshine by the hotel's famous infinity pool.
What's included: Expand your knowledge of the finer things in life with a private class on artisanal French cheese and wine with a sommelier from 2-Michelin Star restaurant, Caprice. Then, tap into your creative side with a Chinese bracelet knotting workshop at heritage jeweller, Kin Fook, before enjoying a 2 ½ hour experience at The Spa.
"Great Friend Getaway" at Four Seasons, Hong Kong, is available year-round. Find out more at fourseasons.com or call +852 3196 8888
5/5 "A Gourmet Journey" at JW Marriott
Fit for food-loving couples looking for a romantic weekend getaway, JW Marriott's "A Gourmet Journey" package offers couples the chance to experience a minimum of two nights of top-notch hospitality accompanied by a six-course meal at JW Marriott's renowned Man Ho Chinese restaurant, prepared by Executive Chinese Chef, Jayson Tang.
What's included: A decadent dinner that includes an assorted Chinese barbecue meat platter, fried rice with seafood & crab roe, and Chef Jayson's award-winning deep fried Kagoshima pork roll stuffed with foie gras, before polishing the night off with a signature dessert platter consisting of baked mini egg tarts and their famous mango pudding.
"A Gourmet Journey" at JW Marriott is available until August 31, 2018. Find out more at marriott.com or call +852 2810 8366
See also: The World's Best Private Islands And Villas According To Travel Experts