A Gentleman's Guide to Bangkok
Get the inside scoop on the sophisticated side of Thailand's infamous party capital, from one gent to another
Known more as a go-to destination for bachelor parties and wild nights, Bangkok has more going on than ping-pong shows and ladyboy surprises. While there's nothing wrong with a wild night - The Luxe Nomad certainly knows the top spots - the 'Big Mango' also happens to be brimming with snappy tailors, cutting-edge architecture, secret speakeasies and incredible cuisine. Skipping the dodgy Sois this time around, here are the must-dos for those wanting to keep it above-board.
---
Get Dressed
Your first order of business when in Bangkok should be to suit up, and there isn't a finer tailor in town than Pinky. Diplomats, expats, Thai-HiSo and the fashion-forward have been coming to Pinky (aka Dalip Singh Sandhu) for decades. And, because it's going to take a few visits to get those measurements and fittings just right, it's advisable to get that first consultation out of the way stat. Don't worry about running out of space in your luggage either as Pinky ships worldwide. Unwrapping your new three-piece is a perfect post-holiday pick-me-up when it's back to business as usual.
Pinky Tailor, 888/40, Ploenchit Road, Lumpini, Pratumwan, Bangkok
---
Get Groomed
You can make an afternoon or evening visiting Black Amber's gamut of all things gentlemanly. Originally opened as a barbershop and tattoo parlour, the boys at Black Amber have now expanded across the alley adding the bespoke tailor shop Toast, the classy vintage shop Mirror Mask, and The Black Amber Thonglor Social Club, an old-timey speakeasy. If you drop in for a chop and shave and you'll be welcomed with a complimentary single-malt, while lighting up in the chair is... encouraged.
Black Amber Thonglor, Thonglor soi 5-7, Bangkok, Thailand
---
See New Heights
Designed by Ole Scheeren, you'd be forgiven to think the mixed-use MahaNakhon tower isn't quite finished. The pixelated peak looks more like a game of Tetris gone awry but actually provides residents with unique full-height balconies and greater sunlight penetration. Topping off at 314 m, the MahaNakhon is now the tallest tower in Bangkok, meaning the Ritz Carlton's Rooftop Terrace Bar should offer up the best view in town. Down on the ground, celebrity chef Joël Robuchon has brought his chain - L'Atelier de Joël Robuchon - to the 5th floor of the MahaNakhon Cube, while Vogue Magazine has launched their first global foray into the food and beverage game on 6 with the Vogue Lounge.
The MahaNakhon, 92 Narathiwas Ratchanakharin Road, Silom, Bangkok
---
A Culinary Masterpiece
A trip to Bangkok wouldn't be complete without a taste of Thai, and at Le Du, playing off the Thai word – "ฤดู" meaning "season", chef and sommelier Ton Tassanakajohn is shaking things up with his modern take on local ingredients. It's recommended to go for the four-to-seven course set menu, with adventurous dishes like spicy ant larvae with a spiced cold potato mousse on offer; although we'd let Tassanakajohn pick the wine, as the list is equally as bold as the cuisine. If you are looking for something a bit more casual, Le Du's sister Baa/Ga/Din focuses on modern Thai street-food and delivers it with flair.
Le Du, 3 10500, 399/3 Soi Silom 5, Silom, Bang Rak, Bangkok
Baa/Ga/Din, Khlong Tan Nuea, Watthana, Bangkok
---
Smoke a Stogie
Formerly known as Club Perdomo, The ChindAsia Club is the most exclusive members-only gentleman's club in Bangkok (although ladies are also welcome). Guests must be accompanied by a member, and with local membership capped at only 300, you're going to have to pull some strings if you want in. Inside, however, you'll find the largest selection of single cask whiskies in Bangkok and several old-school spaces to relax and network; cigar in hand of course. More accessible is Whisgars, operated by The ChindAsia Partners, with three locations around Bangkok and one in Samui. Whiskey and Cigars - get it?
ChindAsia Club, 3/1 Sukhumvit Soi 28, Bangkok
Whisgars, Sukhumvit Soi 23, Bangkok
---
Keep it Cuban
Look for the old telephone booth on Sukhumvit Soi 11 marked 'Telefono' then use your mobile to call the bar (or send them a facebook message) to receive the night's secret entry code. Use the phone booth to punch in that code and you've just gained entrance to Havana Social. Moving a few decades up from the usual prohibition-era speakeasy and switching out Chicago for Cuba, this 1940's-50's styled joint is a definite hot-spot for those seeking rum, coca-cola, and other like-minded foreigners in the know.
Havana Social, 28 Sukhumvit 13 Alley, Khlong Toei Nuea, Watthana, Bangkok; +66 087 066 7711
---
Grab Some Culture
Being a gentleman involves a little more than donning a suit and sipping some whisky, especially if you plan on having something interesting to say when chatting up that potential business partner, client or new found love/lust interest. Get your culture fix on at the Erawan Museum, which is actually a five-story sculpture of Erawan, a three-headed elephant from Hindu mythology. Inside you'll find three floors of Khun Lek Viriyapanta's personal art collection divided up thematically between the underworld, the earth and the heavens. The standout, however, is the stained-glass ceiling which gives European craftsmanship a run for its money.
Erawan Museum, 99/9 Moo 1, Bang Muang Mai, Samut Prakan; +66 2 371 3135
---
Raise the Bar
Bangkok's no stranger to high-class rooftops, and does them well, so the question isn't really which one to visit, but rather how much time you want to spend in an elevator. For a blue chip investment, The Dome at the Lebua State Tower houses the award-winning Sirocco, Mezzaluna, Skybar, Distil and Breeze, which was recently named one of the top ten cutting-edge restaurants in the world. Yes, scenes from the Hangover were filmed here, but don't let that cast a shadow of tourist foolery on the exquisitely prepared food and drinks on offer. The views aren't too shabby either.
Lebua State Tower; 1055 State Tower, Silom Road, Bang Rak, Bangkok
---
Stay in Style
With an eclectic black-and-white design spread across three acres of Chao Praya river frontage, no hotel does classic quite like The Siam. The river and garden suites exude a luxurious Bangkok of yesteryear, but Connie's Cottage - which was transported to the property intact by river ferry - has seen the likes of Charlie Chaplin, Noel Coward and Somerset Maugham within its hallowed walls. Even if you're not staying at The Siam, a drink at the Deco Bar shouldn't be missed for its snappy, old-world design and great cocktails.
The Siam Hotel, Khao Rd, Wachira Phayaban, Dusit, Bangkok
---
Get out of Town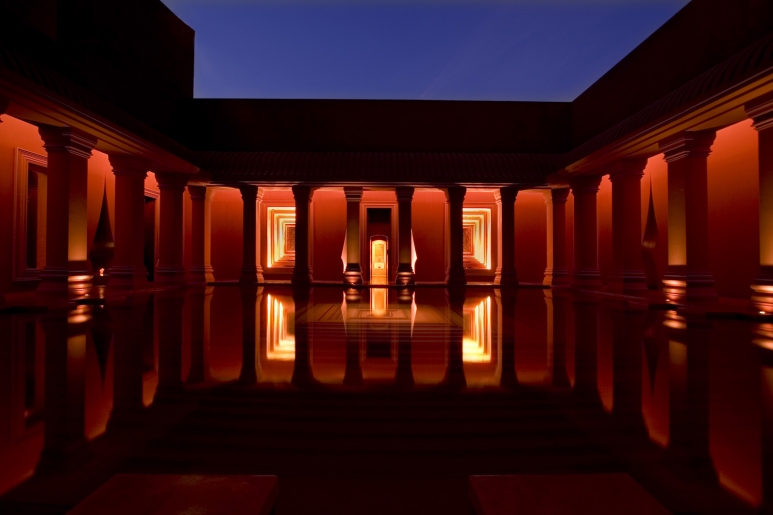 Close your trip with a centuries-old Thai royal tradition, and head to Hua Hin. A three hour trip outside the city, it is worth it to kick your feet up and check in for the day at The Barai Spa. Designed by renowned Thai architect Lek Bunnag, The Barai takes you on a metaphysical journey of mind, body and spirit using architecture as the guide. The 4.5-acre complex plays with the grandeur and permanence of the buildings in contrast to the fluidity and impermanence of water, but if that sound a bit much just relax in the central pool at sundown. When the buildings begin to glow a fire red, you'll get it, or at least smile in ignorant bliss.
The Barai, 91 Hua Hin - Khao Takiap Road, Hua Hin, Prachuap Khiri Kha
---