Asia Society Launches The Inaugural Triennial Of Asia In New York City This Summer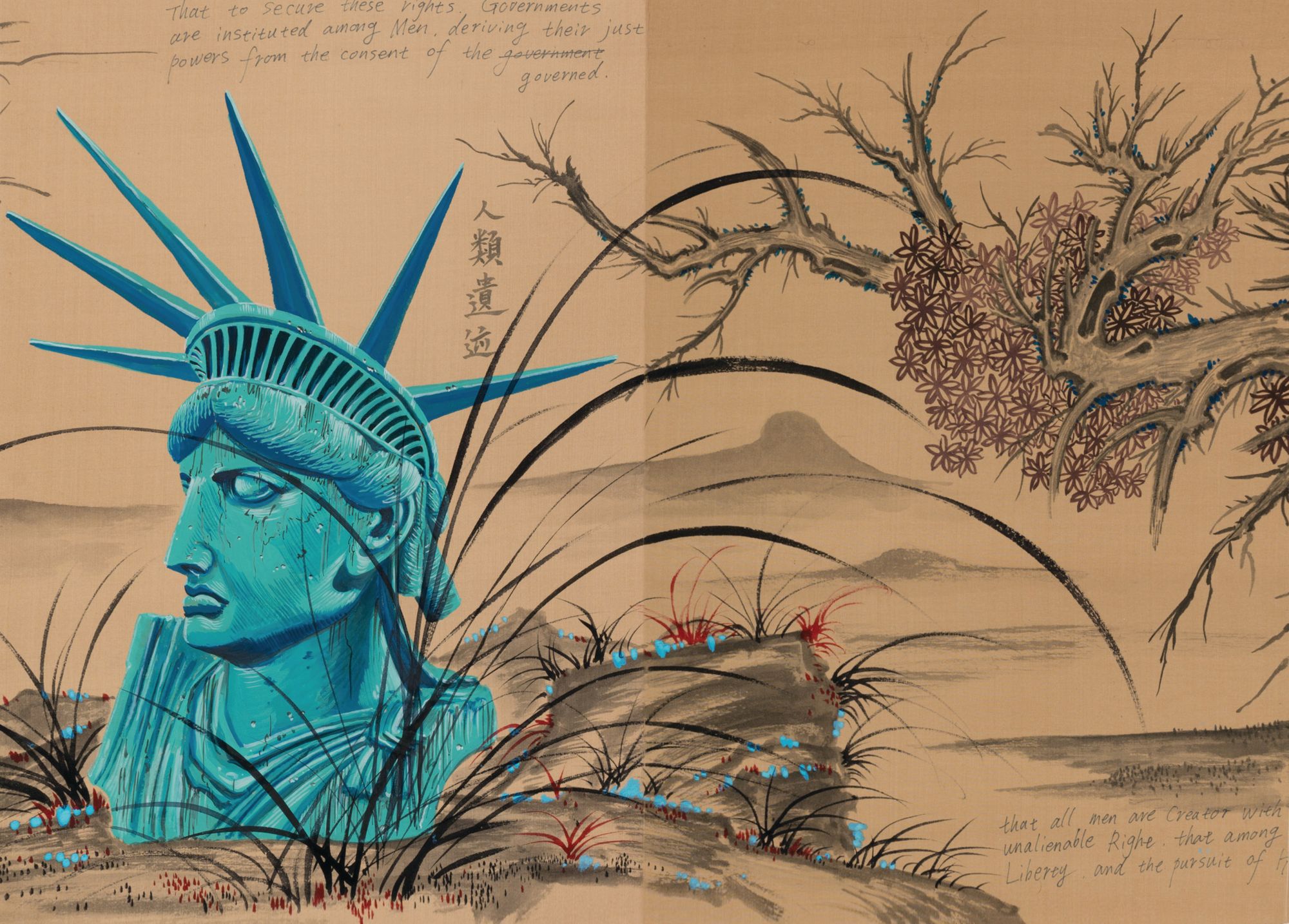 This summer, Asia Society is collaborating with major cultural institutions around the Big Apple to launch the inaugural Triennial of Asia—a month-long celebration of the best of contemporary art from the region. The festival's curators reveal what to expect
Hybrid flags representing an amalgam of countries around the globe will be popping up at cultural hotspots across New York City this summer. These nationless, borderless images are the work of Kimsooja, who was born in Korea in 1957 and now lives between New York, Paris and Seoul, one of some 40 artists featured in the inaugural Asia Society Triennial, focusing on contemporary art from and about Asia. The flags will serve as a unifying visual emblem for the freewheeling, interdisciplinary core exhibition We Do Not Dream Alone, unfolding from June 5 to August 9 at Asia Society, Lincoln Center, Times Square and Governor's Island, with additional programming at the New-York Historical Society and the New York Botanical Garden, among other venues.
The idea of launching a triennial had been germinating at the Asia Society since Boon Hui Tan moved to New York from Singapore in December 2015 to take the helm at the Asia Society Museum. "The fact that I came from Asia [meant that] I had a very strong sense of the creative ferment that is going on," says Tan, artistic director and co-curator of the triennial with Michelle Yun, senior curator of Asian contemporary art at the Asia Society Museum.
See also: A Family Affair: Dominique & Arthur De Villepin On Opening A Gallery In Hong Kong
Their research found that no more than 10 per cent of exhibitions in New York at any one time focused on Asian art, whether contemporary or traditional. "We really felt there was a dearth of representation and a lack of an adequate platform for such a growing demographic of artists and an area of the world that has been gaining prominence across the fields of business and politics," says Yun.
Championing Asian Art
With the triennial, they also aim to reassert the Asia Society's position at the forefront of championing contemporary Asian art and build on seminal shows there from the late 1990s, including Inside Out: New Chinese Art and Contemporary Art in Asia: Traditions/Tensions. "Asia Society was really the first big institution to project the idea that there was an Asian contemporary [view] that was very distinctive," says Tan. Yun, who was born in Michigan and is of Chinese descent, says that seeing Inside Out in 1998 motivated her to shift her focus from western to Asian contemporary art. "I remind myself when things are challenging with the triennial how transformative that exhibition was for me as a young scholar," she says.
Using a definition of Asia that stretches from Australia all the way to Mongolia and includes the Middle East, plus Asian-American and other diasporic artists, the triennial will offer a snapshot of the ways artists from various regions are synthesising and amplifying what's going on around them. While 99 per cent of those included are of Asian descent, the curators have left that aspect flexible for future editions. "It's really artists whose work focuses on issues relating to Asia or who are working in Asia," says Yun.
In this first edition, more than 17 countries are represented and just over half of the 40-something artists are women. The new-media artist Lu Yang from Shanghai is the youngest at 34. The oldest, at 82, is Arpita Singh, born in West Bengal and based in New Dehli, who makes figurative paintings telling subversive stories of women. The show also includes one artist posthumously—Nandalal Bose, one of the founders of the Bengal School of Indian painting, who died in 1966.
See also: Art Basel Hong Kong Is Launching Its First Ever Online Viewing
All About Exposure
While a number of the artists are at the younger end of the spectrum, they should not be considered "emerging," according to the curators. "One of the criteria is that the practice is quite assured: artists that we feel will have an impact on the field and on other artists," says Tan. Many, though, even with long international résumés, have had very little exposure at museums in New York, including artists who have lived in the US since the 1990s, such as Kimsooja and Shahzia Sikander, who was born in 1969 in Pakistan. "Many Asian-American artists fall into that same abyss," says Yun. "An element of the triennial is also trying to correct situations like that for artists who are very deserving but get overlooked."
By including diasporic artists, the curators are hoping to complicate tidy categories. "With Asian-American artists, do you look at their art as Asian art or American art?" asks Tan. "Does the art look Asian if you're Asian-American? The triennial is actually problematising the concept of Asia, which is what I believe this country needs and the world needs at the moment. Unlike politics, art doesn't divide or try to compartmentalise. Art is trying to muddy the compartments."
A case in point is Hetain Patel, a London-based artist born in 1980 in Bolton, England. He doesn't culturally identify as Indian, even though people may make assumptions given his name and appearance, and his work plays with this friction point between self-defined and superimposed identities. For the triennial, he is performing a concert at Asia Society, including a narrated stand-up routine introducing a selection of his videos.
Making Dreams Reality
The exhibition title We Do Not Dream Alone was inspired by Yoko Ono's 1964 book Grapefruit, which is filled with art exercises and philosophical musings including: "A dream you dream alone may be a dream, but a dream two people dream together is a reality." "We're playing with the idea of the dreams of art and what it means at this moment in time," says Tan. He and Yun commissioned just over half of the artists in the show to make new work addressing this theme, including a major site-specific installation on Governor's Island by the Taipei-based collective LuxuryLogico focused on sustainability and local community.
The Delhi-based artist Vibha Galhotra is interested in environmental ecosystems. For her multimedia installation at the Asia Society, Galhotra has embedded herself in New York over the past two years to explore water rights and safety relating to the Hudson River. "She's built up a network of people across various sectors and brought together environmental lawyers, academics, scientists that deal with water," says Tan, who is excited about the triennial's related programming and panel discussions that aim to galvanise people from different disciplines. "All these people are now dreaming together and overcoming silos that separate us."
Pointing to polarised politics and a heightened sense of xenophobia and nationalism in so many places, Yun adds: "This idea of dreaming together is really an antidote or counterpoint to the protectionism that's going on around the world."
---
Here's what you need to know about Boon Hui Tan, vice president for global artistic programmes and director of the Asia Society Museum; and Michelle Yun, senior curator of Asian contemporary art at the Asia Society Museum:
BOON HUI TAN
Since 2015, Boon Hui Tan has been vice president for global artistic programmes and director of the Asia Society Museum. Before that, Tan ran the Singapore Art Museum, which he transitioned into a contemporary art institution. He then oversaw exhibitions and programmes across the National Heritage Board's museums and institutions in Singapore. A founding board member of the International Biennial Association, Tan has a long résumé working on large-scale interdisciplinary exhibitions including the Singapore pavilions at the Venice and São Paulo biennales, the Singapore Biennale and the national festival in France of Singapore and Southeast Asia.
"A lot of my interest is this kind of intercultural presentation—how you present art and introduce artists who are completely unknown from one culture to another," says Tan. "What's important is you must have an organic sense of the vibe of art production coming out now, which is different than art history."
MICHELLE YUN
As senior curator of Asian contemporary art, Michelle Yun has organised more than 25 exhibitions at the Asia Society Museum and oversees its permanent collection of contemporary art. After receiving her BA from Mount Holyoke College and her MA in Modern Art and Critical Studies from Columbia University, Yun got her curatorial training in the painting and sculpture department at New York's Museum of Modern Art. She then ran Cai Guo-Qiang's studio when his mid-career retrospective was travelling internationally.
"That formative experience with Cai really provided me with a significant understanding of how contemporary artists work site-specifically," says Yun, who was then curator of the Hunter College Art Galleries before joining the Asia Society. "Working across time zones and geography gave me a lot of skills I'm putting to use now with the triennial."