Backstage with Angelin Preljocaj's Snow White
If you missed Ballet Preljocaj's fantastic rendition of Snow White during the Le French May festival, we take you behind-the-scenes and show you a scene performed exclusively for Asiatatler.com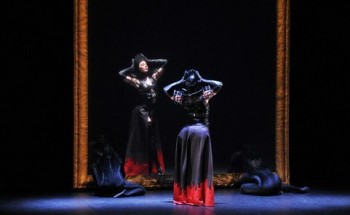 Lights, music, action and grace: we show you a sneak peek of renowned French choreographer Angelin Preljocaj's Snow White. It is without a doubt one of the highlights of this month's Le French May. The contemporary ballet performance is showcased with fluid technique and dynamic energy, resulting last weekend's mind blowing performance at the Hong Kong Cultural Centre.
Exhibiting the best of French talent, Snow White's costumes were exclusively designed by French fashion designer Jean Paul Gaultier, and the musical score written by Gustav Mahler. The travelling ballet company of 26 dancers has been on the road since its debut in September 2008, and have received much acclaim from audiences as well as receiving the Globe de Cristal best show of the year award in 2009.
The reinterpretation of the Grimm Brothers' classic story by Preljocaj left the Hong Kong audience in awe. Whether or not you had the opportunity to watch the show, Asiatatler.com brings you a sneak peek of a scene from the award-winning performance, and we get the director of Ballet Preljocaj, Nicole Said and associate artistic director Youri Van Den Bosch to spill the beans on nerves, being on the road and life as renowned ballet company.