Japanese Artist Chiharu Shiota Discusses Her Iconic Threads And New Exhibition In Taiwan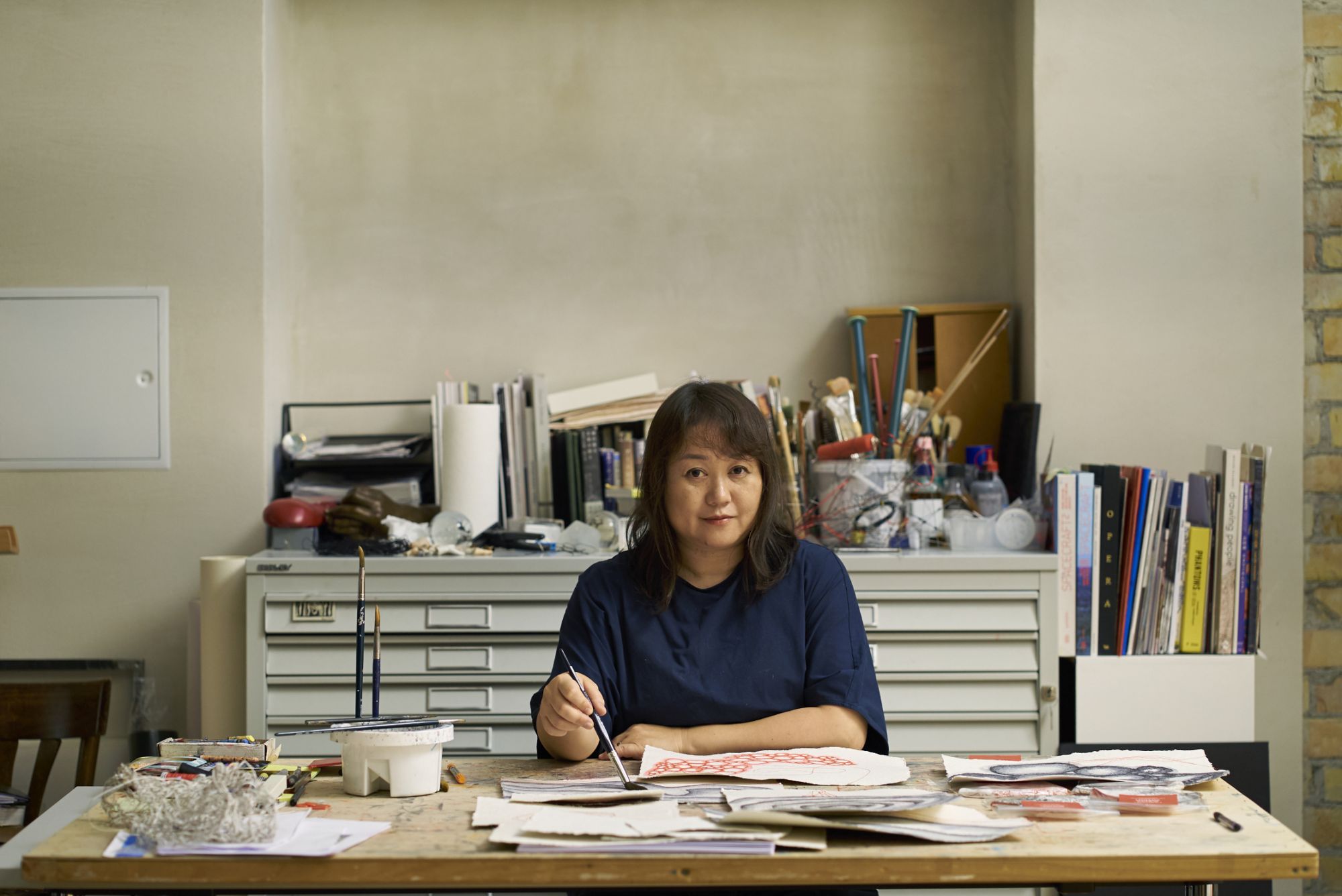 By Jianne Soriano
June 24, 2021
Taking the world by storm with her large-scale installation of threads wrapped around objects, Japanese artist Chiharu Shiota talks to Tatler about her iconic motif, her new exhibition in Taiwan and how her work has changed over the years
Her large installations of webs of threads wrapped around objects took the art world by storm. The artist behind the iconic motif is Chiharu Shiota, a name that people quickly took note of. The Osaka-born, Berlin-based artist confronts fundamental human concerns such as life, death and relationships and explores human existence throughout various dimensions by creating existence in the absence.
This personal creative practice was honed by her colourful life experiences, studying oil painting during university in Japan and then moving to Australia where she began making performances and installations. She moved to Germany and subsequently studied with various performance art pioneers from Marina Abramovic to Rebecca Horn and has since stayed in Berlin. For almost three decades of her career, Shiota has exhibited her work at more than 300 solo shows, exhibitions, biennales and other events.
Now she's bringing both new and old artworks to a new exhibition at Taipei Fine Arts Museum, which runs until August 28. Tatler speaks to Chiharu about the exhibition, her iconic threads and how her work has changed over the years.
See also: Photographer Daido Moriyama And "Provoke" Exhibition Curators Discuss The Magazine's Lasting Influence On Japanese Photography
Can you tell us more about your Shiota Chiharu: The Soul Trembles exhibition in Taipei?
This exhibition was first shown at the Mori Art Museum in Tokyo, Japan. Over 600,000 people visited the exhibition. It became a touring exhibition and since then, has been to South Korea and now Taipei. Mami Kataoka, the director of Mori Art Museum, curated the show and we wanted to show the past 25 years of my work as an artist in one exhibition.
When I was invited to create this show, I was very happy but while I was preparing for it, my doctor told me that my cancer returned so I had to do an operation and chemotherapy. During this time, I was thinking a lot about life and death, questions like "if my body would die, where is my soul going?". Because of that, I put this kind of feeling in the title, The Soul Trembles.
The pieces displayed for this exhibition range from old ones to newer ones, why did you choose to combine the two?
The space was very big so it was good to show everything—my whole artistic life, from painting from when I was just five years old until now. I wanted to show all my work and this marks the first extensive collection of all my work. It was Mami Kataoka's idea to show everything I created in one exhibition.
You also chose to combine various mediums from installations to videos and photographs. Can you tell us more?
The theme of my work is "existence in the absence" but I approach it with different mediums. I'm not only a photographer or installation artist. The theme is the same but I want to create this feeling in different ways.
See also: Artist Stephen Wong Chun-Hei On His Love For Hong Kong's Landscapes
Among your famous work is the use of black and red threads, what's the story behind this? Why do you choose threads specifically?
A red thread is like the inside of the body, like the colour of blood. For me, this colour also symbolises connection so I wanted to connect with the people. The colour lack is deep, like the universe or the night sky. It's more abstract but also like a pencil line in a drawing.
I always wanted to be a painter but during university, I couldn't paint anymore. Painting didn't have any meaning to me so I wanted to create my own art by making a three-dimensional line from the canvas into space. I'm drawing in the air.
You had a very colourful life from Osaka to Kyoto to Australia then Germany. How have your experiences in these places shaped the kind of artist you are and the kind of art that you make?
When I travel farther from Japan, I can see more about my identity. When I am in Japan, I don't think about myself. But in a different country, I can see how I am and see more of myself.
How has your creative practice changed over the years?
My early work is more about the second skin. I believe that our clothing is our second skin, all our memories accumulate in our clothing. And space is like a third skin, that is why I collected many windows in Berlin from old GDR (German Democratic Republic or East Germany) buildings. I collect everything wherever I see a story or memory. I think my work changed because my work is connected to my life. I'm inspired by life and when life changes, my work changes.
See also: The De Villepins On Their Long Friendship With South Korean Artist Myonghi Kang
You're Japanese but based in Berlin, do you combine the two cultures when creating an artwork?
I think I combine two cultures but I am not just making Japanese or German art. For me, it's more important to find an identity to make my own artwork. The culture is important, but that's not my main purpose. I don't like these categories—I want to be free as an artist.
How would you describe yourself as an artist?
I don't know how to describe myself as an artist, every exhibition is also different so I don't know how to describe what I do. I think I just continue to do exhibitions and at each exhibition, I get a new answer.
What else can we look forward to from Shiota Chiharu?
I don't have a plan, I just continue. Sometimes, I wish to exhibit at specific spaces but I don't know the future so I just do my best at each exhibition.
See also: 5 Artists Who Have Been Inspired By Hong Kong
---
Shiota Chiharu: The Soul Trembles runs from May 1 to August 29 at Taipei Fine Arts Museum in Taiwan