Inside Designer And Artist Alan Chan's Eclectic Private Museum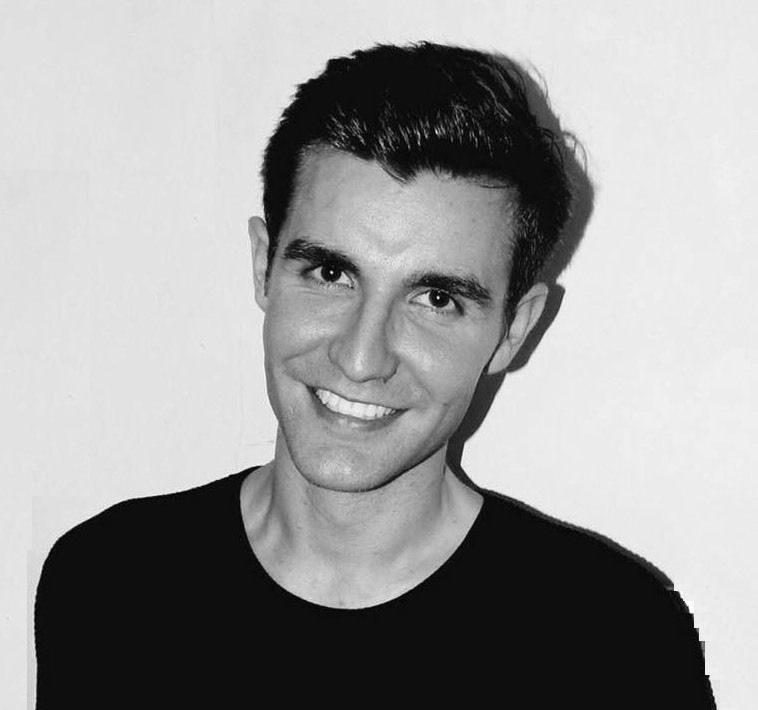 By Oliver Giles
July 07, 2020
Designer and artist Alan Chan opens the doors to his pop-up private museum—and discusses his dreams for a more permanent exhibition space to display his eclectic collection
There is no doubt who owns this sprawling, 7,000 sq ft apartment in Quarry Bay. Hanging right next to the front door to greet every visitor is an extraordinary oil-on-canvas portrait of designer and artist Alan Chan by leading contemporary Chinese artist Zeng Fanzhi, who rarely paints to order, and not just for anyone. Just around the corner, a series of mock film posters are lit like the marquee of a theatre, each depicting Chan in a different starring role. In one, he's a suited, James Bond-esque hero. In another he's posing—tastefully—totally naked. "I have the posters made to mark my birthdays," says Chan from behind his signature owlish glasses. The latest, an image that features Chan sitting on a crescent moon with a fishing rod—a play on the Dreamworks logo—was unveiled at Chan's 70th birthday celebrations in January.
That milestone was particularly special because it also marked 50 years since Chan began working as a designer and 40 years since he founded Alan Chan Design Company, which has created album covers for stars such as Leslie Cheung and Anita Mui, the logo of legendary Eighties nightclub Canton Disco, clocks for Seiko, furniture collections, and branding for City'super, Fancl and Hong Kong International Airport, among dozens of other projects. To mark the occasion, Chan decided to go all out. Rather than taking over a restaurant or bar and filling it with hundreds of friends, as he has done in previous years, he converted a floor of an industrial building into his very own private museum, styling it as an apartment filled with hundreds of items from his vast collection of art, antiques and furniture.
See also: Alan Chan Gets A First Look At Christie's Collection Of Song Dynasty Treasures
Originally, Chan had planned to move everything back into storage after his party but, for now, is keeping the space as is. He regularly hosts dinners here and is mulling opening it to art and design students, patrons of local arts institutions and maybe even to the general public. In the long term, he hopes to relocate these displays to his own permanent private museum, which he wants to open either in Hong Kong or Japan.
"I bought this place 30 years ago for investment," he says. For most of that time it was rented out for events, including to top fashion brands, who used it to showcase new collections to journalists and big-spending customers. "Chanel covered the whole space in pink carpets and made a VIP room for their top clients. Bringing VIP tai tais [to this industrial building] gave them a big surprise, and it was designed so that it could be anywhere in the world—it could've been Paris, London, Tokyo, Russia, wherever."
Treasure Trove
Chan has now transformed the space in a similarly dramatic fashion, dividing it into four very different rooms. The first, which he refers to as the cabinet of curiosities, is dominated by three large glass cases that house glittering objects from Chan's silverware collection, a hair-raising group of plastic Kewpie dolls from Japan and knickknacks and figurines Chan has picked up around the world, including a limited-edition statuette that was a collaboration between Kaws and acclaimed Chinese artist Yue Minjun.
On one side of that space is a drawing room, where almost every square inch of wall is hidden behind artworks by big names such as star Young British Artist Marc Quinn and Japanese Pop artist Keiichi Tanaami. On the other side is a dining room with a square table set for ten with a selection of Chan's antique porcelain collection. Finally, there's a music room dominated by 19th-century portrait paintings from France, offset by an enormous Damien Hirst painting of a glittery red heart filled with butterflies, a lip-shaped, crimson sofa and piles of Louis Vuitton trunks.
The pairing of items throughout the apartment is, by Chan's own admission, jarring. "I like the contrast," he says, gesturing to the pairing of century-old silverware made in Japan for noble European families with plastic, doe-eyed Kewpie dolls made from the Fifties onwards, which he picks up at flea markets around Japan. "It's very shocking, even for my closest friends. My collection is not about showing off wealth, it's about having the taste to pair things together. In here you will find masterpieces that might be worth a million dollars next to things that cost maybe a couple of hundred dollars."
Affinity For The Arts
Chan was introduced to art and design by his father, a fruit seller who once entertained customers by making carvings in the produce; later, he outfitted the family home with furniture he made from fruit crates. Chan says he's inherited his father's eye, and he started collecting when he was still a teenager. "I've got the movie ticket from the time I took my first girlfriend to the cinema," he says, but his collecting changed from a casual hobby to an all-consuming obsession on a 1975 trip to Japan with his wife, Sandra. The couple became fascinated with the country's aesthetic and filled their suitcases with ceramics, woodblock prints, silk obi sashes and more.
At first their collection was a personal pursuit, but it soon began inspiring Chan's work. He proudly says he never formally studied design—"I was a science student, I'm completely self-taught"—and that he can trace many of his ideas back to items in his collection. "I collect China trade paintings [which were produced by Chinese artists for the western market in the 18th and 19th centuries] and used them for the Mandarin Cake Shop packaging I designed in the Eighties. It was very innovative." So much so that the hotel used the designs until 2006, when Chan reworked the branding into what it is today.
Chan's collection has also had global impacts he never could have predicted. He has long been a fan of Japanese artist Hajime Sorayama, who designed the first functional robot dog, named Aibo, for Sony in 1999 before finding fame with his prints and sculptures of seductive, silvery-blue fembots. Chan owns an Aibo that Sorayama personally inscribed for him, bought several of his early prints and, in 2015, commissioned Sorayama to make his biggest sculpture yet for a VIP lounge in a casino in Malaysia that Chan was designing.
Sorayama rose to the challenge, creating a two-metre-tall robot wearing a pair of bunny ears. Legend has it, someone from the Dior team spotted this statue in Malaysia and decided to push Sorayama even further. In November 2018, the runway at Dior Men's fashion show in Tokyo snaked around an 11-metre-tall Sorayama robot that towered over the models and guests. "Now I'm told he has 200 commissions to make robots for [collectors] around the world," says Chan. "You know how much money he's making?"
Sharing Is Caring
But Chan catches himself. Money, he insists repeatedly, is not the point, though he can recall what he paid for almost everything on display and seems to know off the top of his head what price each item would fetch if he sold it today. Instead, he says, his main interest is how he can share his collection with others and inspire greater public interest in art and design. "I want my collection to be about culture and art, not about money and luxury," he says.
Chan has poured millions into supporting public art and design projects over the past five years. After renting out this space in Quarry Bay to brands for decades, he took it back in 2015, and in November that year began hosting exhibitions that were free to the public. "We curated about 20 art and design exhibitions here," says Chan, adding that many of them were dedicated to young artists from Hong Kong. "I want to support the local creative industry," he says. Chan also regularly hosts exhibitions in his gallery in Wan Chai, Gallery 27, which is attached to his design studio.
Further Afield
In 2017, he opened another free-to-all gallery: Kyoto 27 in Japan. Chan dedicated this space to exhibiting Japanese arts and antiques, which were the first things he collected and have inspired so much of his life and work. "I bought it as a house and my wife thought we were going to use it [as a holiday home], but I converted it into a gallery," says Chan, laughing. The space has also been used to host ikebana flower-arranging workshops, and for an exhibition of Japanese crockery he convinced a 200-year-old sweet shop to invent new desserts to complement the antique plates. "That shop has so much history, it was very, very unusual for them to make something new," he says.
While Chan has spent years championing Japanese art and culture, the country was embracing him as a designer. "I was the only gaijin designer who had success in Japan in the Eighties," he says. Among hundreds of other projects, he designed the logo and branding for SMBC, the country's second largest bank and one of the largest in the world. He's also admired there as an artist and has had his work exhibited by the respected Mizuma Gallery.
Japan has had such a huge impact on Chan's life that he is now considering opening his future private museum there, rather than in his hometown of Hong Kong. "I am speaking to some people in Japan," he says. But wherever he chooses to open his museum, the space will need to be larger than this one in Quarry Bay. "The works on show here are less than one tenth of what is in my collection," he says, walking past display cabinets that collectively hold hundreds of objects. "This space is just a prototype."
See also: Tatler's Ultimate Guide To Hong Kong Museums
---
See highlights from Alan Chan's collection below:
1/4 Kewpie Dolls
Chan has been obsessed with Kewpie dolls since he first visited Japan in the mid Seventies. "First [the doll] was a mascot for a mayonnaise brand, but then they became popular toys on the mass market," says Chan. "There are two different kinds of plastic dolls—one which is made from darker plastic, which is much higher quality and more expensive. And the other one is for more of the mass market. I have Kewpie dolls from the Fifties, Sixties and Seventies. They still make them. Other people collect them, but I don't think they collect as extensively as I do. My wife and I have about 100 pieces."
2/4 Zeng Fanzhi Sculpture
This roughly five-foot-tall goose sculpture was painted by acclaimed Chinese artist Zeng Fanzhi. "I knew him back in the early Nineties when he was a poor artist; his paintings were selling for about US$1,000. My biggest mistake is that I didn't acquire more paintings from him," says Chan with a laugh. "This sculpture was a collaboration with Moncler for charity. The brand sent him the sculpture and he painted it in his signature 'chaotic lines'. I bought it at a charity auction. This piece is unique. Zeng Fanzhi actually came to my birthday party and was emotional when he saw this bird." Hanging above the goose is a work by Hajime Sorayama featuring one of his signature silver fembots.
3/4 Blue And White Porcelain
"Blue and white porcelain is my latest obsession and my newest collection," says Chan. "I started [collecting it] about two years ago and I went crazy. I'm [focusing on] pieces that are between 80 and 120 years old that were made in Japan. I find it interesting to see how [porcelain painting] techniques travelled from China to Japan but are used in a completely different manner. The composition, the brushstroke, the details—it's totally different in Japan. And because there were no internal wars in Japan [in the 20th century], lots of porcelain has been very well kept, so it is still very affordable. A 120-year-old teacup in Japan is maybe HK$500. You could never find that in China—in China it would be HK$5,000."
4/4 Playful Pieces
A bulbous Up5 Chair by Gaetano Pesce for B&B Italia with an Untitled (Collaborative Companion Figure) (2008) figurine by Kaws and Yue Minjun. Hanging on the wall is a neon work by artist Keiichi Tanaami, one of Japan's leading Pop artists. "As a designer, it's important for me to maintain a child-like [outlook] in order to absorb [ideas] and be creative. Kaws' toys artwork provoke a pure, innocent feeling and make me feel happy. I deeply believe this childhood innocence in his artworks bring joy, happiness and memories to many, which allow his works to reach a wide audience."
---
Want to see more from Tatler Hong Kong? You can now download and read our full July issue for free. Simply click here to redeem your free issue. Please note, the free download is available from 3 July, 2020 and is valid until 31 July, 2020.
Photography Jonathan Maloney and Inga Beckman for Tatler Hong Kong