First Look at the Sovereign Asian Art Prize 2016 Finalists
The prestigious art award has returned for its 12th incarnation, giving a voice to the emerging artists across Asia and offering support to the underprivileged children in the region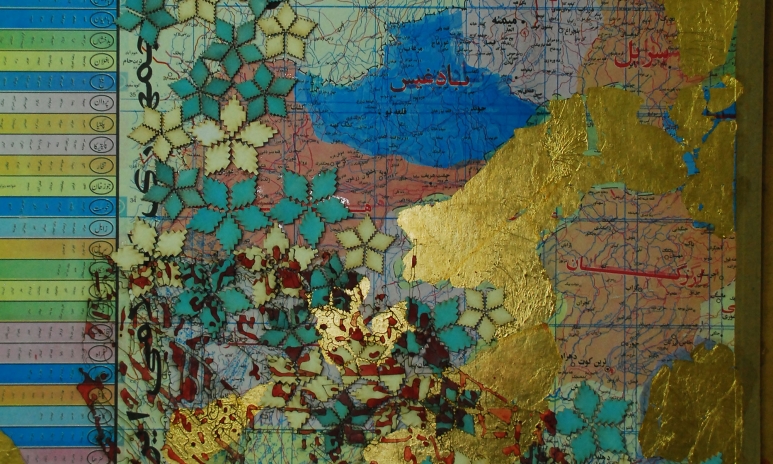 Heralded as one of the most established prizes for contemporary arts in the region, The Sovereign Art Foundation has shortlisted 30 finalists from across Asia to compete in the 12th edition Sovereign Asian Art Prize – and Hong Kong Tatler are the first to reveal the illustrious list.
More than 200 mid-career artists from across 16 territories across Asia entered this year's prize, who were subsequently shortlisted by a panel of judges that include curator David Elliot, Chinese artist Song Dong, independent Indonesian curator Asmudjo Irianto and Taiwanese artist Michael Lin.
2016 marks the second year in the history of the Prize where sculpture was accepted as a medium of entry – and of 30 top finalists' artworks, eleven of them are in 3D.Taking center stage among the finalists include a unique butterfly sculpture made of human hair, a dark installation composed of hand-formed skulls made of Vietnamese spring roll paper and an eccentric sci-fi inspired 3D piece.
The works will be exhibited at Christie's from May 9 to 12, and at The Rotunda from May 21 to 31, and the public is invited to vote online or in person for their favourite piece. A champagne opening of the exhibition will also take place at The Rotunda from 7pm on May 24. The artist who receives the most public votes will win US$1,000.
All shortlisted artworks will be auctioned at a gala dinner on June 3 with the proceeds split equally between the artists and the Foundation's charity partners who champion art education among under-privileged children across Asia.
Browse through our gallery below for the works by the top 30 finalists of The Sovereign Asian Art Prize 2016 along with their nominator's statements:
---
'Sinusold' by Eiji Sumi, Thailand
"Eiji Sumi has been working across many different mediums, mainly involving large scale and site-specific installation. He has recently been working with light installation and light sculpture and is outstanding at what he's doing. Sinusoid is one of his most significant works," says Lyla Phimanrat.
---
'M'lady's Ikebana' Joan Ross, Australia
"Joan Ross has a dark sense humour and makes quirky art that is refreshingly unique. She makes a biting post-colonial commentary on the dissemination of Australia's Indigenous inhabitants and its natural environment. Joan Ross is not afraid to tell the ugly truth about Australia's colonial past," says Felicity Fenner.
---
'Messages From Nowhere to Nowhere' by Piyarat Piyapongwiwat, Thailand
"Piyarat presents the voices of locals in the area to point to the epistemic limits of our knowledge of such a place: indeed, of any place," says Roger Nelson.
---
'The Cotton Angel' by Imhathai Suwatthanasilp, Thailand
"Imhathai's works with hair were originally inspired by her father's loss of hair as he was battling cancer. While her works clearly speak to fragility and life, and a correspondence between all things in the world, they also carry qualities of seduction and the repellent, and these tensions interest me," says Brian Curtin.
---
'New Society (series)' by Mark Salvatus, Philippines
"Salvatas's works continue to speak to the condensed and hybrid hitatler_stories of post-colonial Philippines. In this series, he foregrounds the mechanisms of photography/representation as the means of shaping meanings, against the suggestion that an existing reality is reported upon," says Brian Curtin.
---
'Mongkut' by Arin Rungjang, Thailand
In Mongkut, Arin puts one of Thailand's most cherished symbolic forms at the axis of his inquiry by drawing on Franco-Thai relations during the reigns of King Rama IV and Napoleon III: a period marked by the expansion of the European colonial enterprise in much of the geographic region known today as Southeast Asia.
---
'Parachute' by José Drummond, Macao
"Apart from semi-political works, Jose focuses on relationship between human being and Mother Nature. His work-Parachute, a metallic structure inspires him a man kind activity shows how sensitive he is and it is the reason I nominate Jose to join the competition," says Gary Mok.
---
'Readable Sculpture VII' by Mia Wen-Hsuan Liu, Taiwan
In this art piece, shelves are covered with a variety of books. These books contain untold knowledge in addition to representing pure materiality such as colour, size and binding method. Mei invites the audience to focus on different facets of these substances by turning the book into the readable sculpture.
---
'Repetitive Lopping Voices' by Bagus Pandega, Indonesia
In his piece, Repetitive Looping Voices, Bagus grapples with the concept of religion; namely that of Islamic religious activity. He has assembled the configuration of a star composed of rotating tape cassettes. The star, a symbol of Islam, is representative of the five times a day that a Muslim will pray while the cassette plays one of the most common Islamic prayers to accurately relate the artwork to the everyday life of a Muslim
---
'Riverside' by Toshiyuki Kajioka, Japan
"The painting is original in the way it expresses the light reflected on the surface of the water in the darkness, but still suggesting light. Toshiyuki studied the Japanese painting style, to seek a new style of representation in his work," says Hitoshi Nakano.
---
'Routine Wash' by Pradeep Thalawatta, Sri Lanka
"Pradeep is an emerging to mid-career artist whose work I have been familiar with for the past five years. He has continued to show dedication, ambition and promise in his work and I am proud to nominate him," says Annoushka Hempel.
---
'The Americans have Colonised our Subconscious' by Bani Haykal, Singapore
With a title taken from a line off Wim Wender's film Kings of the Road, this diptych work is a reflection of dominant soft power strategies and effects employed by nation states in the name of cultural diplomacy.
---
'The Right to Know' by Rosanna W. H Li, Hong Kong
This piece tackles the highly topical issue of transparency within a community and how much information we should expect and demand from our leaders. As Rosanna observes, there is a certain duality when it comes to this topic as many people do not place much importance on the amount of information that they're given while others are fervent about their right to know all. Some settle for what they are given while others fight for transparency.
---
'Untitled' by Miti Ruangkritya, Thailand
"This piece is from his series Imagining Flood; possessing a dreamlike and surreal atmosphere, yet it is controversial in that the image was taken in the wake of the country's natural disasters," says Lyla Phimanrat.
---
'Yoke of Expectation' by Azizullah Hazara, Afghanistan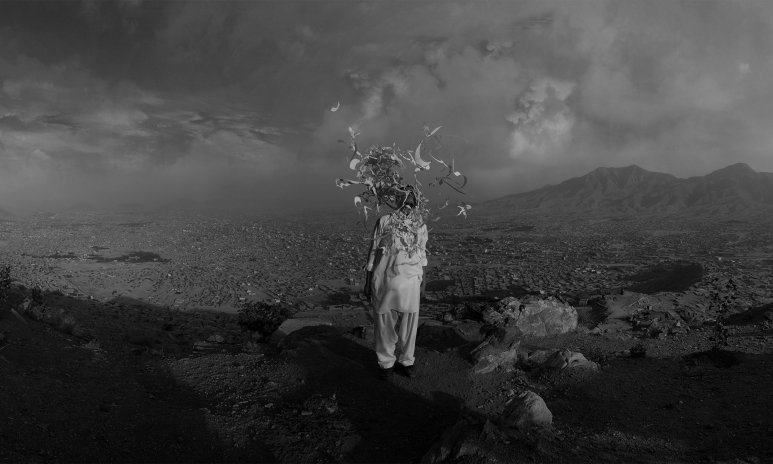 "He plays with words, shapes, figures, and black and white environments to create very powerful pieces, while using his own story, identity and childhood experiences to express society's challenges and harsh truths. Hazara is an artist who thinks deep," says Nabila Horaksh.
---
'Anomaly' by Xu Wenkai (aaajiao), China
In his most recent projects, the artist has adopted a more extended scope of practices, borrowing elements from architecture, electronic music, performance arts, product design, even medicine, to portray the young generation harnessing the power of cyber technology and the ever-present social media.
---
'Acoustic Territories' by Ong Kian Peng, Singapore
Acoustic Territories #03 is part of a series of images generated from a study of sonic environments. Sound snap shots are taken all over Paris in Spring 2015 and used as materials in a sculptural way to generate and visualise as visual representations of the sonic spaces. These sculptural forms often reveal a surprising unique sound signature and reveals a deeper understanding of our everyday environments.
---
'Dream – Spurious Landscape Series' by Sherman Ong, Singapore
Sherman deserves to win not just because is he a multi-award winning film-maker and artist, who has his works premiered in various film festivals, biennales and museums around the world. But as a philanthropist, Sherman Ong's practice has always centred on the human condition and our relationships with others within the larger milieu. A message most of us ignored.
---
'Asia is Red II' by Shakila Haider, Pakistan
"This work is a powerful call for justice in the face of human rights violations, and the lack of protection given to communities who are vulnerable in times of conflict," says Naiza Khan.
---
'Attempts To Contain' by Baptist Coelho, India
"Explicit images of the human body go in and out of fashion for dominant trends within artists' practices. Baptist's works carry compellingly layered means and these photographs keep you looking and thinking," says Brian Curtin
---
'Bank Blank' by Latthapon Korkiatarkul, Thailand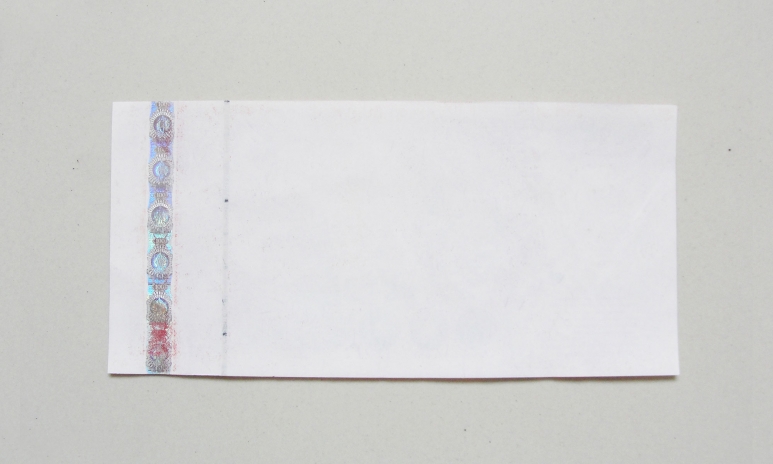 "I find Latthapon Korkiatarkul a very talented artist. He has been working in his minimal style for years. Yet behind those minimal works are intense concepts. He is young; his works are fresh and always catch my attention," says Lyla Phimanrat.
---
'Di(saster)agram : People, Nature and its Undisclosed Reality' by Aditya Novali
"His work reveals depth of thought, clear insight and vision regarding the human condition in the Asian context, besides creative and innovative power and impeccable professional skill," says Restu Imansari Kusumaningrum.
---
'Die, To remain Alive,' Hanifa Alizada, Afghanistan
"This work shows the deep philosophical and social issues of our society. Her artworks are inspiring and push us to think about ourselves, our world and the very meaning of life. Hanifa is not only an artist but a great teacher and has trained many students in Kabul," says Annoushka Hempel.
---
' Fragile Matter' by Richard Streitmatter-Tran, Vietnam
"The paradox of fragile skulls drew great responses and I was particularly intrigued by how Richard critically controlled elements narrating emotions, form and meaning resulting in a work that is accessible while still opening interesting dialogues," says Daryl Goh.
---
' Filmscapes: Pulp Fiction Empty Scenes #6' by Urich Wai-Yuen Lau , Singapore
The dialectics between fiction and reality, reflect on what could be mundane and ludicrous at the same time. The work and image in question is appropriated from the movie Pulp Fiction (Tarantino, 1994), a subject that the artist has been using in a series of video and photographic works. I look for empty scenes where any character will be out of frame momentarily.
---
'Future Fragment Woodgrain' by Claire Healy and Sean Cordeiro, Australia
"They have a really inventive way of re-imagining the materials of our everyday life, turning them into effective commentaries on issues of avid consumerism, unsustainable waste and ultimate mortality," says Felicity Fenner.
---
'Games, Dance and the Constructions' by Teppei Kaneuji, Japan
In his piece , Teppei has assembled a dystopian set of sculptures in an imaginary world. The collection of anonymous objects that blend and merge together are cut from various narratives and then reconstructed into a random composition.
---
'Immersion' by Cha Min Young, Korea
"Not every dialogue will click with every viewer, due to different personal experiences and perspectives, but entering Cha's suitcase microcosm allows us to pause our own reality. Cha's work is evidence of a poetic touch that is as transcendental as it is provocative," says Connie Lam.
---
'L'Autorittrato (Sol) An Excerpt' by Gary-Ross Pastrana, Philippines
"There is an immediacy and presence of a work by Gary-Ross Pastrana. A consistency of presenting us with the unexpected: fresh ideas, new materials. In its intellectual openness, his work offers us space to explore the layers of possibilities and meanings within and beyond that space," says Lisa Botos.
---
'Left Wing' by Isabel and Alfredo Aquilizan, Philippines
"In their Left Wing series, the artists work with local artisans and artists, thus rooting each iteration to a specific moment in time and geographical location; they also point to the continuing legacies, worldwide, of various forms of radical leftist thought," says Roger Nelson.
---
The Sovereign Asian Art Prize 2016 Finalist Exhibition
Dates: May 9 to 12
Venue: The James Christie Room, Christie's, Level 22, Alexandra House, 18 Chater Road, Central
Date: May 21 to 31
Venue: Rotunda, One Exchange Square, 8 Connaught Place, Central
www.sovereignartfoundation.com