6 Reasons To Visit The Hong Kong Golf And Tennis Academy In Sai Kung
Fancy being the next Rafael Nadal or Tiger Woods? Golf and tennis enthusiasts know there is no shortage of training grounds in the city, but those seeking to take their skills to the next level without sacrificing on luxury should plan a visit to the Hong Kong Golf and Tennis Academy, the newly-minted brainchild of cultural entrepreneur Adrian Cheng.
It's not every day that an academy can boast programmes of the prestigious Jack Nicklaus Academy of Golf and the Bruguera Tennis Academy under one roof. But the sports and wellness destination, perched across 19 sprawling acres of Sai Kung's countryside, has risen above the crop of sports academies in the city.
Golf clubs and tennis rackets in tow, we toured the academy to find out why you need to check it out now:
1/6 Jack Nicklaus Academy of Golf
Inspired by the winning philosophy of legendary hall-of-famer golfer Jack Nicklaus, the Nicklaus Academy of Golf programme focuses on mastering the fundamentals while enjoying a passion for the game. At the academy, a range of bespoke programmes take the uninitiated through the fundamentals of the game through a series of 12-week courses, addressing all aspects of the game from rules and etiquette to mental preparation.
See also: How To Get Your Golf Fix In Hong Kong
With state-of-the-art facilities that include 75 hitting stations with auto-feed golf ball system over three levels and a Nicklaus Design 6-hole short course, as well as high-speed video cameras K-vest 7 + K-Player sensor technology that expertly analyses your golf swing in great detail through an advanced computer system, aspiring golfers will master that elusive perfect swing in no time.
2/6 Bruguera Tennis Academy
Tennis enthusiasts will delight in training with the renowned Bruguera Tennis Academy programmes founded by internationally acclaimed coach Lluis Bruguera who has tapped Hong Kong to launch his first training academy in Asia. Lluis' original technique earned him widespread respect as the founding father of modern tennis in Spain, led by a holistic and balanced training methodology incorporating technical, strategic, physical and mental development.
The academy is home to seven outdoor courts, one International Tennis Federation-standard indoor court, two mini-tennis courts for children and the first and only padel tennis offering in Hong Kong. Advanced video analysis ensures students and aspiring professionals get the most out of their training.
3/6 Fivelements wellness centre
Any athlete knows that physical and mental prowess go hand in hand—that sometimes a victorious match all hinges on how mentally-prepared you are on the day. Knowing this, the HKGTA offers the spectacular Fivelements wellness centre hailing from Bali, Indonesia to offer athletes a perfect urban retreat for rejuvenation and relaxation after an intense training session.
Set within a 2,000-square-metered landscaped gardens and consisting of 12 wellness suites, a sacred arts yoga and meditation studio, Fivelements offers a range of Balinese-inspired wellness rituals specifically designed for intensive athletic training, from deep bodywork and relaxing massage therapies to rejuvenating therapies, osteopathy, water healing, mindfulness and yoga.
4/6 Sakti Dining Room
The academy's dedication to high-quality nourishment extends to its dining offering housed at the award-winning Sakti Dining Room. The fine-dining eco-friendly restaurant is sure to impress even the most discerning gourmand with a wide array of innovative plant-based, raw vegan dishes curated by Chef Arnaud Hauchon, including the popular three, five and seven-course chef's tasting menus crafted from seasonal organic ingredients and designed to give optimal plant-based nutrition and high energy.
To end your meal on a soothing note, head over to the Royal Tea Lounge decked in Balinese palace-inspired design for a sip of the handcrafted artisanal teas.
See also: Top 20 Restaurants In Hong Kong & Macau
5/6 Kids Academy
Despite its premier training programmes and facilities, it's much more than just tennis and golf at the academy: Young learners seeking the same development, fun and creativity will find games and activities galore at the Kids Academy designed to promote holistic learning and growth.
Believing that good development is nurtured through structured and unstructured play, the activities cover eight learning styles developed by Dr. Howard Gardner including visual-spatial, interpersonal, verbal-linguistic intelligences and more. Games rooms with slides and ball pits, indoor and outdoor adventure play spaces and an outdoor recreational pool provide kids and their families with a stimulating environment for learning.
Seeking a little popcorn entertainment after a day of play? Retreat to the nearby mini movie theatre, which can be rented out for private parties, to catch the latest flick with the whole family.
6/6 Plush accommodations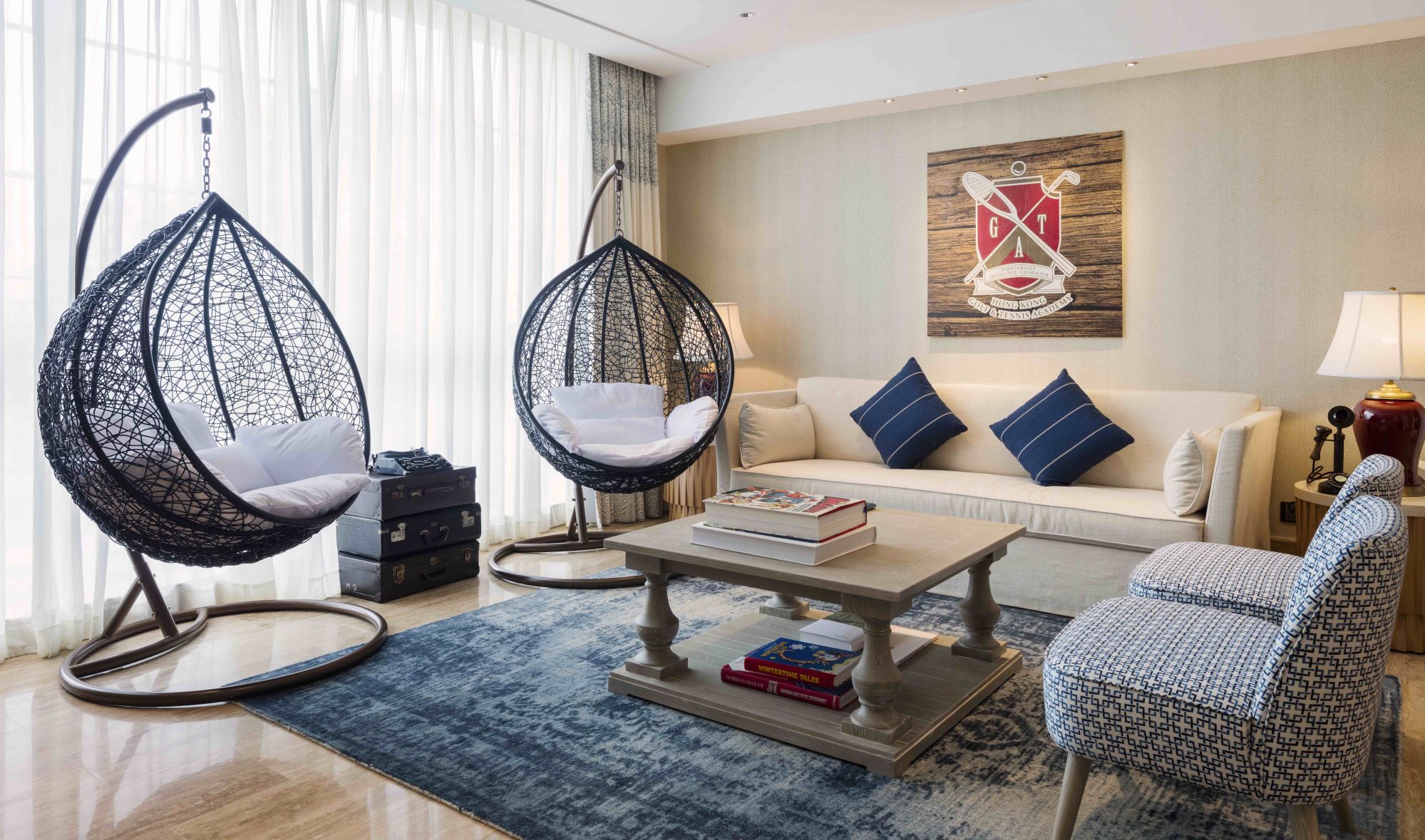 The last things a player needs before a game are unwanted distractions. Thankfully, a host of fully-equipped, lavishly contemporary accommodation options are available right on the academy's grounds to offer the perfect sanctuary for athletes to get their full-night shut eye and rest.
With a plethora of accommodation types on offer including one- to three-bedroom suites, duplexes, villas, row houses and even kids' dormitories, there will be plenty of room for your support crews—whether they be intimate family members or your entire entourage.
For more information, visit hkgta.com