Helping Wealth Blossom: A More Resilient Future With HSBC Private Banking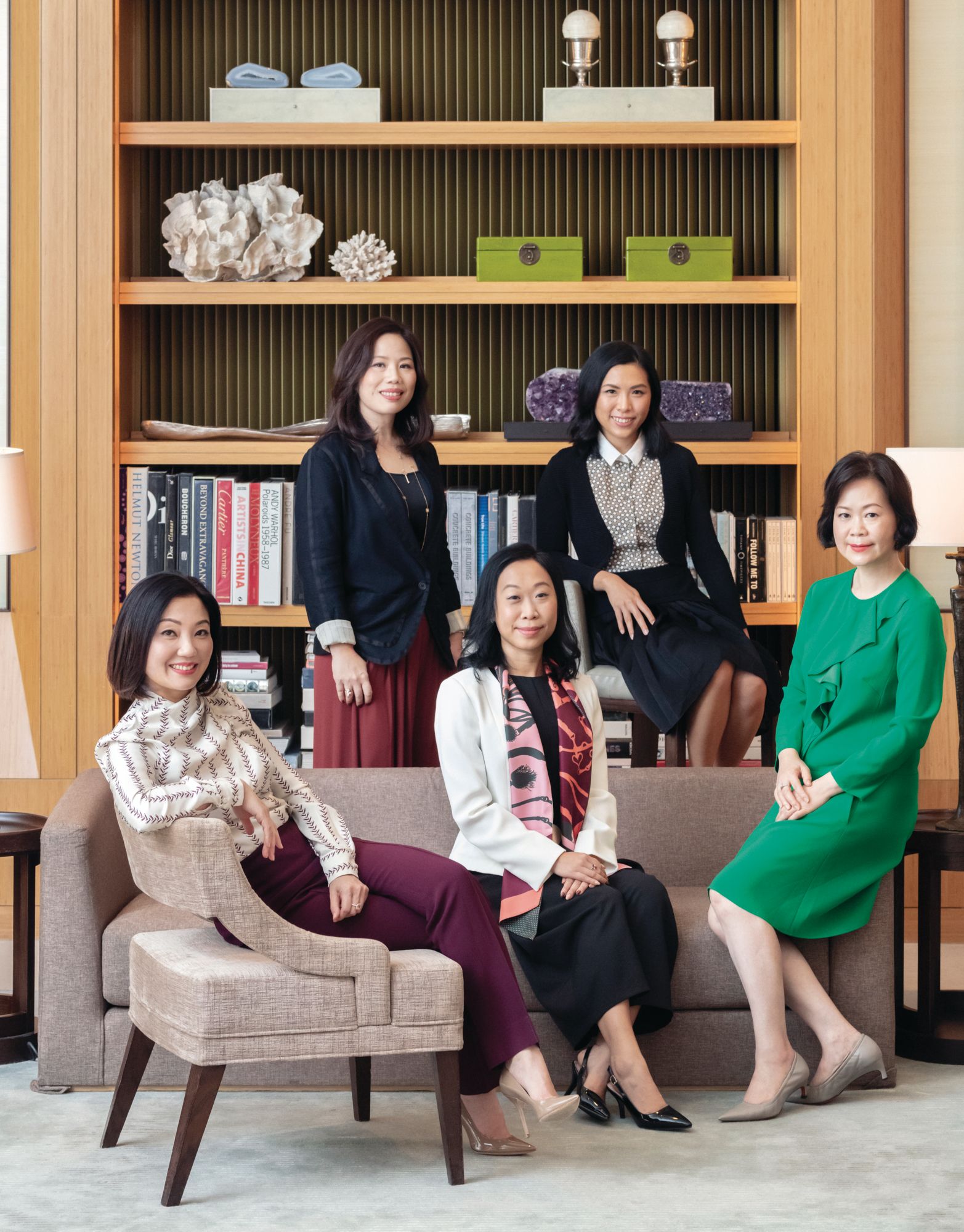 In a challenging year, HSBC Private Banking's wealth planning and advisory team have been busy helping clients to plan, respond and prepare for opportunities
Cynthia Lee is an avid gardener, and she sees many shared principles between her favourite pastime and her day job as regional head of Wealth Planning and Advisory for Asia Pacific at HSBC Private Banking.
"You need to have the right ecosystem to let plants flourish," she says. "I walk around my garden proudly every day and see that some plants are flowering, some need more shade or more water. When a plant outgrows its pot, I'm extremely proud and move it so that it has more room to continue growing.
"I think this has a lot of similarities to how we work with families and how we try to create the right ecosystem for our wealth advisers so that they can bring value to the clients that we work with."
The dedication and patience needed to build these strong roots pays off in a year such as 2020, when Covid-19 hit like a typhoon and disrupted businesses, the economy and personal lives.
Although the pandemic was an extraordinary and unexpected event, helping families to build resilience is at the core of what Lee and her team do every day. The economy is no more predictable than the weather, but careful planning and maintenance can ensure sustainable, coordinated, long-term growth come rain or shine.
See also: World of Opportunity: The Important Role of Sustainability in Family Business
Even before the pandemic, the families that Lee and her team work with had been paying close attention to global trends that could affect their businesses and portfolios, including the decoupling of mainland China and the US, and the heightening of geopolitical risks.
They had also been grappling with the longer-term effects of technologies such as artificial intelligence and big data on traditional businesses, and how these trends will shape the future for succeeding generations.
With so much to think about, it is important to take a strategic approach to family wealth that focuses on continuity, sustainability, diversification, resilience and adaptability.
"We have definitely seen unprecedented conditions this year," says Lee. "But our role is to give families the advice and the tools they need to be prepared for uncertainty, so they can face the future, whatever it may bring, with peace of mind."
Governance
Planning is at the core of this preparedness, and that starts with uniting the family around a common purpose by drawing up a family governance blueprint or constitution that expresses family members' shared goals and aspirations.
This can provide the family with a decision-making framework that will allow them to present a united front when tackling challenges such as the pandemic, whether they are making decisions about the business, the well-being of the family or their philanthropic efforts.
"Common purpose can bring the family together," says Connie Ho, head of Family Governance and Family Office Advisory for Asia Pacific at HSBC Private Banking.
It is not unusual for families to get to this point by themselves. But taking it forward can be more challenging, and external advisers can help with this implementation, such as integrating the blueprint into a legal structure, organising family meetings and providing continuing support through consultancy and advisory services.
The pandemic has also spurred families to think more seriously about succession planning.
"Such conversations are sometimes seen as taboo in Asia, but most entrepreneurs understand the need; it's just that they have had other priorities in the past," says Ann Ling, a senior vice-president in the Wealth Planning and Advisory team. "Now, because of the pandemic, the value of proactive succession planning has been better understood and there has been more time to actually sit down and reflect on how to plan for loved ones."
For many, the pandemic has strained marriages and family relationships, and exposed different approaches to running businesses, highlighting the need for a structured plan.
Cross-border planning has also become more popular, with geopolitical concerns encouraging some families to pursue multiple passports and residencies.
See also: A Healthy Mind Matters: Investing In Mental Health For Social Impact
ENVIRONMENTAL AND SOCIAL
Guiding the next generation is one of the most important elements of family governance. That will often mean creating defined roles and responsibilities within the organisation, but it can also include environmental and social concerns.
"Many in the next generation want to make a stronger impact in that area by improving and supporting the communities they live in," says Ho. "While they are often keen to support the family business, they are also mindful of social and environmental problems."
Older family members who have spent their lives focused on business success and cost-efficiency might not see such issues as a focus, particularly during the pandemic, when they have been focused on managing the crisis. Acting as neutral facilitators, wealth advisers can help to bridge the gap between generations and put the focus on what is best for the sustainable long-term health of the business.
On the investment side, many clients embrace ESG screening, and HSBC has a number of initiatives that attract attention from forward-thinking clients who are interested in sustainability initiatives, including a new programme to support nature-based impact investing.
However, the wealth planning team sometimes encourages clients to stay invested in certain industries, such as energy or manufacturing, to ensure a seat at the table, allowing them to continue influencing and supporting businesses as they adapt to the future.
PHILANTHROPY
In some cases, forward-thinking entrepreneurs are also directly involved in shaping the future through their philanthropic endeavours by investing in education, healthcare or innovation. In addition to the long-term philanthropic pursuits, a number of clients have provided generous support for any immediate needs for the pandemic.
From the earliest moments of the outbreak, HSBC Private Banking's wealth planning and advisory team worked with clients and non-governmental organisations to organise the delivery of personal protective equipment to frontline workers and people who could not afford it, both in Hong Kong and worldwide. The bank also helped to organise initiatives focused on ventilators and vaccine development.
Drawing on the experience of Sars in 2003, the bank initiated a programme to recognise the likely mental health issues associated with lockdowns and social distancing. In autumn, it launched a programme called Mind Matters to engage all generations and types of philanthropists to support NGOs as they struggled to operate effectively at a time when schools were closed, and face-to-face meetings were more difficult.
"There was no proven model for how to operate during such conditions," says Dorothy Chan, head of Philanthropy Advisory, Wealth Planning and Advisory at HSBC Private Banking.
The programme enabled clients, who were willing to personally lend their expertise to help NGOs, improve their project plans, as well as others who were busy with their businesses but are willing to fund projects. The bank even organised a Dragon's Den-style pitch day to match projects with funding, judged by experienced grant-makers.
FAMILY OFFICE
"Covid-19 has been a great equaliser. With lockdowns and travel restrictions a reality for even the wealthiest tycoons, continuity emerged as a key theme for family offices this year and, with that, diversification and adaptability," says Edith Ang, co-head of Family Office Advisory for Asia Pacific, Wealth Planning and Advisory.
As family offices in Asia become more professional, they are increasingly being set up as a separate team from the founders' main businesses—and some families found during Covid lockdowns that a core-satellite family office structure, split between two financial centres, would have ensured better continuity of operations. Such structures could become more common in the future.
While Switzerland and London have always been popular financial centres for Asia's affluent families, Hong Kong and Singapore are increasingly favoured for establishing family offices, and Ang notes that families from outside the region are also looking to set up satellite outposts in one of the two cities.
"Hong Kong and Singapore have both done a tremendous amount to develop the family office landscape," says Ang. "The regulators take an active role in marketing the cities as economic centres and are proactively looking at legal framework clarifications, tax concessions and licensing regulations, besides enhancing the regulations on a variety of asset holding structures such as private funds. All to offer an attractive framework that will ease the set-up and operations for families here in Hong Kong."
OUTLOOK
As she looks to 2021 and beyond, Lee says that her team is constantly trying to understand, observe and analyse its clients' changing needs.
"Our clients are all very successful people and for us to continue to stay relevant, we need to keep up with them," she says. "It's the value of the knowledge and expertise that we share that allows us to earn their trust as wealth advisers."
This year has been challenging for many businesses and families, but like any good gardener, Lee is predisposed to see potential.
"To grow a beautiful flower, first you have to dig the ground," she says. "Many opportunities can emerge from a crisis, but you have to be able to respond and take advantage."
Discover more about HSBC Private Banking here
Photography Mike Pickles
Hair Dennis Tsui, Gloomy Kwok at Makeupbees
Make-Up Sandy Cheng, Lydia Law, Irene Lee, Taurus Lee at Makeupbees
Location The Upper House