Incredible School Designs From Around The World
We highlight five of the best school designs from around the world
It's easy to assume architecture designed with children in mind always equates to simple, harmonious buildings for them to play in. These structures prove otherwise – each of them is uniquely colourful in its own way, and it cleverly incorporates sustainable elements.

These five stunning buildings prove that kids really do get to have all the fun. With green features, plenty of colour and concepts intended to inspire and foster development, they're raising the bar of international design.

Sports and Leisure Centre
Saint-Cloud, France

Built on a net floor area of 1,600sq m, the cheerful structure's different areas are all colour coded. This makes it look like a toy, inviting children to enter and play. At night, the façade explodes with brilliant colours – red, green, pink, purple and orange.
Saint-Cloud Town Council enlisted the help of Christophe Ouhayoun and Nicolas Ziesel, of KOZ Architectes to create this colourful and stunning work of art. They were asked to accommodate a sports centre with a gymnasium, climbing wall, fencing strips and a mountaineering room, as well as offices and a leisure centre with its own multi-purpose hall, and outdoor and indoor activity rooms – all on a narrow plot of land. Not only did they manage this with flying colours, they were able to incorporate sustainable elements into the buildings too. Roof openings and a glass façade help to bring in natural light and limit the use of electricity, while water is heated by solar panels.

Photography by Stephan Lucas

Evelyn Grace Academy
Brixton, London
Seen from afar, Evelyn Grace Academy resembles a giant letter Z lying on its side. Designed by Zaha Hadid Architects, the secondary school for 1,200 pupils is located in the densely populated London borough of Lambeth. Supporting the concept of "schools within schools", it houses four smaller schools – Evelyn Middle and Evelyn Upper, and Grace Middle and Grace Upper – within its three-storey horizontal compound.
Floor-to-ceiling glass cladding allows in an abundance of natural light, while the interior colours are simple tones of grey and beige, with delicate splashes of yellow and green here and there.
Photography by Luke Hayes
Nursery in the Park
Zaragoza, Spain

Glancing at this quiet piece of architecture, a nursery for children up to three years of age, nobody would guess that its design was inspired by the story of Pinocchio getting swallowed by a whale. The lines that zigzag vertically across its façade actually represent the teeth of the whale that swallowed the puppet whole. The gorgeous structure is the brainchild of Santiago Carroquino, Ignacio Grávalos and Patrizia Di Monte of Santiago Carroquino Arquitectos, a Spanish-based architecture firm, and is located on Zaragoza's Echegaray and Caballero streets in one of the city's oldest districts.
The building's green and yellow polycarbonate and concrete façade peeks out from between the park's trees in a deliberate attempt to blend it into the surroundings. In consideration of its proximity to the Ebro River, the kindergarten has been built on a raised platform that will enable it to escape flooding for the next 500 years. A green roof adds to its overall natural appeal. The cute round windows that open inwards resemble a ship's portholes. Also, seen from outside, they look just like barnacles on a whale.
Photography by Jesus Granada
County Elementary School
Tianjin, China
The County Elementary School is a splendid modern maroon-red edifice that stands proud and tall in Tianjin's Xiqing District. Spanning a massive 18,000sq m, it houses 48 classrooms, a cafeteria, gymnasium, administration areas and an outdoor exercise field. Completed in September 2010, it was a collaboration between Beijing-based Vector Architects and CCDI (China Construction Design International), a Shanghai architecture firm.
The school's structure combines concrete and steel, while its exterior features perforated metal, wood and stucco. A skylight in the central atrium admits an abundance of natural light that brightens up the rest of the building, too. The high atrium ceiling also maximizes ventilation. The interiors are mainly white, but look closely and you'll spot splashes of colour that differentiate the spaces. Green technologies incorporated throughout the school include a geothermal system, storm-water management, and the use of recycled materials.
Photography by Shuhe Photo

Ponzano Primary School
Ponzano Veneto, Italy

Designed by Carlo Cappai and Maria Alessandra Segantini of Italian firm C+S Associati, Ponzano Primary School is a vision of adult sophistication. Daylight streams through its glass façade, into the classrooms where the pupils spend most of their time. Meanwhile deep red poles positioned around two sides of the exterior create an interesting mix of shapes when you look out from within.
A luscious roof garden links the building with its surroundings. Also, a number of green elements have been incorporated into the school – for example, thick insulating walls that minimise the use of heating. As a result, it has been awarded an Italian Class A+ efficiency rating.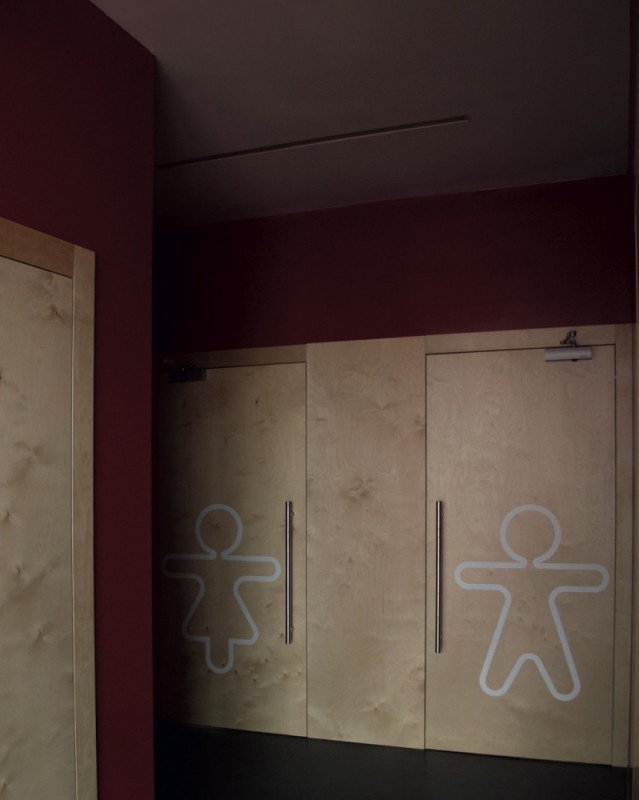 Photography by Alessandra Bello and Pietro Savorelli