Instagram Launches Live Rooms for Multiplayer Livestreams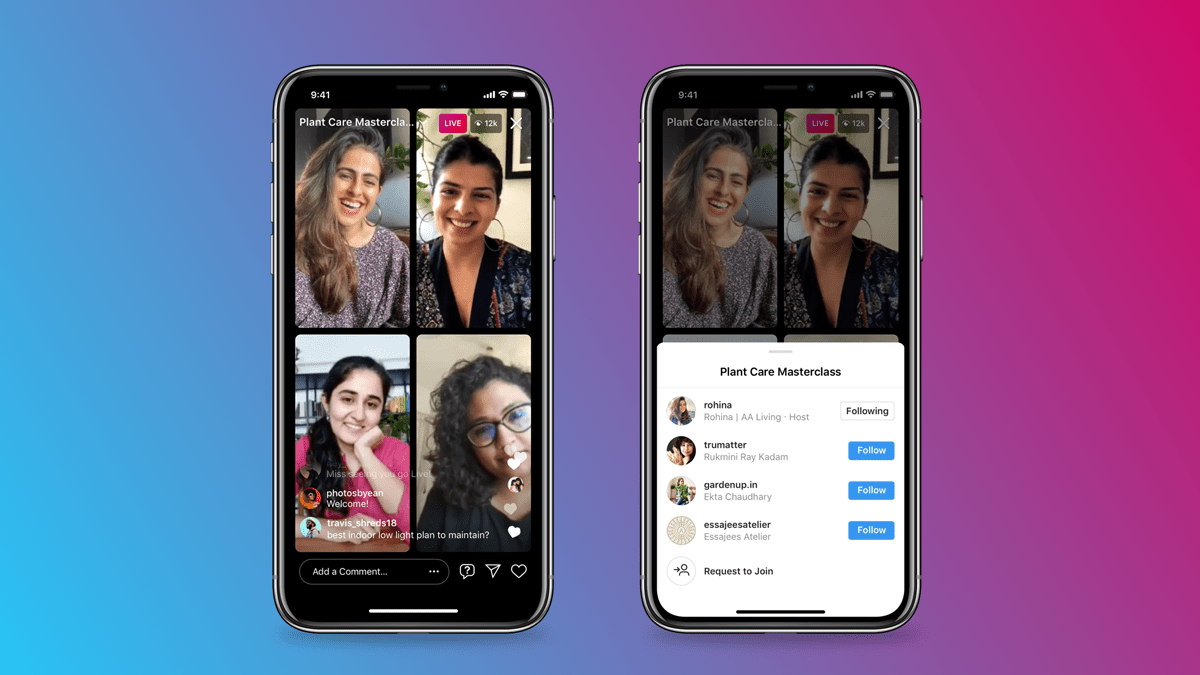 The social media platform gives users the ability to livestream with up to three additional guests at once. Here's what the new feature looks like and how to use it
As social media platforms race forward to fill the physical gaps left behind in the wake of the Covid-19 pandemic and our year of quarantine and distancing, today Instagram announced the launch of Instagram Live Rooms—an enhanced and expanded Instagram Live where up to four guests can converse onscreen in a livestream, broadcast to their followers and the world.
"We hope that doubling up on Live will open up more creative opportunities—start a talk show, host a jam session or co-create with other artists, host more engaging Q&As or tutorials with your following, or just hang out with more of your friends," the announcement reads.
Over the past few weeks, as audio group chat platform Clubhouse climbed towards and surpassed a US$1 billion valuation, other social media platforms have unleashed a spate of community-orientated features. Last week, Twitter unveiled its plans for both "Super Follows," gated paid content, and communities, a to-be-clarified function that industry experts predict will be "a more private and more controlled way for communities to get together on Twitter outside the public view," according to Recode.
On Instagram, Live Rooms will allow a room initiator to invite up to three additional guests to share the stage, and livestream viewers will be able to buy "badges" for the hosts. Hosts will also have access to live shopping and fundraiser tools, and the platform promises to explore moderator controls (it works great on Clubhouse) and additional audio features.
Related: The Best Instagram Bakeries and Cake Shops in Hong Kong
"We want Instagram to be the best place for creators to have meaningful conversations with their audiences and each other, and we designed this new update with safety in mind," the announcement reads.
As for the moderation tool: "People that are blocked by any of the active participants in the Live Room will not be able to join the Live. Guests who have had live access revoked because of violations of our Community Guidelines also won't be able to join a Live Room. Features that are currently available to Live hosts, such as the ability to report and block comments, and apply comment filters will also be available to hosts of Live Rooms."
To activate a live room with up to four participants, user should initiate lives and tap to add speakers and guests from their followers list. The app will notify all speakers' followers, making multiplayer livestreams "a great way to increase your reach," according to Instagram.