Where To Stay In Namibia: The Hottest Hotels In One Of The World's Last Wildernesses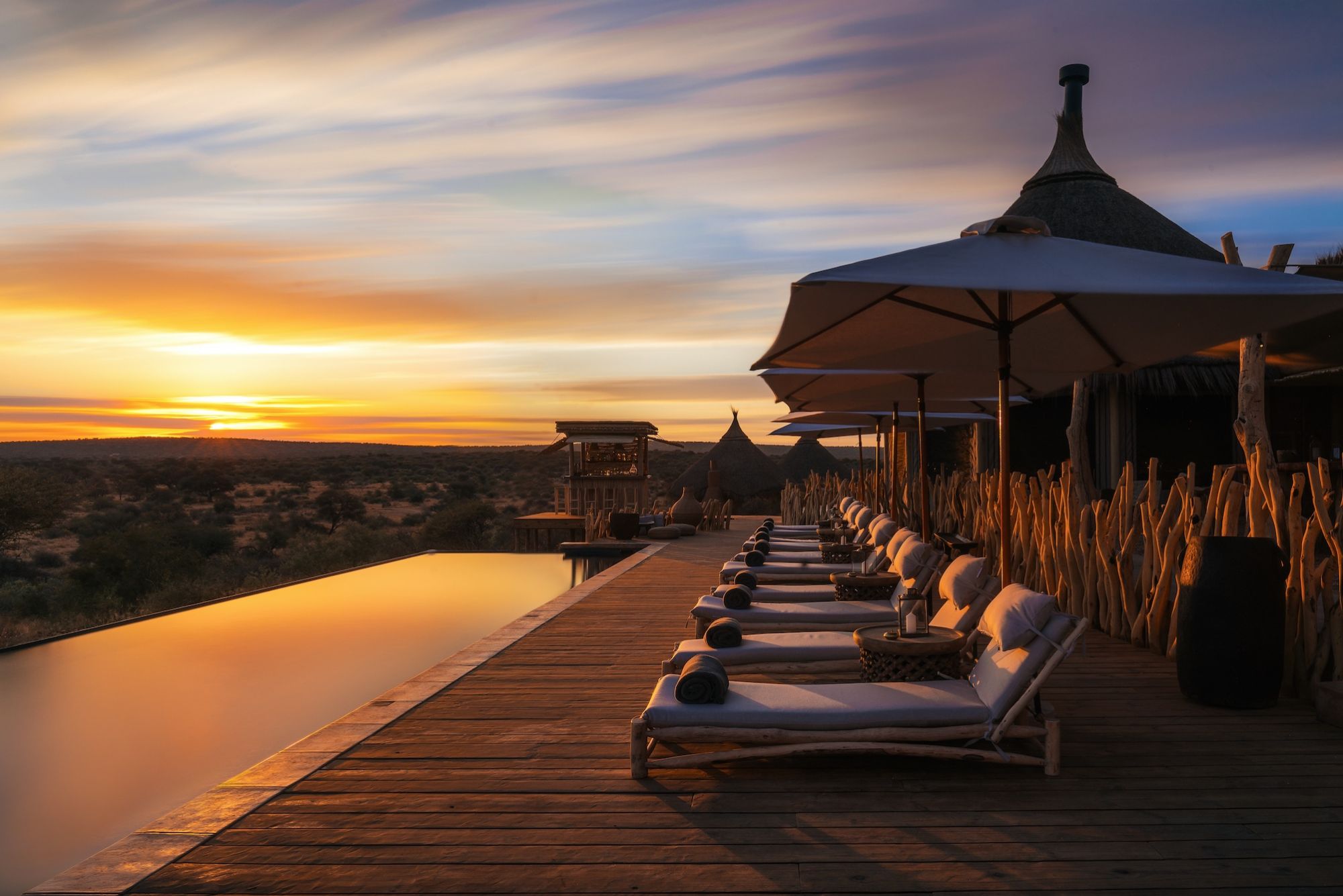 Otherworldly desert landscapes, reserves teeming with wildlife and some of the best stargazing in the world are just a few of the reasons travellers are flocking to Namibia. Here are some of the best places to stay in this southern African nation, one of the most sparsely-populated places on the planet
1/3 Anderssons at Ongava
"If a lion roars in the night you'll feel it in your bones," says Etienne Fourie, camp manager at Anderssons at Ongava, a luxury safari lodge in a remote corner of northern Namibia.
He's not joking. Anderssons, which opened in April, is made up of eight plush huts that curl into the surrounding scrub around a central waterhole, leaving black and white rhinos, elephants, whole herds of antelope and Africa's famous big cats free to pad in and out of the camp in search of water, sometimes mere metres from guests' beds.
Everything at Anderssons is focused on conserving these animals, which roam Ongava's 300-square-kilometre reserve. A new model of safari camp, Anderssons encompasses not just luxury lodgings but also the Ongava Research Centre (ORC), a state-of-the-art laboratory that's home to a team of researchers. Here, scientists work on everything from mapping the territories of the park's elusive leopards to vast projects that will analyse the health of the whole ecosystem. There's also space for visiting academics—soon after opening, the ORC hosted a group of hyena experts from the International Union for the Conservation of Nature.
Anyone staying at any of Ongava's four lodges can visit the ORC's interactive visitor centre, which gives a comprehensive introduction to local flora and fauna, but Anderssons guests are offered a more hands-on, in-depth experience. ORC team members give regular talks at Anderssons on their latest findings, and they're developing a system that allows visitors to submit photos and observations from game drives directly to the research team, turning safari-goers into citizen scientists.
Conservation is even woven into the design of the rooms at Anderssons. Books on African flora and fauna are piled on guests' desks alongside iPads loaded with wildlife-centric apps that contain all you need to know about the behaviour and habitat of animals found at Ongava and elsewhere in southern Africa. A night-vision camera by the camp's waterhole streams live footage to the TVs in all the rooms around the clock, allowing guests to discover what's lurking outside in the darkness at the press of a button.
A week before my stay, a guest switched on her TV in the middle of the night and saw lions gathering outside. It was too dark to see anything from her room, but she slipped into the lodge's underground hide. She sat silently and watched them in the moonlight, mere metres from the pride.
During the days you're likely to see plenty of wildlife from your room, but most guests also venture out on twice-daily game drives. And the drives don't have to stop at the reserve's borders—just next door is Etosha National Park, Namibia's most famous government-run wildlife reserve, giving safari-goers another 22,270 square kilometres of wilderness to explore.
Oliver Giles travelled with A2A Safaris.
See also: How I Travel: Jose Cortes of A2A Safaris
2/3 Serra Cafema
A stretch of emerald green jungle snakes its way through the ochre, orange and buttermilk yellow landscape of northern Namibia. It's one of the driest and most inhospitable places on earth, but on either side of the Kunene River—the heavy expanse of brown water that divides Angola from Namibia—life flourishes.
Wilderness Safaris' extraordinary Serra Cafema camp is set in this brief burst of greenery. Namibia is known locally as The Land God Made in Anger, but around the Kunene, birds of paradise flutter down to the water and crocodiles bask in the hot sand. And lying on your private deck, looking through reeds to the sun-drenched water—the sound of the river rapids echoing around you—you'd be forgiven for thinking you were at a particularly delightful beach resort.
The camp itself doesn't dispel this feeling. Rooms are vast and airy, with double beds big enough for four, outdoor showers and candle-lit private lounge areas overlooking the river.
But step away from the camp and that illusion quickly dissolves. Vast empty expanses of red desert compete for your attention with towering sandstone mountains and the occasional reed-hutted village belonging to the Himba people. Amid all that red-tinted emptiness, you won't be the first person to be reminded of the Matt Damon film, The Martian.
Fairy-circles pockmark the land, and theories abound as to where they came from. Some are straightforward: boma marks left by the nomadic people or a by-product of volcanic heat or termites. And then there are the more fantastical—but also more tempting—notions, that they are literal fairy circles, created by local goblins or even aliens.
Activities make the most of this eerily beautiful setting: quad bike over the undulating sand dunes towards one of the few Himba villages that dot the landscape. There, local people look almost as otherworldly as the setting, shimmering in burnt ochre paint, with ostrich feathers woven into their hair. Hike up a gorge, run down a sand dune or take a cruise on the perfectly still river, past hundreds of sleepy crocodiles, until you dock in Angola have a strong gin and tonic on a foreign river bed.
If you're looking to fully escape the world, find some peace, and immerse yourself in a landscape like no other, then this is how you do it.
Serra Cafema is operated by Wilderness Safaris. Melissa Twigg travelled with Rainbow Tours.
3/3 Omaanda
At this year's World Travel Awards, Zannier Hotels' Omaanda lodge was named not only the leading luxury lodge in Namibia, but the leading luxury lodge in the whole of Africa.
The 10-room property was willed into existence by Angelina Jolie, who in 2016 discovered that a 90-square-kilometre plot of land next to the Naankuse Foundation Wildlife Sanctuary, a reserve run by her friends Rudie and Marlice van Vuuren, was at risk of being turned into a residential estate of 400 houses. The film star sprang into action, inviting Swiss hotelier Arnaud Zannier—whose property in Cambodia, Phum Baitang, she frequents—to Namibia. Zannier flew in, sensed what was at stake and made a counter-offer with only days to spare.
Omaanda has won much acclaim for its sleek design. When you walk into the lodge, the first thing you see is a shimmering infinity pool, from which you can watch wildlife gather at a waterhole a few metres away and gaze out over the surrounding savannah. The ten rooms, each of which is its own thatched hut, are as comfortable as any you'd find in top hotels in Paris, London or New York, but are given a distinctly local touch by Omaanda's extensive collection of local art and textiles. On cold evenings, curl up in an armchair next to the crackling fireplace.
Guides lead twice-daily game drives into the Zannier Reserve surrounding Omaanda, but this isn't a safari experience where you can tick off the Big Five in a day or two. The Zannier Reserve is used primarily as a space to rehabilitate animals rescued by the Naankuse Foundation. Some of the animals released here will live here forever, but for others this is a temporary haven until a more suitable reserve can take them.
That said, wildlife thrives here. Two lionesses that were both pregnant when rescued are now raising a trio of healthy cubs, and elephants, leopards, cheetahs, baboons, hyenas and more have settled happily into the reserve.
Omaanda has been such a success that Zannier has already followed it up with another Namibian property, Sonop, a tented camp in the Namib desert that opened in July. Could more Namibian properties be on the cards for the hotel group? Zannier devotees will just have to wait and see.
See also: Jeremy Jauncey's 9 Amazing Travel Experiences For Animal Lovers