24 Best New Movies To Watch On Netflix In 2021
By Jianne Soriano
January 19, 2021
Netflix is set to release at least one movie every week this year—here are the most anticipated new films from the star-studded line-up
1/24 Double Dad
This Brazilian film tells the story of Vicenza (Maisa Silva), an 18-year-old who has lived in a hippie commune her entire life. In Double Dad, Vincenza has always enjoyed her life, except that she doesn't know who her father is. When her mother leaves for a trip to India, Vicenza grabs the opportunity to track down her father...and ends up finding two.
Release date: January 15
2/24 The White Tiger
3/24 Malcolm and Marie
Black and white drama Malcolm and Marie stars Zendaya and John David Washington as lovers. A filmmaker (Washington) and his girlfriend (Zendaya) return home after a celebratory movie premiere. The evening suddenly takes a turn as revelations about their relationship begin to surface, testing the strength of their love.
Release date: February 5
See also: 18 Asian Movie Directors You Should Know
4/24 To All The Boys: Always And Forever
Netflix's top teen romance is set to conclude this year and marks the end of the To All The Boys trilogy. Lara Jean Convey (Lara Connor) is preparing for the end of high school and the start of adulthood. She goes on two life-changing trips that lead her to reimagine what life with her family, friends and Peter (Noah Centino) will look like after graduation.
Release date: February 12
See also: 10 Feel-Good Movies To Watch On Netflix
5/24 Moxie
6/24 Yes Day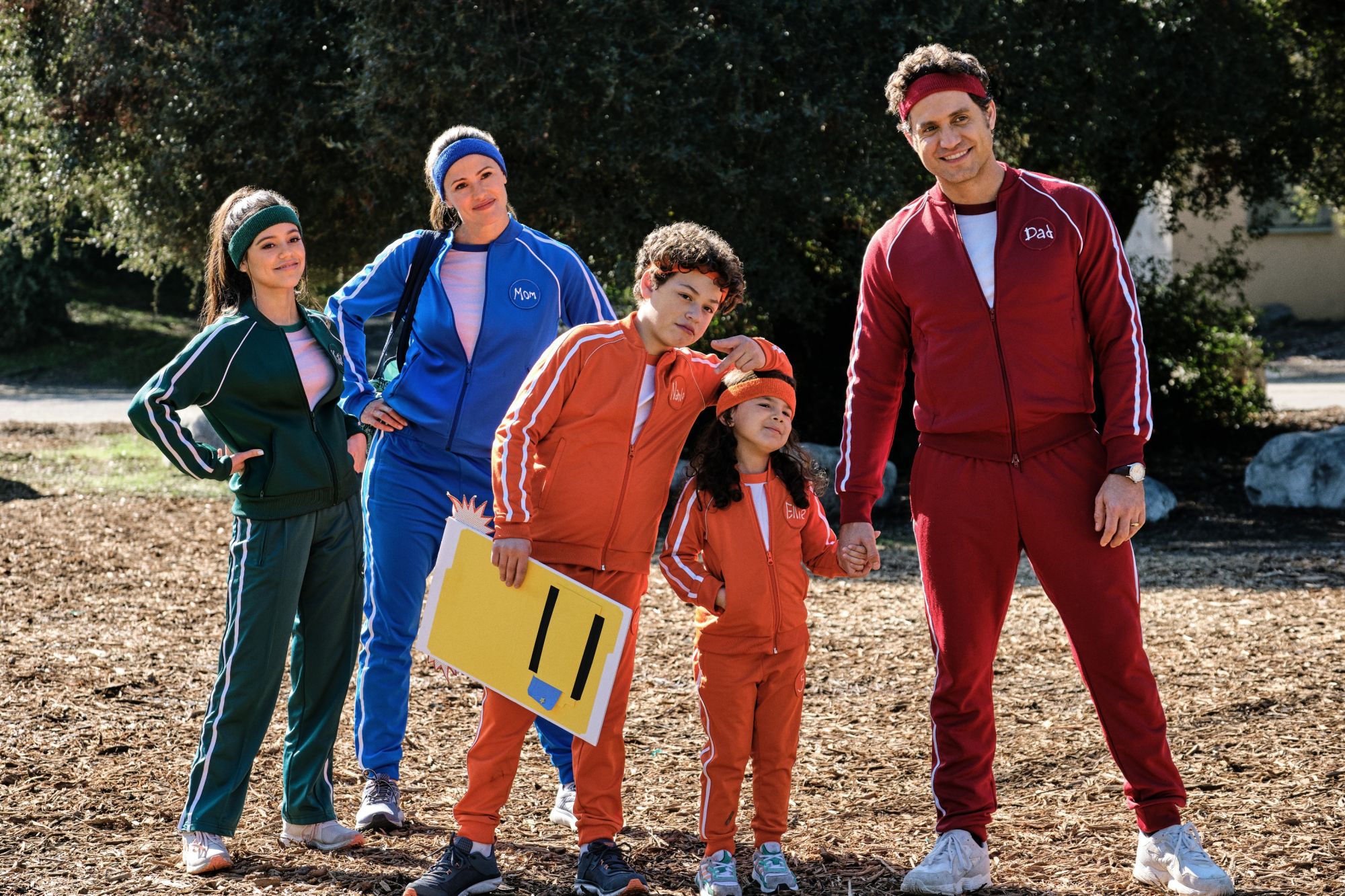 Yes Day is a family-friendly movie that stars Jennifer Garner. Allison (Garner) and Carlos (Edgar Ramirez) always say no to their kids and co-workers so they decided to give their three kids a "Yes Day" where for 24 hours, the kids make the rules and both parents can't say no. This brings the family on a whirlwind adventure around Los Angeles, bringing them closer to each other than ever before.
Release date: March 12
See also: The Best Family-Friendly Movies To Watch On Netflix
7/24 Red Notice
The star-studded trio of Dwayne Johnson, Gal Gadot and Ryan Reynolds lead Red Notice. The story centres around an Interpol-issued Red Notice used as an alert to hunt and capture the world's most wanted. A daring heist brings together the FBI's top profiler (Johnson) and two rival criminals (Gadot, Reynolds) and we're left to anticipate what will happen next.
Release date: TBC
8/24 The Harder They Fall
This Western movie follows an outlaw Nat Love (Jonathan Majors) who discovers that his enemy, Rufus Buck (Idris Elba) is being released from prison. Love reunites with his crew to track Rufus down and seek revenge.
Release date: TBC
9/24 Thunder Force
Thunder Force is a comedy superhero movie set in a whole where supervillains are commonplace. Two estranged childhood best friends played by Melissa McCarthy and Octavia Spencer reunite after one of them discovers a way to gain powers to protect their city.
Release date: TBC
10/24 Bruised
Halle Berry is finally taking the director's seat for Bruised, about a former MMA fighter struggling to regain custody of her son and restart her athletic career.
Release date: TBC
See also: In The Gym With Ramona Pascual Of Epic


11/24 tick, tick... BOOM!
tick, tick...BOOM! marks Lin-Manuel Miranda's directorial debut and tells the story of Jon (Andrew Garfield), an aspiring theatre composer serving at tables in New York City while writing Superbia—his hopeful American musical that may finally give him his big break.
As Jon's 30th birthday approaches, he's filled with pressure from his girlfriend Susan (Alexandra Shipp) who no longer wants to wait until Jon achieves his dream and his best friend and roommate, Michael (Robin de Jesús), gave up his creative aspirations for a high-paying corporate job. Jon wonders if his dream is worth the cost.
Release date: TBC
See also: Tatler's Guide To Being Conversant: Nicole Garbellini On Theatre
12/24 The Kissing Booth 3
The final instalment in The Kissing Booth trilogy is here. The summer before Elle (Joey King) heads to college, she finds herself in a pinch. She needs to choose if she'll go to Harvard where her boyfriend Noah (Jacob Elordi) goes or to Berkeley, where her best friend Lee (Joel Courtney) is going. Which one will Elle choose?
Release date: TBC
See also: College Life: Expert Tips On How To Get Into The Best University
13/24 The Woman in the Window
The Woman in the Window is a psychological thriller about an agoraphobic woman (Amy Adams) who is living alone in New York. She begins spying on her new neighbours, only to witness a disturbing act of violence.
Release date: TBC
14/24 Escape from Spiderhead
Headlined by Christ Hemsworth, Escape of Spiderhead is set in the near future where two young convicts grapple with their pasts in a facility run by a brilliant visionary. He experiments on inmates with emotion-altering drugs.
Release date: TBC
15/24 Sweet Girl
Sweet Girl is an exciting action flick starring Jason Momoa as a devasted husband who vows to bring justice to the people responsible for his wife's death. At the same time, he must protect the only family he has left.
Release date: TBC
16/24 Army of the Dead
We haven't seen the last of zombies yet. Army of the Dead is the latest addition to the zombie genre. After a zombie outbreak in Las Vegas, a group of mercenaries take the ultimate gamble to venture into the quarantine zone to pull off the greatest heist ever attempted.
Release date: TBC
See also: 15 Scariest Asian Horror Movies To Watch
17/24 O2
O2 is a thriller about a young woman who wakes up in a medical cyro unit. She doesn't remember who she is how she ended up there. As she's running out of oxygen, she must rebuild her memory to find a way out of this nightmare.
Release date: TBC
18/24 Bad Trip
For something more lighthearted, look no further than this hidden-camera comedy. Bad Trip follows two best friends as they go on a cross-country road trip full of hilarious, inventive pranks, pulling its real-life audience into the mayhem.
Release date: TBC
See also: 10 Comedy Specials To Watch On Netflix
19/24 Kate
Strap on for Kate, a dramatic action flick. A ruthless criminal operative has less than 24 hours to exact revenge on her enemies. But in the process, she forms an unexpected bond with the daughter of one of her past victims.
Release date: TBC
20/24 The Last Mercenary
The Last Mercenary is about a mysterious former secret agent who urgently returned to France when his estranged son is falsely accused of arms and drug trafficking by the government after a blunder by an overzealous bureaucrat and a mafia operation.
Release date: TBC
21/24 Fear Street
Fear Street will be released as a trilogy, Fear Street: 1994, Fear Street: 1978 and Fear Street: 1666. Taking place in 1994, a group of teenagers discover that the terrifying events that have haunted their town for generations may be all connected and worst, they may be the next target. The trilogy is adapted from R.L. Stine's best-selling horror series.
Release date: TBC
22/24 Monster
A dramatic story about Steven Harmon (Kelvin Harrison, Jr.), a 17-year-old honour student whose world comes crashing down when he's charged with murder. Monster follows his journey from a smart, likeable film student attending an elite high school and a complex legal battle that could leave him spending the rest of his life in prison.
Release date: TBC
23/24 Back to the Outback
Back to the Outback is an animated feature about a ragtag group of Australia's deadliest creatures who plot a daring escape from the zoo to the Outback. The group is led by Maddie (Isla Fisher), a poisonous snake but harbours heart of gold, self-assured Thorny Devil lizard, Zoe (Miranda Tapsell), a lovelorn hairy spider, Frank (Guy Pearce) and a sensitive scorpion, Nigel (Angus Imrie).
Release date: TBC
24/24 Beauty
After being offered a lucrative reading contract, a gifted young Black woman struggles to main her voice and identity. This ignites a fierce battle between her family, her label and her close friends who are all determined to guide her to make her dream of being a star come true.
Release date: TBC