The Beige: Luxury Glamping At The Foot Of Angkor Wat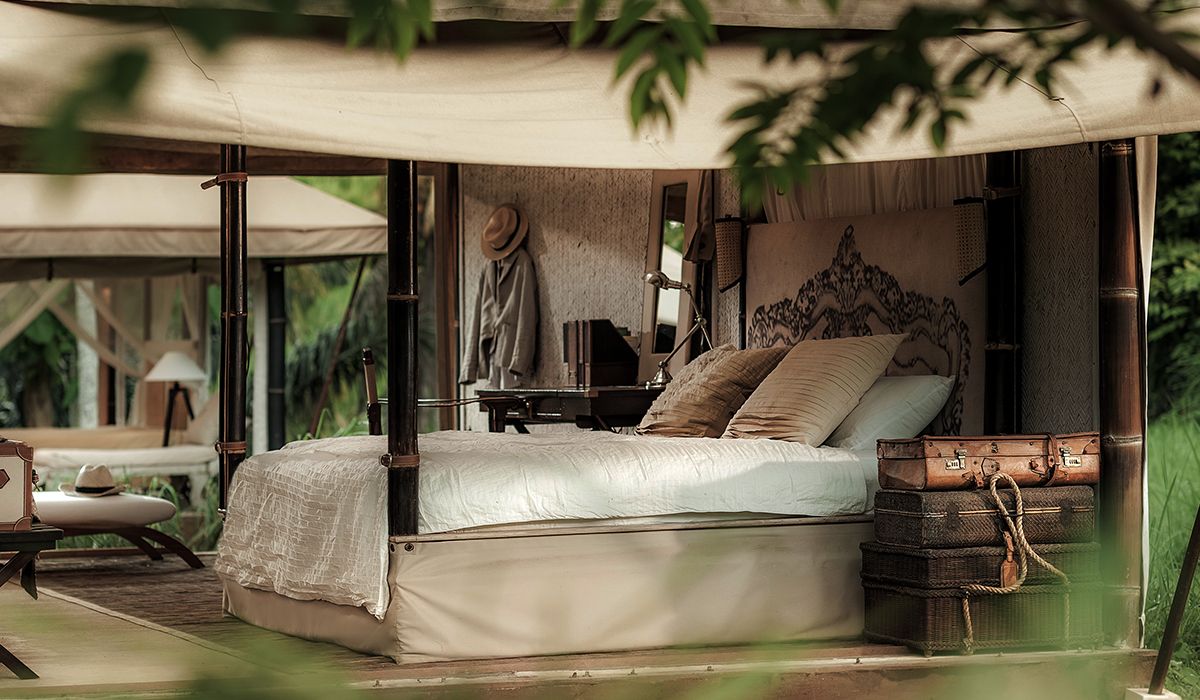 By Rosana Lai
April 08, 2019
For the last decade, Cambodia—specifically Siem Reap—has become a hot destination for travellers looking for a cultural vacation thanks to it being the home of Angkor Wat, one of the largest Hindu temple complexes and the 7th Wonder of the World. But unlike its coastal neighbours Thailand and Vietnam, there isn't an ocean to sunbathe on between temple hopping, so why not try glamping (glamorous-camping) instead?
The Beige, a Japanese-owned luxury tent resort that opened its doors just over a year ago allows you to get in touch with the country's landscape in total comfort. Read on to see what you can expect during your stay
Living in luxury
The moment you step onto the property grounds, you know the owner of the resort has a knack for details. The reception feels like a museum adorned with vintage phones and fans purposefully.
Floor-to-ceiling glass windows open up to a tranquil den where a fire pit is lit in the evenings surrounded by large sofas, overlooking a river where grazing buffalos go to enjoy a refreshing dip. You'll walk through a quaint forest to reach one of only 10 tents on the property, ensuring complete privacy even as you lounge on the swinging sun bed for an afternoon nap or take a shower under the stars.
To call it a tent would be an understatement as the room is complete with air-conditioning and running water, except you can fold up all the walls to take in the fresh air and gorgeous scenery.
See also: 48 Hours In Bali
Friendly Staff and Delicious Food
The staff, while most of the time discreet, will always greet you with a friendly smile should you need anything. A complimentary cell phone ensures that you can reach reception anywhere you are on the grounds for prompt service.
On the dining front, The Beige offers a diverse menu featuring Khmer classics and international cuisine that will satisfy most of your cravings—but the great iced coffees and apple cakes are definitely a highlight.
See also: Tatler Travel News: April 2019
Swim above the treetops
While there isn't a beach and crashing waves to run into to escape the blazing sun, The Beige boasts a hanging pool that sits above the trees, offering incredible 360 sunset views every evening.
Two sun chairs sit above the water, and the pool is attached to a hanging treehouse lounge for when you want to get out of the sun.
Five-Star Spa
Through a dainty hanging garden next to the sky pool is a cosy room. Instead of the usual elevated massage tables, there is one enormous bed under a canopy with a pond and sculpted wall behind that resembles something out of a zen garden.
The massages, a mix of Thai and Western styles, can be tailored to your needs rather than choosing from a menu of services and the masseuses' techniques are second to none. Not to mention they're extremely reasonably priced, so you will surely find yourself going back multiple times during your stay.
Picnic At An Ancient Temple
From a list of activities the hotel provides (including basket weaving with local ladies and sunrise yoga), the picnic by a temple is not to be missed. You can choose to be transported by cattle wagon or jeep through a dirt road between trees, until you reach a tiny forest where you'll find an ancient, forgotten temple that's even older than Angkor Wat. It is only known to locals in that area.
By the time you arrive, the resort will have set up two sunbeds under a canopy complete with fruits, cakes and beverages as the sun sets on the rubble behind. It's an experience that is nothing short of magical and one you'll remember for a lifetime.
See also: Magical Laos: Rosewood Luang Prabang