What's in Your Carry-on Luggage?
We look, politely, into the travel bags of six Hong Kong elites' and ask why they pack what they pack
Ever wondered what other people pack in their carry-on when they travel? We learn tips on how to travel-smart from these jetsetters we've interviewed below.
As the first piece in our summer vacation series, we spoke with six fashionistas and jetsetters from all walks of life - Ben Ku, Veronica Chou, Charlotte Chen, Bonnie Gokson, Stephen and Deborah Hung - and asked what the five stylish essentials in their carry-on luggage are. From Charlotte Chen's favourite scarf to Bonnie Gokson's spray-on treatment and Deborah Hung's beloved candies, we hope this piece can shed some light on how to ease your travel woes and turn your next long-haul flight into a somewhat pleasant experience.
Ben Ku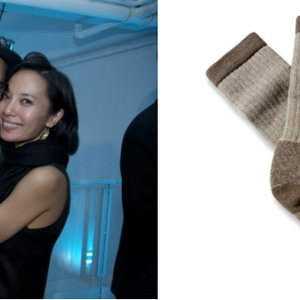 A good set of noise canceling headphones
are a must. I usually have a ton of new tracks for my long haul flights, and nothing's worse than poor sound quality on an airplane!
iPad
. I've got all kinds of fun stuff in there.
Customised earplugs
to keep the noise out and my sanity intact. The orange foamy plugs they give out on flights somehow make me feel claustrophobic!
A nice thick pair of wool socks because I tend to have cold feet.

An oversize cashmere sweater. Roll it up and it's a scarf. Fold it up, and it's a nice soft pillow, you can even wear it as a sweater like everyone else!
Veronica Chou
When I take naps on the plane, I usually use a scarf to wrap my eyes, ears and neck, and I end up looking like a mummy! My recent favourite scarf has Mr. Karl Lagerfeld's head printed all over it!

MacBook Air, because the MacBook Pro is too heavy and the iPad is not enough for me. The Air is perfect! It stores everything from my favourite TV shows to my work documents.

Magazines are essential for take off and landing, when electronic gadgets are to be stowed away.

Michael Kors passport holder in discerning colours like the electric pink, tangerine orange and bright blue. With them, it never takes long to find my passport.

Blackberry because well, this is always, always, always with me.
Charlotte Chen
Fendi Peekaboo Bag. It's practical and classic, I can fit a lot into it!

Clé de Peau Beauté high performance cream is an incredible product that gives you instant supple skin - best for long-haul flights.

Linda Farrow Luxe or Thierry Lasry sunglasses are especially great for morning flights; no one can see past my shades and tell how groggy I really am.

My enormous Indian merino wool blanket from Bombay has paisleys all over and I look like a carpet wrapped larva in it but it's foolproof from airplane air conditioning.

Olympus Pen Lite E-PL3 for its relatively small size and ability to capture the best moments at different occasions, thanks to its inter-changeable lens.
Bonnie Gokson
My scarf. I collect loads of large scarves of the most precious quality in all hues of colours. It's useful to throw them over my neck, as they are so soft and keeps me warm.

Intensive Treatment spray from Dr. Hauschka to keep that glow and to nurture my skin. As little as we can bring on board, I keep this excellent treatment spray with me always and use it up by the time I land.

Dental Floss because I am a self-confessed clean-teeth freak. I use sponge tips floss to keep my teeth and gums healthy and must floss and brush my teeth after airplane meals.

I like to bring a whole big bunch of magazines with me on topics ranging from architecture to design, and from fashion to travel and lifestyle.

Blackberry. I'd prefer to be mindless and chill out on flights, but unfortunately, I just need to reply to the many emails I receive from the media.
Deborah Valdez-Hung and Stephen Hung
iPhone for entertainment. I can't do without my favorite playlists for any trip. My favourite songs of late include Jay-Z, Kanye West, Beyonce and of course Shakira, in Spanish. (Deborah)

And I can't travel anywhere without my lollipops and candies either. Ring pop, Mexican candies and French macarons are just three of my favourites, the options are really limitless. (Deborah)

If I want to take serious photos, I'd bring my Leica S2, and for more casual shooting, a Canon EOS. (Deborah)

Cash. Always bring a lot of cash, just in case! (Stephen)

Sleeping pills. For long trips, I love to just lie down, relax and sleep. (Stephen)
Looking for travel ideas? Try these destinations: Vienna, Langkawi and Hangzhou.