Dee Cheung On Mindfulness & Motherhood
The yogi on finding a brand new identity
Dee Cheung has been an integral part of the Hong Kong fitness scene since moving to Hong Kong 10 years ago. She co-founded SUP Yoga HK in 2012 with Nadine Bubner, her friend and yogi partner-in-crime, but her influence in Hong Kong's wellness industry extends far beyond SUP Yoga: Dee is also the co-founder of Float On HK, a former Lululemon ambassador, a regular presenter and instructor at Hong Kong's biggest wellness festivals, and a private yoga instructor for mums, babies and teens.
Read more: 5 Best HIIT Workouts In Hong Kong
Her latest adventure, however, has taken her wellness journey in a different direction: motherhood.
"No one talks about the first hundred days," says Cheung when we sit down for tea in Teakha's Sheung Wan branch. "People call it the fourth trimester. No one tells you when you get pregnant what it's like to be a new mum, but I'm talking about it."
Cheung shares how her fitness philosophies have changed since becoming a mum, and how she's learned to balance a new baby with getting back to business.
On the first month:
"I did confinement for the first month. I'm very active, so I thought I'd hate being trapped in this tiny apartment but it was actually such a relief. My mum came for eight weeks to support me, too."
On getting back to work:
"Last year, a month after I'd given birth, I went to Iris festival. I was co-hosting, and I was helping to open the class with May Ngoy. My mum was standing by with my daughter, and she was to call me when she woke up so I could run and feed her.
I was in the middle of my speech—just two lines from the end—and my phone rang. I thought: 'What am I doing here? I'm not ready. This is not where I need to be.' It was a moment of realisation that I'm not in a rush. It was a really important reminder that yoga is not a destination."
On new identities:
"You lose a part of who you were when you become a mother. It's an identity struggle—who am I, will people want me to teach them yoga when I'm a mom, will I ever teach SUP again… It sounds silly, now. But these thoughts are there in the deepest, darkest parts of you."
On the business/baby balance:
"I enrolled in a programme with a business coach about three months before I was going to give birth, so that I knew I had somewhere to go for 90 minutes each week where I wasn't going to be thinking about breastfeeding or diapers. It was time for me to think about how I was going to use this darkness to evolve, consider my next steps, and answer those niggling questions about my worthiness."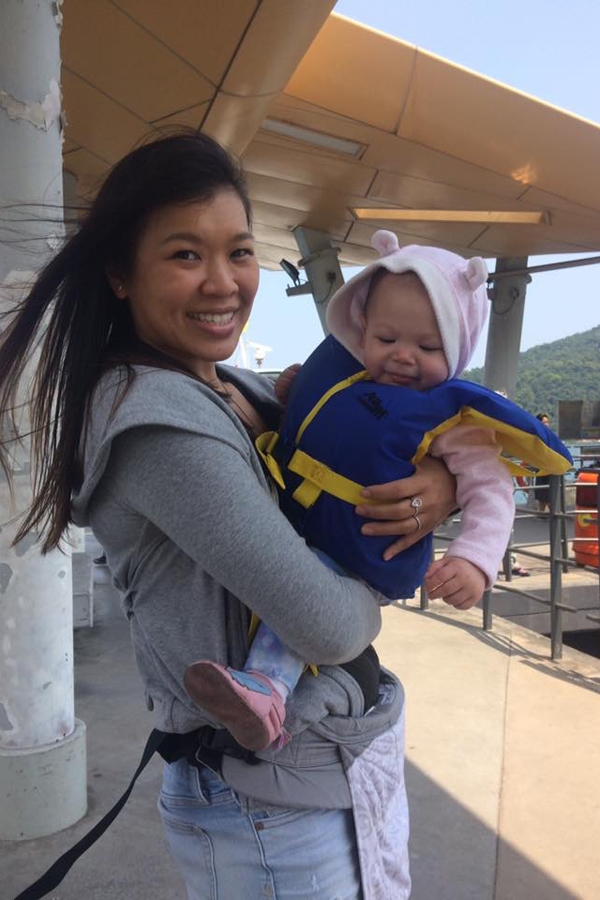 On mindful moments:
"Yoga is at the core of everything I do, but I'm not trying to get back to my pre-baby self. Wellness is more than the physical. I know it's hot and trendy right now, but it's because the science is proven: for the every day, mindfulness is so accessible. You can practice mindful moments whatever you're doing—the taste of tea, the aircon on your skin, the way flowers look..."
On keeping fit:
"I get bored when I run. There's a new mum who lives near me—we had our babies at the same time—and we would run together. I used to pack a speaker in my bag and blast old school hip hop along Bowen Road to give us motivation. My new favourite running tool is the Nike run app—it gives you a little challenge, which spurs me on."
On mummy yoga:
"I've been teaching mummy and baby yoga for about six years. I offer tools to the mums they can use at home: everything from improving skin-to-skin contact, to simple things like how to pick up and put down your baby safely. Ask any new mum: their wrists and arms and backs are killing them. It also gives mums space to share. That's one thing that I think all mums want: to share and know that they're not alone."
On what's next:
"On June 10 we're doing a wellness lock-in at the Four Seasons: 9am to 9pm, it's all go. I'll be taking part in Lululemon's S.O.S (Sweat On the Ship) this year, too. Plus, 2017 is SUP Yoga Hong Kong's fifth birthday. We're celebrating with a yoga retreat in September—watch this space."
See also: 10 Hong Kong Yoga Teachers You Need To Know
Sign up to our weekly newsletter and get our top tatler_stories delivered.