Ruth's Chris・茹絲葵
Restaurant ・ American
Pull up a chair for a comforting and reassuring evening of juicy steaks in an old-school American environment.
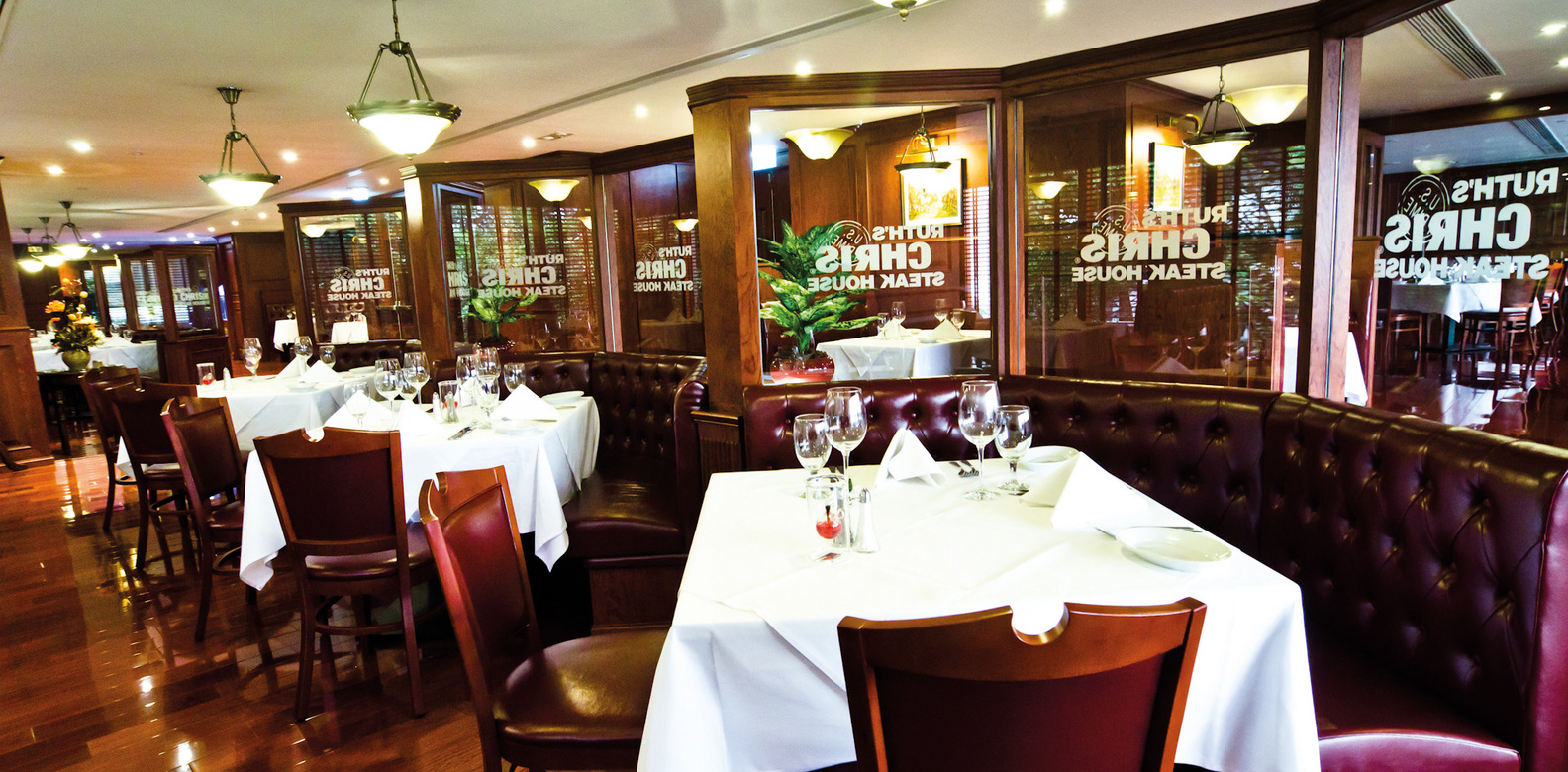 Shop 108-110, 1/F, Tsim Sha Tsui Centre, 66 Mody Road, Tsim Sha Tsui
Overview
Lunch HoursMon to Sun, 12:00 noon - 2:30 pm
Dinner HoursMon to Sun, 5:30 pm - 10:30 pm
Dress CodeSmart Casual
ReservationYes
BuffetNo
CorkageHK$350/bottle
Accept Credit CardYes
Despite being accessed through a shopping centre, Ruth's Chris Steakhouse maintains a spacious and character-filled interior. Evoking the aesthetics of the Deep South, the décor boasts a macho saloon vibe with wooden clad walls and deep sumptuous furniture. The restaurant's tables are well spaced with a large number of olive green leather booths that are both comfortable and secluded. Ruth's Chris presumably has a fairly decent view towards the harbour but for some reason this is screened by large floor to ceiling wooden blinds.
Ruth's Chris delivers on big bold American flavours. This is a place to get your fill of comforting dishes that you want to reassure, with no heed to calorie intake. Saying that, the blackened Ahi Tuna is a surprising and refreshing starter with the tuna delivering a nicely peppered outside and a clean raw inside, served with an intensely mustardy sauce and pickled ginger. Certainly not what you'd expect from a steakhouse but executed rather well.
The all-important steak satisfies without surpassing expectations. The USDA 11oz fillet is of good quality and boasts strong meaty flavours; it is cooked well. Despite being served on a hot plate it can cool rather quickly, perhaps due to the thickness of the cut.
To accompany the steak, both the sautéed spinach and macaroni cheese deliver their promised flavours. The macaroni cheese in particular offers mouthful after mouthful of comforting reassuring cheesiness. The sublime softness of the strong cheese and the chewiness of the pasta is rounded off with a fragrant parmesan crustiness.
The desserts are presented on a tray. It is up to personal taste whether this is old school charm or not which. The crème brulee was delicious with a creamy vanilla velvet custard and a crispy sweet caramel topping.
Ruth's Chris boasts an ample wine list. There is a good selection of different grapes and regions, a good price range and some vaguely interesting bottles should you wish to try something new. Although there is no dedicated sommelier to hand, those feeling the list a little hard to navigate may appreciate the descriptions of what to expect from various regions and grapes.
Service at Ruth's Chris managed to live up to the comforting and homely nature of the mood. The servers don bowties and aprons to give a delightful traditional experience. In a slightly American fashion they often returned to the table to check on the meal's progression. Conversely, the size of the restaurant and distance between tables meant it was sometimes hard to get a server's attention.
Ruth's Chris delivers solid and well-rounded comforting food and service. For the cash you could probably scout out something a little more innovative, exciting. However, if you are craving old school flavours of the USA, it may just be the perfect option.