Do Smartphones Ruin Holidays?
Christy Powell said yes and John Shaw argues no; find out what others have to say about this month's Great Debate topic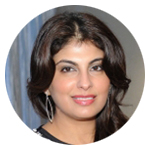 Reyna Harilela
Founder of PR Firm Bonvivant and Bellavita
I work in public relations so not having my smartphone is really out of the question. When I travel, I use my phone to keep in touch with old friends. I have friends living all over the world, so my phone allows me to get in touch when I'm in their neck of the woods and allows for me to catch up with them as I travel. My phone also helps me to document those travels and the experiences that make every trip memorable.
Also, when you have your own business, you never stop working and require access to all of your resources at all times in case you stumble across a potential client. For example, I still talk to people I met on the beach in Bali many years ago and have them as clients today.
In case you've missed our other debate topics, get the socialite take on whether or not school sports should be more competitive here, whether or not art can still shock here, and if Facebook invitations are appropriate for events here.