Girl on Film: Katherine Lo
Our January cover girl tells Hong Kong Tatler about her world of hotel design and documentary making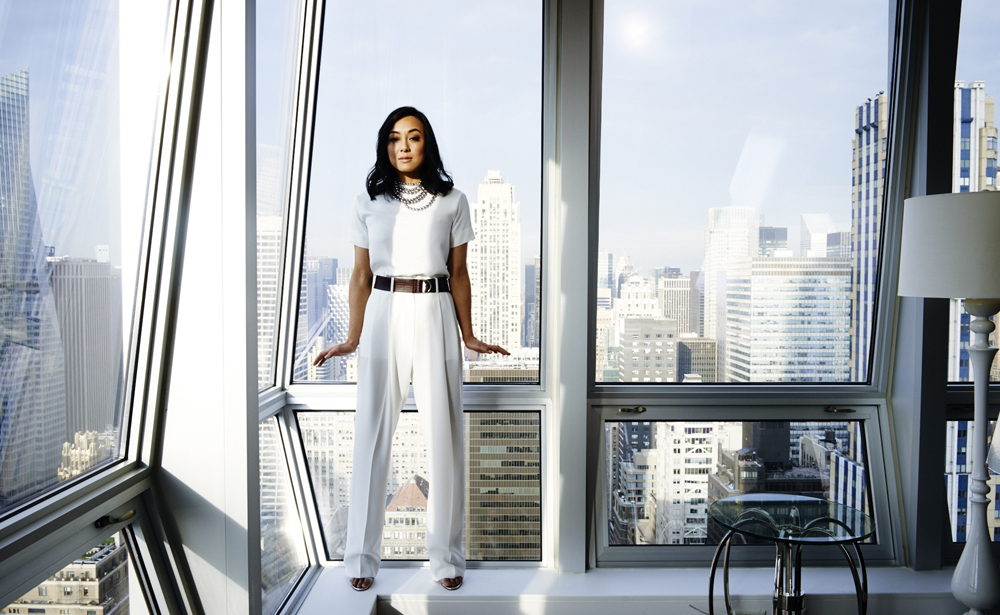 White Blouse and trousers by Celine; belt by TKTK; shoes by Christian Louboutin; Tahitian pearl necklace by Ella Gem NY
"Bashful. Very bashful. That's probably the best way to describe how I felt," says Katherine Lo. We're sitting in Café Gray in The Upper House on a warm Sunday afternoon, debating whether to have a cocktail or herbal tea while we discuss the Hong Kong Tatler Ball, where Lo was honoured as the Most Promising Young Lady in 2013. "I was flattered to be an award recipient, but embarrassed too, because I don't think I deserve any prizes yet," she continues. The statement is too modest by half; at the age of 30, Lo has worn more career hats than most people do in a lifetime, and modelled each with aplomb.
Neatly perched on a bar stool in high-waisted jeans by Helmut Lang, an Acne silk top in black and Marni heels, MacBook Pro in hand and the Kowloon skyline shimmering behind her, Lo looks the epitome of a stylish Hong Kong woman whose career is going places – and fast. Given that she has worked as a film director, hotel designer, music video director, social activist and screenwriter, driven would be an understatement when describing this quietly serious woman, who pauses before speaking and answers each question with a smile.
Dress and shoes by Prada; earrings and bracelets by Ella Gem NY
As the executive director for Langham Hotels and the director of a feature-length film on renowned German-American architect Ludwig Mies van der Rohe and his grandson, Dirk Lohan, Lo is straddling two very different worlds. "It's odd how life can throw you curveballs but also take you in thrilling directions," she says. "I decided to start working for my father a few years ago, but instead of putting me on the hotel-orientated path I expected, Langham led me to Mies and Dirk, and the world of film."
The catalyst for this unusual career switch came a few years ago when Lo's father, Lo Ka-shui, bought a building to house The Langham, Chicago. In keeping with Langham Hotels' DNA of high-end service coupled with thought-provoking design, Ka-shui chose the 52-storey IBM Building, which was designed by Mies van der Rohe, who many credit with shaping the course of modern design in the US. The architect died in 1969 shortly after completing final drawings for the landmark tower.
Black beaded dress by Reem Acra; silver shoes by Christian Louboutin; black flower ring by Cartier
As one of the directors in charge of renovating the interior, Katherine sat in on a number of project meetings with her father and was quickly drawn to the story behind the impressive building. She learned that Mies' grandson, Dirk Lohan was also an architect, so she commissioned him to redesign the lobby of the hotel. Working together over the course of a few years, they delved into Mies van der Rohe's past – and Lo soon realised the story had film potential.
At that point Lo's only celluloid experience had been making short films and directing a music video in Los Angeles for an Italian band called Nightdrivers, but she was determined to succeed. "Mies is a fascinating man," she says. "And Dirk is also a wonderful architect but he has spent much of his life in his grandfather's shadow. Family ties intrigue me and something about this one in particular touched me."
To hear more about how the film came into fruition, read the full interview in the January issue of Hong Kong Tatler, out on newsstands now.
Photography: Andrew Eccles
Styling: Ise White
Hair: Eloise Cheung
Make-up: Mari Shten
Shot on location at The Langham Place, Fifth Avenue; and Ai Fiori Restaurant, New York City