Get To Know…Lucia Tait Tolani, A Fabulous Interior Designer Based In Hong Kong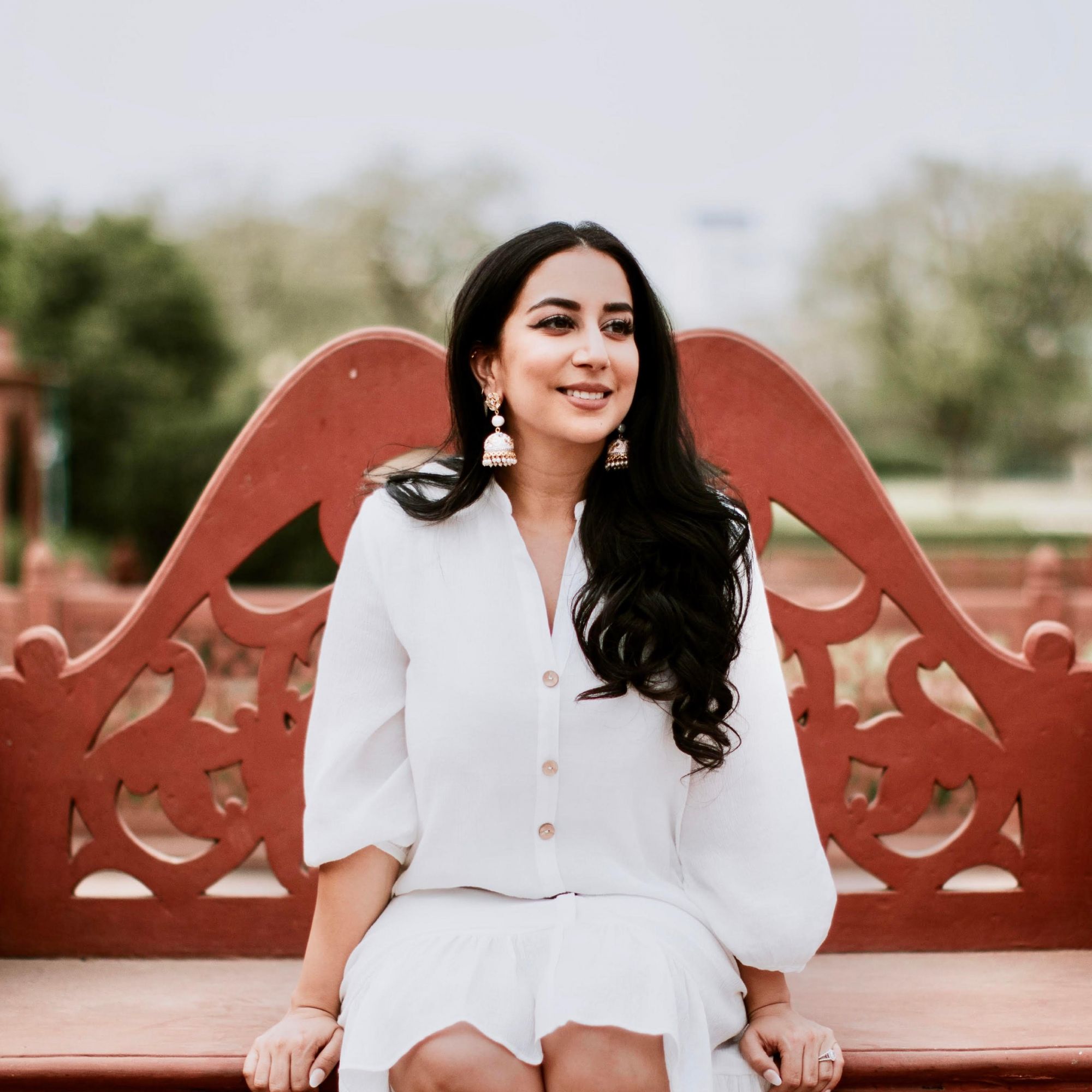 By Tara Sobti
June 21, 2021
Lucia Tait Tolani tells Tatler about her move from fashion to interiors, how Hong Kong influences her design projects and her funniest client request to date
Lucia Tait Tolani is the type of person that sparks intrigue as soon as she enters a room. You can spot her from a mile away, with her long, jet black, flowing hair and meticulously selected style choices. The mother of two moved to Hong Kong from New York eight years ago and has since taken the interiors world by storm with her eponymous design firm and styling homes at prestigious addresses on Hong Kong Island. Tolani's signature is using her background in fashion to transform her client's spaces into rooms filled with character, pops of colour and pizazz.
Before focusing on interior design in 2018, Tolani was co-director of her own private shopping company, Coup de Coeur, which offered expert styling advice and access to exclusive perks to shoppers. "Instead of going to a client's home for the typical closet clean, we designed a customised itinerary that took them directly to the stores, designers and showrooms," she told Tatler in 2015. That same year, she developed an exclusive personal styling events company, which invited designers, brands and retailers to the city for a unique shopping experience for high-end clients. Though she still runs those private events, Tolani's focus is now firmly on interior design. Here, Tatler gets to know her a little better.
See also: Peter Cheung's Hot List: Top Interior Design Experts You Can Trust
When did you move to Hong Kong?
I moved to Hong Kong at the very end of 2013. 'Moved' is an overstatement as I came with a few bags and I kept my apartment in New York City for many years. I had to make sure I liked the city...and my now-husband! I no longer miss living in New York because home is where you make it, but I do miss visiting—mostly for the culture, the vibes on the street and my old friends.
What did you study?
I have a Bachelor of Science degree in advertising and marketing communications from the Fashion Institute of Technology in Manhattan.
What was your first job?
It was in the marketing department of a [private jet lifestyle] magazine called Elite Traveler, which was by subscription as well as distributed on private jets and in luxury hotel suites. It was focused on the lifestyle of the ultra-wealthy. I had just finished a couple of internships at Nylon [a pop culture and fashion magazine], which was quite a different demographic. I really loved the publishing world.
See also: Top Interior Design Trends You Should Try In 2021, According To Experts

How did you get into interior design?
It was the right client at the right time. Friends had been asking me for help for ages but I wasn't ready to change gears from fashion. When I was referred to a friend of a friend who also happened to live in my building, I couldn't say no. Now I don't look back. In many ways, it is similar to personal styling, but I love the permanence of interior décor and how it involves [input from] the whole family, not just one individual.
Describe a typical day in your life.
I briefly answer international emails while having coffee and breakfast. Doing this first thing in the morning gives me the opportunity to speed through inquiries while the US is still open, as I order a lot from both the US and Europe for my clients. An hour later, I fit in some exercise, such as walking up to the Peak, tennis or yoga, which clears my mind for the day and gives me time to think of creative solutions and ideas for projects. I then spend a couple of hours at my desk. Post-lunch, I zip all over the city visiting suppliers in Central, Wan Chai, Ap Lei Chau, and Wong Chuk Hang followed by another spell of emails from Europe. If I have a site visit, I'll come back with loads more ideas for a space, which is always energising.
See also: Tatler Insiders On The Best Of Interior Design In Hong Kong
How would you describe your aesthetic?
My personal aesthetic is eclectic and layered, with nods to the past and an interest in colour and pattern. For clients, I try to marry my natural inclinations with what they gravitate towards. This makes each project either more traditional or more contemporary, more subdued or more vibrant. I love learning from my clients, and there is always an element of collaboration.
How does Hong Kong affect your design?
Hong Kong definitely affects my design in that projects really need to evoke a sense of place. I am very interested in far-flung destinations and often try to infuse a traveller's spirit into rooms, but I also need to show that the project location is here in Hong Kong. I love the skill of local craftspeople, but it is just a shame that a lot of the talent isn't being passed on and will fade with this generation. I am very intrigued by the idea of preserving local crafts, and this will be more of a focus in my business going forward. I take lots of photos on the street of little details or beautiful motifs, which I file to incorporate into later designs. There is inspiration everywhere. I also wish more foresight was put into preserving historic buildings, but at least I can digitally imagine the Hong Kong of yesteryear with Instagram accounts like @oldhkincolour.
Who is your dream client?
One with an open mind and a flexible (OK, read: big!) budget. Someone who is as excited by design as I am, and who shows no fear in believing their space can and should be extraordinary.
Have you had any funny client requests?
I'm currently reupholstering my client's dog's bed to coordinate with our new decorating scheme. No member of the family is too small or too furry to be considered!
What is the most common misconception about you?
Probably that most of my life is spent wearing fabulous clothes, attending events, throwing dinner parties, and flitting about the world (pre-Covid). I'm actually an introvert and I love staying home in my pyjamas watching Netflix, and on special occasions ordering pizza and opening a bottle of white wine. However, I must say, my pyjamas are quite fabulous.
See also: Tatler Insiders On The Best Of Interior Design In Hong Kong