Marry A Blue Blood: Ten Eligible Royal Bachelors and Bachelorettes
Want to marry a royal? We scout out ten of Asia's most eligible bachelors and bachelorettes of the blue-blooded clan
Britain's Prince William may no longer be fair game, but there are still some prize princes up for grabs, Here's our pick of the most eligible in Asia:
Prince Azim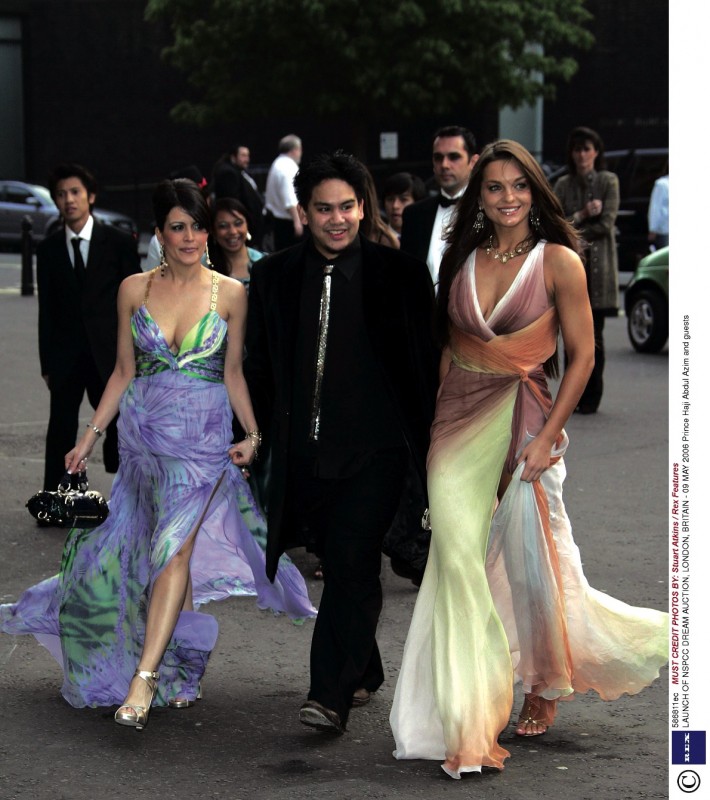 At only 28 years of age, the second son of the Sultan of Brunei and fourth in line to the throne has so much cash he barely knows what to do with it. Schooled in Singapore and England, the Oxford Brookes University graduate is renowned for throwing extravagant birthday parties to which he invites triple A-listers. Bigwigs such as Michael Jackson, Janet Jackson, Diana Ross, Mariah Carey, Sophia Loren and Scarlett Johansson have all put in an appearance. His generosity knows no bounds: apparently he once sent a private jet to deliver a US$6 million diamond necklace and ring to Carey!
Prince Abdul Mateen
Being the fourth son of the Sultan of Brunei, the 19-year-old is not the heir apparent, but like Azim, is not short of cash. Following in the footsteps of Britain's Prince Harry, last year he enrolled to study at the Royal Military Academy Sandhurst, which he prepared for by joining the Gurkha regiment in Belait. He's a keen footballer, having played for Brunei's AM Gunners, and is already heavily involved in charitable works.
Princess Tsuguko of Takamado
Princess Tsuguko is the eldest daughter of the late Prince Takamado and cousin to the reigning emperor of Japan. Not much is known about her since there is a ban on reporting on the royal family, known as the Chrysanthemum Taboo. We do know that she was born in 1986, is a graduate of Gakushuin High School and the University of Edinburgh, and is currently a student at the prestigious School of International Liberal Studies at Waseda University. This low-key and elegant princess is part the world's oldest continuous hereditary monarchy that has ruled for 2,351 years.
Prince Hamdan bin Mohammed Al Maktoum
For all you old romantics out there, it'll be hard to find a better match than 28-year-old pretty boy Hamdan bin Mohammed Al Maktoum, the crown prince of Dubai. The second-oldest son of ruler Mohammed bin Rashid Al Maktoum not only writes poetry, but is also passionate about horses. Affectionately known as Fazza, meaning "the courageous," he has a penchant for fast cars and skydiving and graduated from the Royal Military Academy Sandhurst, before later attending the London School of Economics and Political Science. He even won a team gold medal at the 15th Asian Games in 2006. And if you need to be bought, he's not short of a camel or two – he once paid US$4.5 million for 16 beautiful specimens at a camel beauty pageant in the emirate of Abu Dhabi. Handsome, brave and quixotic: what more could a girl ask for?
Prince Dipangkorn Rasmijoti
Okay, so it'll be a good few years before this five-year-old petit prince can be seduced, but in the absence of any eligible older brothers (he has four half-brothers who were disowned by his father, the Crown Prince Maha Vajiralongkorn of Thailand), he's too much of a good catch to pass over. His father is heir apparent to the throne, which is currently held by his grandfather, the 83-year-old King Bhumibol Adulyadej. Bhumibol is the world's longest-reigning monarch and revered like a deity in his country, so if it's true what they say about traits skipping a generation, then Dipangkorn is more than likely to be a bit of a legend.
King Jigme Khesar Namgyel Wangchuck
Jigme Khesar Namgyel Wangchuck is exceptionally well-travelled, having been to an exclusive boarding school in Massachusetts before reading Politics and International Relations at Oxford's Magdalen College. The 31-year-old, who took over the throne from his father in 2006 to become the world's youngest monarch, has won rave reviews at home and abroad for his diplomacy and charm, and has already met a series of challenges that would have tested even the wisest of leaders, such as overseeing the final stages of the democratisation of his country. And he's tall, dark and boyishly handsome to boot. What's not to like?
Princess Sirivannavari
The 29-year-old princess Sirivannavari Nariratana is the only daughter of Crown Prince Maha Vajiralongkorn and Sucharini Vivacharavongse. Raised by her mother in England, she was later brought back to Thailand by her father. But not only is Sirivannavari beautiful and charming, she is also an adept sportswoman and budding artist. Just like her grandfather, King Bhumibol Adulyadej, she is a skilled badminton player and competed at the 2005 Southeast Asian Games in the Philippines. She is also an established designer who is a regular fixture at Paris Fashion Week. Recently, she launched her own lingerie line called the Princess Collection.
Tunku Ali Redhauddin
The eldest son of Tuanku Muhriz ibni Almarhum Tuanku Munawir, the ruler of Negeri Sembilan in Malaysia, he is next in line to be the yang di-pertuan besar of the state. The 33-year-old is educated, having studied at English boarding school Marlborough College and Cambridge University, and well-travelled, too – he worked in Europe and the US before returning to Asia, where he has worked in Hong Kong and Singapore, as well as Malaysia. He has a shrewd business brain and now serves as a director of the investment division of the Malaysian government's Khazanah Nasional. And you'll be glad to hear, he's got a good heart, too, proven by his commitment to initiatives such as Teach for Malaysia, which aims to end the country's education inequality.
Tengku Amir Shah
The son and heir of the Sultan Sharafuddin Idris Shah, Tengku Amir Shah is the crown prince, or raja muda, of the state of Selangor in Malaysia. His mother, a converted American, is another example of a woman with no regal heritage marrying into a royal family. Having studied at Wellington College, a top boarding school in England, he took a gap year and is now in his first year of university. At only 19 years of age, he's on the young side, but he's already well-versed in world politics and the affairs of his state and has shown a sensitivity and maturity way beyond his years through his role as a royal patron to various Selangor charities.

This article is adapted from Hong Kong Tatler's April 2011 issue.