Pia Wurtzbach on Family, Miss Universe, and Being a Voice of Her People
It was a bumpy road to the pageant and her crowning in Las Vegas was badly botched, but Filipino beauty queen Pia Alonzo Wurtzbach is relishing her reign as Miss Universe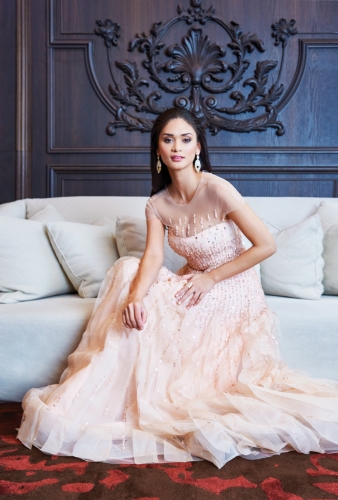 On a chilly February morning in New York, the reigning Miss Universe sits in Rue 57, a French bistro around the corner from her apartment, in an elegant outfit of light grey sweater, overcoat and ankle boots with her hair in a high chignon. Pia Alonzo Wurtzbach seems unaware of the attention she's attracting. Around our table, necks are craning for a look at the beautiful Filipina, and several admirers wait for the right moment to approach her.
Just a couple of days earlier we had been at the Baccarat Hotel for Pia's shoot for this feature and were told Steve Harvey was due to check in—the host who mistakenly announced Miss Colombia as the winner at the Miss Universe crowning ceremony on December 20. We didn't run into him and though we did not deliberately avoid him, it was obvious Pia and her team were trying to distance themselves from the controversy of her coronation night.
Not all countries take beauty pageants as seriously as the Philippines. Year after year Filipinos crowd around televisions for the Miss Universe ceremony fervently hoping for the crown while many countries barely acknowledge the event. The 2015 pageant wouldn't have been any different if it were not for Harvey's infamous mix-up. Suddenly the whole world tuned in and you couldn't go anywhere without hearing chatter about the excruciating Las Vegas spectacle.
With the drama behind her now, Pia is easing into her role. So careful is she with her words and actions that initially she seems reserved, even aloof. However, she warms up within a few minutes of our interview starting. "People are now focusing more on what Miss Universe is about and what I'm doing," she says. "People have been asking less and less about the whole Steve Harvey episode, which is good. I want to continue being more than just a beauty queen. I want to be an inspiration. That's why I like sharing my story—because it's relatable. Nothing was ever handed to me, so now I appreciate the value of everything."
The 26-year-old was born in Stuttgart to a German father and a Filipino mother. The family moved to Cagayan de Oro in the southern Philippines, where Pia enjoyed a happy and uneventful early childhood. But her parents separated when she was nine, her father returning to Germany, and Pia began to struggle. A self-confessed daddy's girl, she felt the loss of her "partner in crime" deeply—and the sudden tightening of finances. "My situation with my parents was difficult," she recalls. "People have different ways of dealing with these things—for instance, many rebel—but my way of getting out of that plight was to strive to be better."
At the age of 11 under the name Pia Romero, she joined Star Magic, the talent agency of the Philippine television network ABS-CBN. For years, the network had trouble figuring out how to package her. "They tried to cut my hair, place me in different shows, and even pair me with guys in romantic dramas—but nothing clicked," Pia recalls. "Though I wasn't a superstar actress, I still considered myself successful because I had a stable career. Work was consistent, enough to sustain the family, which was why I got into showbiz anyway. To me, that was enough."
Her dream, however, was not to be in show business but to be Miss Universe. She had a promising start on that road, named first runner-up on her debut at Binibining Pilipinas, the national beauty contest that selects representatives for a number of international pageants. But Pia was upset when she wasn't even placed on her second attempt and retreated to her room for days, avoiding televisions lest she see replays of the coronation. Her mother whisked her away to Boracay to help take her mind off things, and there, cocktail in hand, Pia began planning her comeback. "What was I supposed to do—just give up? That's not me. I don't stop until I get what I want."
After finishing school, Pia enrolled at the Centre for Asian Culinary Studies in San Juan. She started out not even knowing how to use a knife properly, yet by graduation she had swept up multiple awards. "When I start something, I really put my heart into it." She credits her father for instilling in her a strong sense of discipline. "Even though we weren't together for very long, it really set a solid foundation," she says. Her father died in 2013 so never got to celebrate his daughter's victory with her, but Pia feels connected to him. "This may sound cheesy, but I feel like he knows that I won even though he's not here. When I signed my contract as the Philippines' contestant to the Miss Universe pageant and got to the last page where it needed my signature with the date, I asked our lawyer what day it was. He said it was August 24—my dad's birthday. I got a little emotional. That made me think maybe this was his way of manifesting that he's still around, or maybe his way of saying sorry for being gone."
It's clear Pia is close to her family. Her younger sister, who is based in London, has a one-year-old daughter who Pia adores. "You really have to cherish the moments while they're still young," she says, her eyes suddenly filling with tears. "This is making me cry. It's too early for this!" she exclaims. Composing herself, she continues, "Last night I dreamt of my niece, and so I asked my sister to send me videos of her. The last time I saw her, she was about four months old—just a baby. And now, in the pictures, she already has a tooth. I did a Skype call with them recently and when I said 'Hi' to her, she said 'Hi' back. It's nice to be Miss Universe and to be recognised for that, but to be recognised by your niece for just being her tita (aunt), that's so much better."
Since the Miss Universe crown passed so dramatically from the 2014 queen, Colombia's Paulina Vega, to Pia, she's barely had a day of rest. "You know, Paulina Vega wasn't kidding when she said after her final walk, 'To the next Miss Universe, sleep when you can.' But I get to sleep on the plane. I actually look forward to long-haul flights because that's my chance to get 10 hours of sleep for once."
It took a while for Pia to adjust to being Miss Universe, but now she is relishing every minute, racking up an impressive collection of hotel key cards and fridge magnets as mementos for when she returns to the Philippines after her reign. When not busy with interviews, shoots, meetings and events, she tries to make the most of the New York experience. "I can't wait till it gets a bit warmer so I can really explore," she says. Shopping has given her credit card a workout, and whenever her schedule permits, Pia treats herself to a Broadway show.
Her experience in the entertainment industry was good preparation for life in the fish bowl. "I've always been an open book, and I don't have any hesitations in sharing my story," Pia says. "Social media has made things a little different, but I've learned to tune out the negativity."
"I want to continue being more than just a beauty queen. I want to be an inspiration. And that's why I like sharing my story-- because it's relatable. Nothing was ever handed to me, so now I appreciate the value of everything."
The Miss Universe Organisation describes the pageant as a celebration of the modern woman, and Pia defines that woman as "someone who knows what she wants and goes after it, without letting anybody or anything hold her back." Bold and confident, she is the epitome of that definition. She's waited all her life for the crown and she's determined to do her term justice. Men? They can wait. "I'm not closing my doors, but I don't look for it. He has to look and work hard for me. I've been working hard all my life. I need somebody to work for me this time so we can meet halfway."
The causes closest to Pia's heart include HIV/Aids awareness, and she recently decided she wants to focus on the LGBT community in particular during her year on the throne. She isn't afraid to support controversial issues such as the legalisation of same-sex marriage and divorce. "I'm a devout Catholic, but that doesn't change my perception of the world today. I mean, it's 2016. I don't understand why we have to be so closed-minded. There's a way to keep your faith but also be rational."
So while she's most certainly a pretty face, Pia is concerned about serious issues and realises Miss Universe is about much more than beauty. She's committed to making a strong contribution, one that will do her country proud. "I always try to represent the Philippines in the best way I can. Everywhere I go I want to leave a mark—I want to make people visit and love us. I'm not just the voice of Miss Universe, but also the voice of the Filipino people."