Get To Know Fashion Designer, Saloni Lodha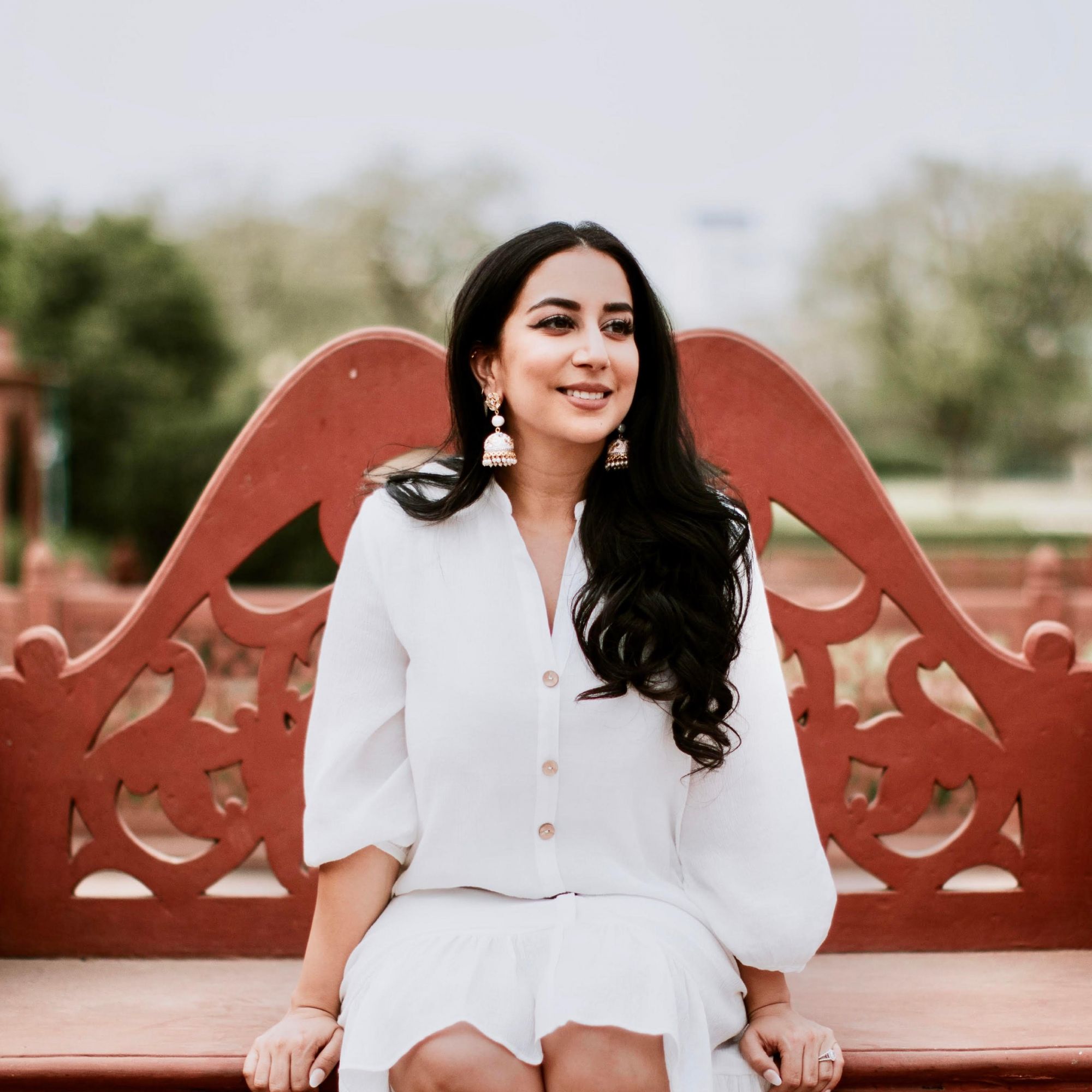 By Tara Sobti
May 07, 2021
Hong Kong-based womenswear designer Saloni Lodha chats to us ahead of her high summer 2021 collection launch this month
Fashion designer Saloni Lodha says she doesn't have a "dream client" per se; rather, she'd be honoured to dress any "strong, independent and impactful" woman. And she has: Emma Watson, Jennifer Aniston and Naomi Watts have all been photographed wearing her eponymous brand's looks. Here in Hong Kong, Lodha has most of Hong Kong's in-crowd on speed dial too. Over the past 13 years, Saloni's classic fits, vibrant prints and pops of colour inspired by her Indian heritage have become a favourite among fashion connoisseurs. Saloni, meaning "beautiful" in Sanskrit, and both the label and the woman behind it live up to this description.
As she prepares to launch her high summer 2021 collection, Lodha, a mother-of-two, discusses living a nomadic life between Hong Kong, India and London, her favourite family traditions, and what she's most proud of in her career so far.
See also: 10 Minutes With: Gianni Melwani, Ikigai Co-founder, Wellness Expert And Yogi
What does Hong Kong mean to you?
Hong Kong has been my home for nine years in total, between two separate stints. My family is happy here and this lockdown year has given me a renewed appreciation for all that Hong Kong has to offer. I have seen more of Hong Kong and appreciated its beautiful nature more in the last year than I had in the previous eight.
Do you miss India?
Hong Kong was the first place I moved to after leaving India and it opened my eyes in many ways to the possibilities that are out there. I am from a town close to Mumbai and lived in Mumbai for many years. I am passionate about India and I do get homesick since all my family are there. I love [India's] energy, enthusiasm and food, and I miss the richness of the cuisine.
What did you study?
I studied applied arts at the Rachana Sansad School of Design in Mumbai.
What was your first job?
My first job was in graphic design in India. I worked for a small, family-run design agency. I worked on a music magazine and I was given full creative freedom to explore and experiment. It was a great lesson in the power of colour and placement, which are skills I still rely on for designing.
See also: Get To Know Jenny Tsang, The Designer Behind Clothing Label, byTsang
What is the inspiration behind Saloni?
When I first started designing clothes in 2003, the inspiration was to fill a gap in the luxury brand-dominated market in Hong Kong. I wanted to add something more personal to the retail landscape here that was more fun and affordable. We collaborated with artisans in India and sold one-off pieces.
How long did it take to bring the brand to life?
I moved to London in 2004 and got some experience in fashion, then after a few years, I decided to take what I had learnt and started Saloni in London in 2010.
Describe a typical work day for you.
I start each morning by getting my kids ready for the day. I then head into my office and work with my team in Hong Kong. When our London office opens up later in the afternoon, I'm on multiple calls to catch up. I then have calls until the late hours of the night when we speak to partners in the US.
How does it feel to see people in your clothes?
I still get pleasantly surprised when I see women in our clothes. My nature is quite reserved but I do sometimes like to compliment them and tell them how happy it makes me to see them enjoying themselves in Saloni.
Who was your favourite person to dress so far?
I love dressing any strong, independent, talented and impactful woman. It would be great to see Cate Blanchett in Saloni one day.
What projects do you have in the pipeline?
My high summer 2021 collection, which launches this month.
What is your favourite family tradition?
My family and I love to sing together to our playlist of classic tunes. We love Rock Me Amadeus by Falco, as my youngest son's name is Amadeo. My boys also love Queen songs. We like to have dance parties with our two young boys.
What would you describe as your happiest memory?
Playing Holi [the Hindu festival of colours] at Holi Saloni with all my dearest friends. I hosted Holi Saloni at Devigarh Palace in Udaipur in 2018. The venue is an 18th century palace nestled in the Aravalli Hills in Udaipur, Rajasthan. I grew up spending my summers in Rajasthan so I wanted to share this special place with my friends from around the world. Holi Saloni was a three-day celebration that began with a welcome dinner in a magical set created by New York-based set designer Julia Wagner. All the female guests wore Saloni evening dresses custom-designed especially for the occasion. We had DJ Cosmo from Paris on the decks and UK-based mixologist The Herbal creating the best cocktails.
The following morning, guests attended a Holi festival in the secret gardens of the palace. For the occasion, we collaborated with London-based architecture firm Mizzi Studio, which created sustainable mud huts with local artisans for our guests to play Holi in and all my guests wore custom white Saloni outfits. On the last day, guests spent the day relaxing by the pool and in the evening, everyone gathered at the Durbar Hall to experience [British artist and interior designer] Luke Edward Hall's whimsical indoor tent.
What is the most common misconception about you?
That the brand is based in India. It's based in London and Hong Kong. We are not an Indian brand but take inspiration from my Indian heritage and passion for colour and prints.
What are you most proud of?
I am so proud of my team and all that we have achieved together. I certainly don't make it easy for them by being so far away but they are all self-motivated and passionate about what we do. There's a real sense of camaraderie, which is great.
What are five things you always have in your handbag?
My laptop, keys, phones, headphones and mask. I am not really a handbag person so most of the time these things are in a pouch or in the pockets of a military jacket I have owned for a long time.
Do you collect anything?
I love collecting beautiful textiles and ceramics from around the world. I also have a beautiful piece of stone I bought in Paris which I adore.
What do you think is the secret to your success?
That I love collaborating with diverse talents from around the world and I give them the creative freedom to complement what I do.
See also: Saloni Lodha On Where To Stay, Shop, Eat, Drink And Explore In Mumbai