The Tatler 10: Tania Mohan
We speak to the founder of Tabla about the upside of running your own business and why she will always be indebted to her Indian heritage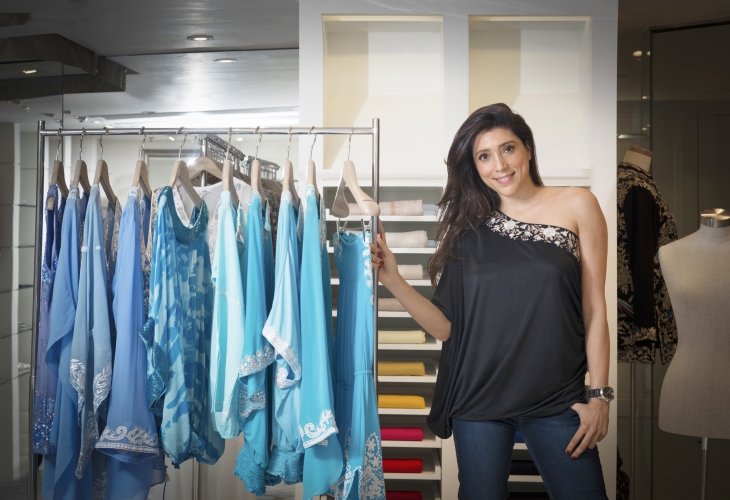 She's dabbled in fashion journalism before moving into the legal world, she casually mentions she's a qualified barrister - Tania Mohan certainly has a wealth of experience, but she seems to have found her footing in the establishment of Tabla, a clothing label that brings Indian artistry into the 21st century, showcasing India's rich heritage of tradition, craftsmanship, and colour.
When we met with Mohan to photograph her at Tabla, it's clear she feels most at home amongst her colourful and intricate collections, comfortably perched among a sea of colour, eager to explain the details of a kaftan on a nearby mannequin or showing off the embroidery on one of her signature tunics. Mohan spoke to us about the upside of running your own business and her inspiring hopes for the future of Tabla, and the women of India who are set to reap its rewards:
---
Personally, Hong Kong means family and home to me. I am proud to be a third generation 'Hong Konger' who was born and bred in this wonderful city.
Tabla was established in 1999. Simply put, it's an Indian inspired luxury fashion brand for the international woman, with contemporary and versatile style sensibilities, designed by yours truly.
It's hard to pin point just one of the moments that I'm most proud of. I have a few, such as having the honour of being called to the Hong Kong Bar, creating and developing my brand Tabla over the last 17 years. That also includes opening Tabla in London earlier this year on July 17, which also happens to be my grandfather's birthday. Perhaps what I am most proud of is the choices I have made along the way.
Looking back, I wish I had learned to listen to my gut instinct more when I was younger. I totally live by it now.
My biggest inspiration would have to be my mother; she is truly amazing in every single way.
I love running my own business because I love that there are no limits to what I can or can't do. You do what you want and everything is an opportunity to grow your business as you choose. If you love what you do – essentially it just becomes an extension of you. I have never really thought of or looked at Tabla as "work" per se.
My advice to budding entrepreneurs is to always have a clear goal and find a niche. Don't delegate when you are a small company, do as much as you can yourself, it saves money and makes you fall even more in love with your business.
I'm indebted to my Indian heritage. I've gotten so much from India, especially from the centuries old craftsmanship.
Ideally, the dream is to build a small orphanage for street girls in India, and try to give them life opportunities they may not otherwise have had. A full circle would be using the profits of my brand, which is essentially a showcase of traditional Indian artistry remodelled for the modern woman, to give back to the country and community that has given me so much.
In ten years, I can only hope that business is booming and that I feel completely content in every aspect of my life.
My words to live by: "Seize the day" and "Be grateful."
---
Photography by Edgar Tapan