Something for Everyone: 10 Luxe Gift Ideas from Ralph Lauren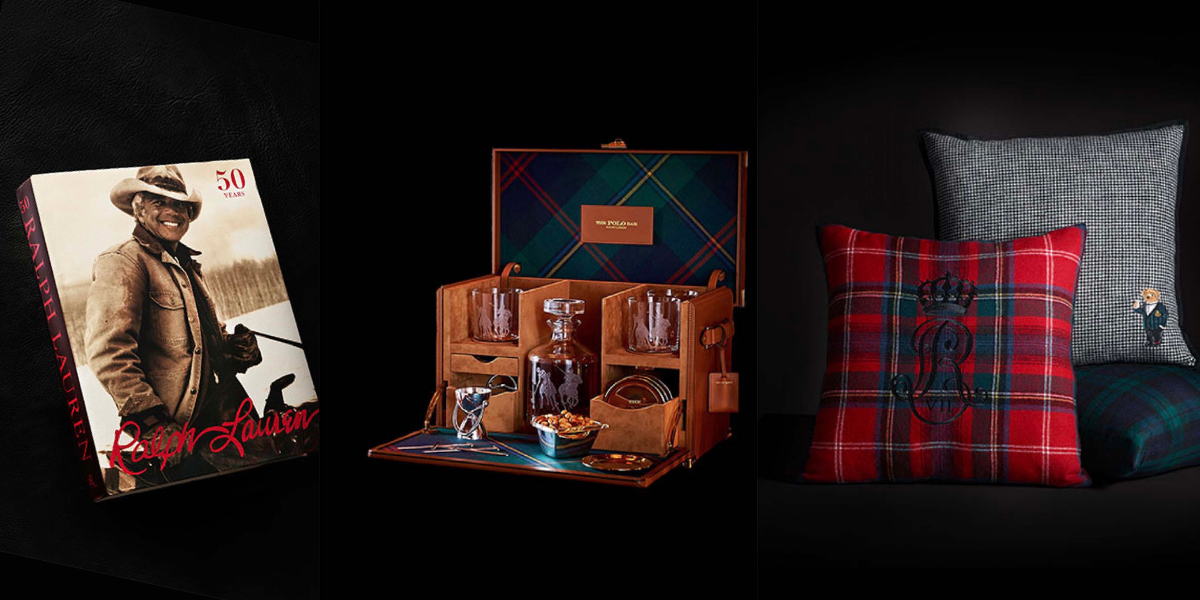 By Rosana Lai
November 30, 2018
Renowned for his luxurious and timeless designs, Ralph Lauren is marking five decades in the business in 2018. To celebrate his remarkable legacy, the house staged a fashion show earlier this year at the Bethesda Terrace in New York's Central Park featuring models aged from two years to 70 strutting proudly to Americana anthems. The celebration continues with a series of 50th anniversary-themed festive gifts for the whole family. From baby blankets to bar boxes and holiday sweaters to cowboy boots, you're sure to find a posh present for those you hold near and dear.
For The Avid Traveller
Know someone who's never in town for more than a few days at a time? Assist them on their high-flying adventures with this compact, travel tie organizer so they'll never have their ties in a bunch.
For The Trend Setter
The only people who could rock a red military jacket? The little toy soldier from The Nutcracker and your chic-est fashionista friends who'd no doubt want festive outerwear to brighten up their dark winter wardrobe.
For The Home Body
There's no shame in nesting in the winter months, and these accent pillows would make the perfect gift for someone who plans to hide out for the holidays. All that's missing is a cup of hot cocoa and a movie marathon.
For The Liquor Lover
Whether that special someone in your life prefers their drink shaken or stirred, this Ralph Lauren's bar set contains all the essentials required for a home bar. If they love to entertain or just to mix a drink at home, this box will be a chic addition to any man's home.
For The Dapper Gent
A true gentleman is keen on looking ship-shape at home as well as outdoors. Help him keep his feet warm and snazzy with these leather indoor slippers in a sharp, midnight hue. You'd be hard-pressed to find someone who wouldn't appreciate these!
For the Trendsetter
Arguably the biggest boot trend that's swept the runway this season is the return of the classic cowboy shape. Not just for your Western-themed party or a weekend at Coachella, we've spotted boots paired with everything from pretty frocks to jeans and jackets. So why not surprise your loved one with these red hot Ralph Lauren boots?
For The Watch Fanatic
Looking for something fun for an avid watch collector? Why not go for something fun and thoughtful? Ralph Lauren celebrated five decades in the business with a special Polo Bear Collection which combines the art of Swiss watchmaking with one of the house's most iconic characters. This watch features Martini Bear, as dubbed by the designer, showcases a bear dressed in a tuxedo, smoking slippers (a splitting image of Ralph Lauren's Purple Label) on the watch's face and a black alligator strap.
For The Book Worm
A coffee table book always makes a stylish gift for the holidays, and this exquisite book celebrates the life and work of Mr. Ralph Lauren himself. As told and presented by the designer himself, this visually-stunning book includes over 500 pages of personal photographs of his private life and family and a rare glimpse into one of the most celebrated designers' lives.
For The Super Woman
Ralph Lauren designed this bag and named it after his wife, Ricky, which is a thoughful and love-provoking gesture. And what would be an equal gesture for the most beloved woman in your life? To have this wrapped up in a box under the Christmas tree, of course.
For the Newborn
You've got somethign for the mother, and something for the father. Now, what about the new born? A cashmere blanket, beanie and bootie set should ensure that any little bundle of joy stays stylish and warm through the winter months.