7 Fashion Trends You'll See Everywhere In 2018
By Rosana Lai
January 11, 2018
Whether you've decided to start hitting the gym or take classes in Arabic, the new year is a good time to try new things. Apply the same spirit of experimentation to your wardrobe with trends guaranteed to top the sartorial charts through summer, brought to you by the arbiter of trends herself, fashion retail director of Net-a-Porter, Lisa Aiken.
1/7 The future is feminine
Unleash your inner girly-girl and don the prettiest floral dress you own. As Aiken suggests, "This trend is about being unashamedly pretty. Sweet, yet not saccharine." Designers from the likes of Alexander McQueen, Self-Portrait and Chloé are serving up some seriously sweet pieces, whether it's the classic summer frock with exaggerated ruffles or Victorian dresses in sugary shades.
2/7 Rainbow connection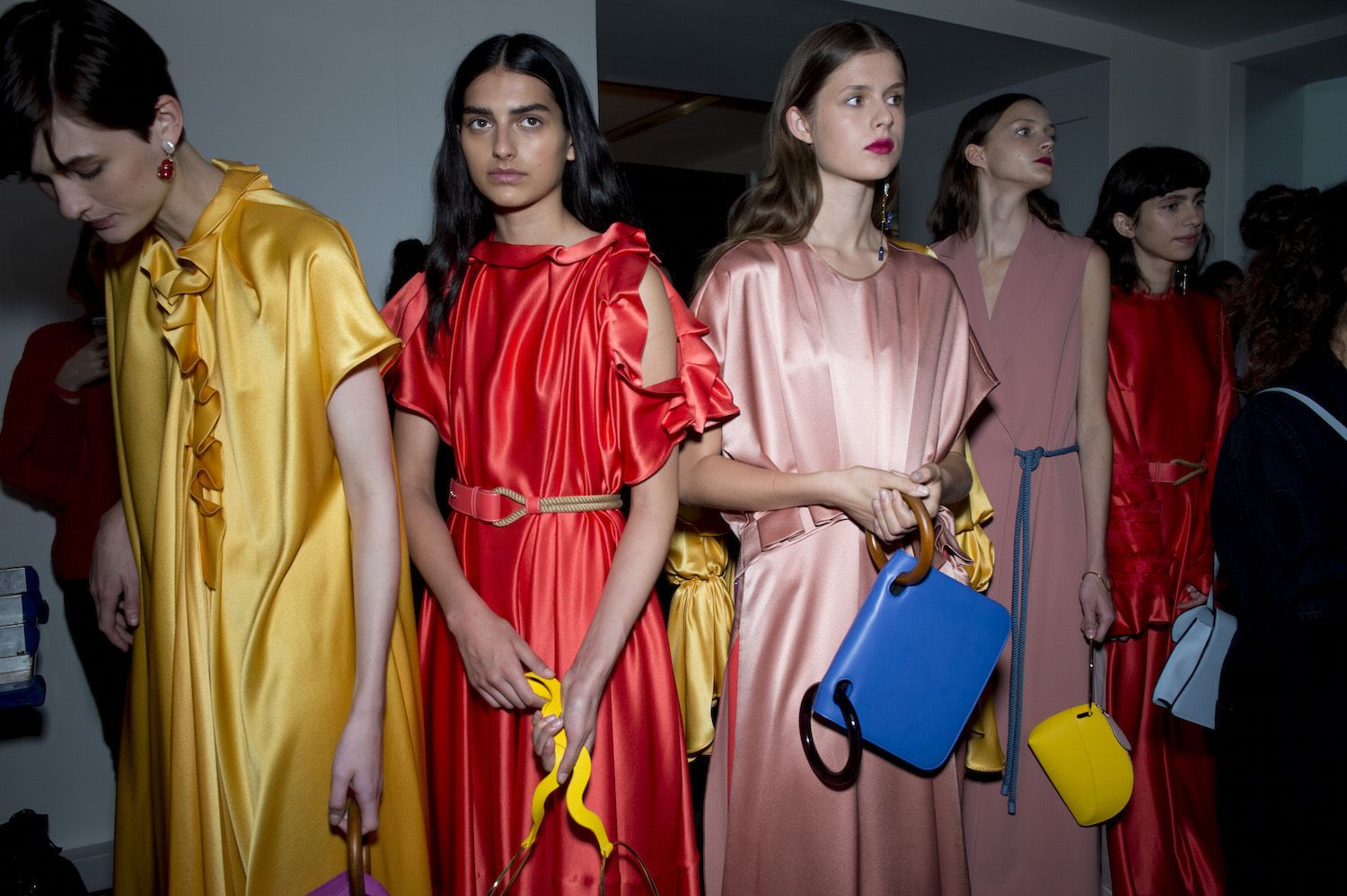 Crayola brights are about to take over your Instagram feed. Designers like Versace, Victoria Beckham and Balenciaga are sending models down runways in near-fluorescent dresses that are meant to be paired with slick black or white accessories. "It has almost become a trophy look that shows your styling capability," Aiken says.
3/7 Throwback everyday
We've seen the beginnings of this trend with the rise of check and houndstooth coats in Fall/Winter 2017 collections, but the vintage vibes continue in full force this spring. We're talking '80s and '90s silhouettes like high-waisted jeans, puffed sleeves from Isabel Marant, polka dot blouses and chain jewellery from Versace.
See also: True Blue: 5 Cool Denim Brands You Need To Know
Not to mention the chunky, retro sneakers from the likes of Balenciaga dominating the footwear scene and the exaggerated cat-eye sunglasses championed by Adam Selman x Le Specs on every influencer's nose.
4/7 Power suiting
According to Aiken, suits have become the single biggest trend of the coming season. "Maybe it's because men's wardrobes change more slowly than women's so we feel like it's more investment-worthy and that there's a sense of longevity there."
The new creative director of Chloé, Natacha Ramsay-Levi, has made her animal print suit the new investment piece-du-jour, while contemporary favourites like Tibi, Roksanda and Gabriela Hearst continue to rock suiting with their minimalist plaid or monochrome two-pieces.
5/7 In the nude
For every action, there's a reaction. So naturally with the explosion of maximalism comes the rise of those who favour the back-to-basics approach. Whether it's established designers like Loewe or the new favourites like Rejina Pyo and Jacquemus, easy, breezy cotton and linen fabrics in natural tones are washing over the fashion scene.
It's no surprise given the popularity of woven basket bags of last summer, and it's become clear that the muted, relaxed trend is here to stay.
6/7 Double duty
Layering has always been seen as a skill of sorts, mastered by anyone who's anyone in fashion. But designers are giving everyone else a shortcut with already spliced and diced pieces put together into patchwork dresses and separates. "Think of it as the un-dressy dress, designed to be worn with boots or sneakers," Aiken says.
Alexander Wang, Alexander McQueen and Balenciaga are among the pros of the deconstructed dresses and detachable jackets.
7/7 It's all about accessories
Accessories this season are less add-ons and more key pieces that tie an outfit together. The main players stealing the show are vintage, kitten slingback heels from the likes of Valentino, super-sharp pumps from Balenciaga and sculptural heels from Loewe when it comes to cool kicks of now.
In terms of arm candy, you'll find them in the form of oversized totes like those from Acne, belt bags from Gucci and the good ol' satchel bag from Chloé.