Cara Delevingne Shares The Best Advice She's Ever Received—And From Whom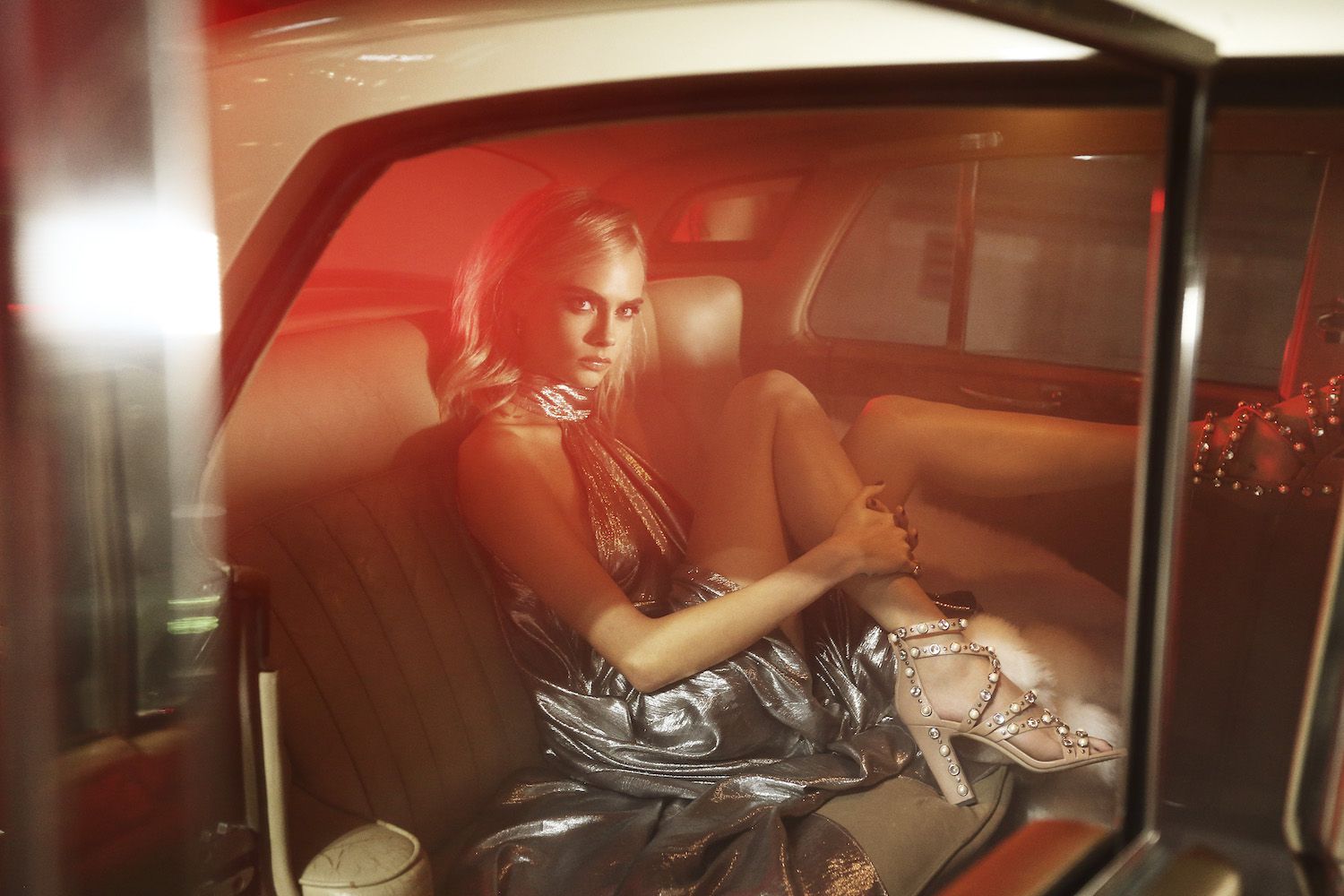 Whether she's busting out dance moves like 'The Sprinkler' or pairing a sparkly dress and Jimmy Choos with reindeer horns, Cara Delevingne knows a thing or two about having fun over the holidays
Cara Delevigne is a woman who needs no introduction. You've seen her walking some of the biggest fashion shows in the world, you've seen her grace the covers of international magazines, and you've probably seen her on the silver screen in blockbuster hits like Valerian and Suicide Squad.
In light of her new holiday campaign for Jimmy Choo, we caught up with the British polymath to talk about how to dress for the holidays, how she defines success and her favourite dance moves.
You're starring in the Jimmy Choo holiday campaign, what is your idea of the perfect Christmas?
Friends, family, food, feast, fiesta and obviously lots of presents!
Can you describe your favourite party season outfit of all time?
I really love to dress up—and I'm not just talking about looking nice. I do like to put on a crazy outfit and be an elf or a reindeer, or just wear a nice sparkly dress with a red nose for something different and quirky.
How do you think your style has changed as you've got older and changed the emphasis of your career?
As I've grown up, my style has changed. I wear less statement T-shirts and baseball caps. Now it's more about a beret and leather jacket. I think it's just matured in a way, but I like to be comfortable in what I wear.
The Jimmy Choo collection includes several unisex styles, some of which you were pictured wearing—androgyny has become such a staple in stylish women's wardrobes, what is your top tip for mastering the look?
Being male or female is less 'opposite' now than it ever has been. I don't think it's necessarily about picking something that a man would wear, I think it's about feeling comfortable whether it is masculine or feminine.
If you decide to wear a suit, I don't think that necessarily has to be masculine. Mastering the look is just about being comfortable with whatever you feel that day.
Which were your favourite shoes from the shoot and why?
My favourite shoes form the shoot were definitely the black MAINE heeled boots with multi-coloured gems. I think they really represent New York and the different coloured lights. They're also extremely comfortable.
See also: 7 Thigh High Boots We're Lusting Over For Fall
You're currently working on a really varied range of projects including a book, a TV series and a few different films in various stages of production—as a creative, did you always want to be a polymath?
It wasn't really a decision that I made. As a kid, I grew up being creative and making things I really enjoyed. The thing about labels is that, for example, if you are an actress, it doesn't mean that you can only be an actress. Anyone has the right to create whatever they feel.
Do you have any good holiday season reads?
At the moment, apart from my book "Mirror Mirror", I've really enjoyed reading Esther Perel's "The State of Affairs". I also love a good holiday murder crime novel—"A Kind Worth Killing" by Peter Swanson is a good one and Liane Moriaty's "Big Little Lies".
You had three films come out in 2017 and already have another two scheduled for 2018—from a work/life balance perspective, how are you finding work now in comparison to when you were modelling full-time?
I feel a lot less busy only because I'm finally doing all the different things I wanted to do. When I had just one job being a model, it kind of felt monotonous—not in a bad way, but it was a lot more travel and a lot more stress. Being able to create and express emotions are the most important things for me, and now it doesn't feel like I'm that busy because I'm doing what I love.
What is the best advice you've ever been given and by whom?
That would be a piece of advice I was given by Will Smith, who said that even though we're actors—and this applies to whatever job you do, really—it's important to treat yourself as though you're an athlete, especially if you work a lot and have a demanding schedule.
You have to look after yourself, sleep a lot and do all the things that will help you do your job to the best of your ability.
See also: Shop Like A Supermodel: Toni Garrn Launches Exclusive Pop-Up With Vestiaire Collective
What do you think makes you successful?
I think success is more about happiness. I don't think that it's having the best job, or the most money or the most friends that makes a person successful. I think success comes from a deep-down happiness about who you are and what you are doing.
What's a signature dance move we might see from you?
I'm into 'The Sprinkler', or the classic 'Shopping Trolley'. Or the 'Big Fish, Little Fish, Cardboard Box'. I like a good dance routine.
And lastly, how many pairs of shoes do you own?
A lot. I think shoes are really important. I do like to get one pair of shoes and wear them in and out until they are broken. I will repair them, but I wear them until the end!
Check out Jimmy Choo's shiny new holiday campaign feature Cara Delevingne on jimmychoo.com