Laurent Picciotto's Tips On Starting A Watch Collection
The legendary watchmaker and collector is putting his storied collection on the block
Before the advent of dedicated watch magazines, blogs and forums—basically the lifelines of watch collectors—there was Laurent Picciotto.
In 1988, Piccoitto established Chronopassion, a high-end watch company based off Paris, where he would not only sell watches, but help watch lovers find "what their heart most desires," as he was quoted as saying in an earlier interview. He was a personal watch shopper, if you will, and would go on to be known as the person to go to if you wanted to find the best, finest and most unique watches.
Read more: 6 Wearable Works Of Art Offered By Phillips This Spring
Through this journey, Picciotto would make some influential watchmaker friends, and be able to amass for himself a watch collection to die for. Part of this enviable suite of contemporary is in Hong Kong, and will go on the block tomorrow under the direction of Phillips in association with Bacs & Russo.
Entitled "Hong Kong Watch Auction: FOUR," the auction encompasses 43 timepieces from Picciotto's collection—many of them either unique and limited editions—by Richard Mille, Urwerk, De Bethune, MB&F, Girard-Perregaux, Audemars Piguet, Hublot and HYT. The lot also includes extremely rare brand paraphernalia and memorabilia to accompany each timepiece, including a Richard Mille electric guitar, sketches, photographs, jackets, travel bags, golf balls and speakers.
Ahead of the auction, Laurent Picciotto speaks to us about his eclectic collection, and offers budding collectors tips on how to begin theirs.
How did you initially get into watch collecting?
My father has been collecting since I was 12, and that is when I developed an interest in the subject.
What motivates you now?
A combination of nostalgia on one side, and the fantastic pieces that have come out in the last 15 years. We are at a level never reached before in wristwatch history!
What, for you, is the most important thing in selecting a watch?
It must bring something to the subject in terms of the technical, and of course design.
What do you look for when buying a watch?
A watch that I cannot resist.
What advice do you have for new and aspiring watch collectors?
If you start by reading articles [and] speaking to brand representatives, it can be very confusing in the beginning. There is no truth apart from your own truth—in the beginning you have to follow what you believe in. In time your knowledge will grow, and you will probably be collecting different watches in five years. Each collector has their own recipe. Follow your own taste, follow your own path, and in time you will develop your recipe for collecting.
Thoughts about smart watches?
My phone is enough, thanks.
In a sentence, why do you collect watches?
I collect a lot of things—watches, electric guitars, shoes, leather jackets... and what hides behind the stuff are people, knowledge, and passion.
How many watches do you own, and what, if anything, do you have your eyes on?
This auction will be a way to restart from scratch. My eye has quickly landed on a MB&F legacy perpetual calendar.
Can't wait for the auction? Here's a preview of a few of our favourite pieces to feast your eyes on:
---
Richard Mille, a unique DLC-treated titanium tonneau-shaped split seconds chronograph tourbillon RM008 wristwatch with Richard Mille electric guitar, golf balls, framed drawing of the present movement, original certificate and fitted presentation box (2006).
---
Richard Mille, a rare DLC-treated titatnium skeletonised tonneau-shaped RM010 wristwatch with date, blue luminova, special velcro strap, magazine, golf balls, original certificate and fitted presentation box, made for Chronopassion, numbered I of a limited edition of 50 pieces (2010).
---
Richard Mille, a rare white gold tonneau-shaped tourbillon RM001 wristwatch with power reserve, torque indicator, framed photograph and golf balls (2002).
---
De Bethune, a unique white gold wristwatch with secret signature, spherical moon phases, power reserve, customised constellation of Laurent Picciotto's hometown, samples of the study used for the secret signature on the dial and framed photograph (2010).
---
MB&F, a rare pink gold dual time wristwatch with three-dimensional movement, vertical power reserve, speakers, miniature car and plane, original warranty and fitted presentation box (Circa 2011).
---
Audemars Piguet, a rare sandblasted titanium special edition chronograph bracelet watch with date, cufflinks, keychain, penknife, paperweight, leather travel bag and bracelet made from spare links, made exclusively for the Paris boutique, limited to 50 pieces (2005).
---
Girard-Perregaux, a rare and unusual titanium and platinum skeletonised three sapphire bridge tourbillon wristwatch with bracelet, numbered 0 (2009).
---
Hublot, a rare and unusual black PVD-coated titanium and ceramic chronograph wristwatch with date, numbered 0 of a limited edition of 250 pieces (2009).
---
H. Moser & Cie, A fine and unique white gold prototype wristwatch with special blue dial and cap (2014).
---
Alain Silberstein, a rare and highly unusual stainless steel wristwatch with black enamel top and bracelet, manufactured in conjunction with Svend Andersen and limited to 10 pieces only (2005).
---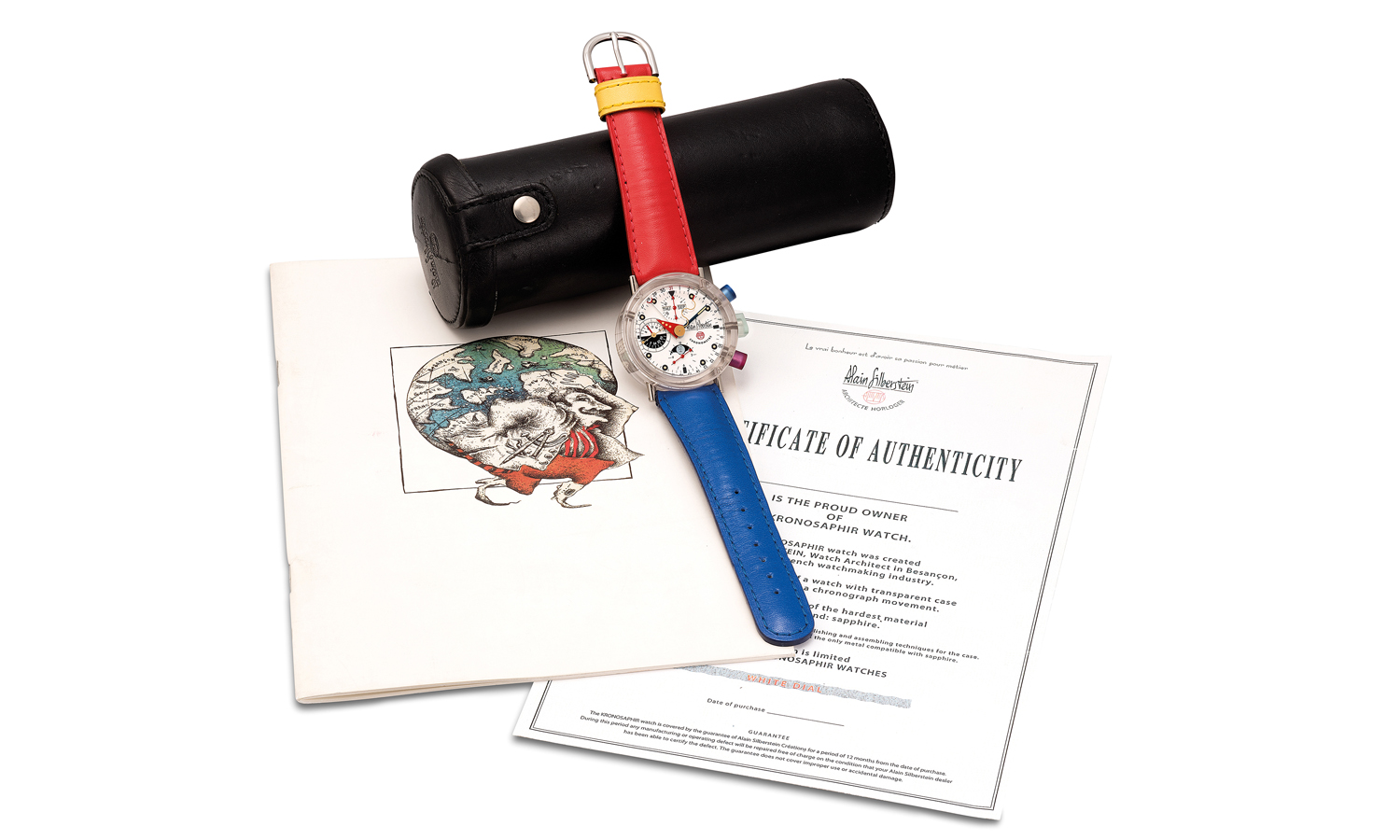 Alain Silberstein, a rare and historically interesting sapphire crystal triple calendar wristwatch with moon phases, limited to 10 pieces only (1993).
---
Urwerk, a rare, large and unusual stainless steel and titanium special edition three-dimensional satellite hour display, telescopic minute hand, twin turbin winding system, moon phases, day and night indicator, large poster, sketch of UR-202 and framed photograph of front and back of the watch, numbered 1 of a limited edition of 12 pieces (2010).
---
The Hong Kong Watch Auction: Four begins from 1pm and 6pm on May 30 at Mandarin Oriental Hong Kong, 5 Connaught Road, Central.
Check out Phillips Hong Kong's e-catalogue for more information on the sale.
See also: 5 Avant-Garde Clocks That Could Be The Future Of Time-Telling