Tatler Throwback: 5 Vintage Fashion Trends To Wear Today
We've been having fashion flashbacks
We've seen a lot of fads come and go (lime green, anyone?) but certain trends seem to come back and dominate the catwalks season after season. Some styles are undeniably timeless, and flicking through the Tatler annuals, we've spotted a few of our old fashion shoots that wouldn't look out of place in 2017:
---
Florals
Have they ever really been out of style? In some shape or form—whether it's cartoonish '70s prints or delicate pastels—florals have made their mark on every generation. This shoot from September 1989 is more in keeping with contemporary floral trends, using neutral colours and small, neat prints.
---
Fur
Controversial? Yes. Fashionable? Always. While we prefer our fur faux these days, it's been one of the most enduring fashion trends of all time, hailing from the era of Medieval monarchs as a symbol of status. Mainstream fashion these days tend to avoid the full-fur look we were loving in our 1984 fashion shoot at the Mandarin Oriental Hotel, but we're not opposed to a little trim here or there.
---
Leather
Leather jackets come back around every year or two. Biker chic is always on trend, and often joins forces with steampunk revival to bring a look that is mad, bad, and crazy stylish. Chokers and lace can be a softening accompaniment, like in this 2002 fashion shoot—wasn't this all the rage just last year?
---
Stripes
It's the grown up sister of dots, and the go-to pattern for the fashion shy. It's easy to pull off and come summer, everyone will be donning their nautical-themed garments to hit the beach or stroll the promenades—just as we did in this 1998 fashion shoot. Navy, white and red are a classic colour combo you can wear time and time again—just be sure not to overdo it, unless you want to look like a cartoon character.
---
Embroidery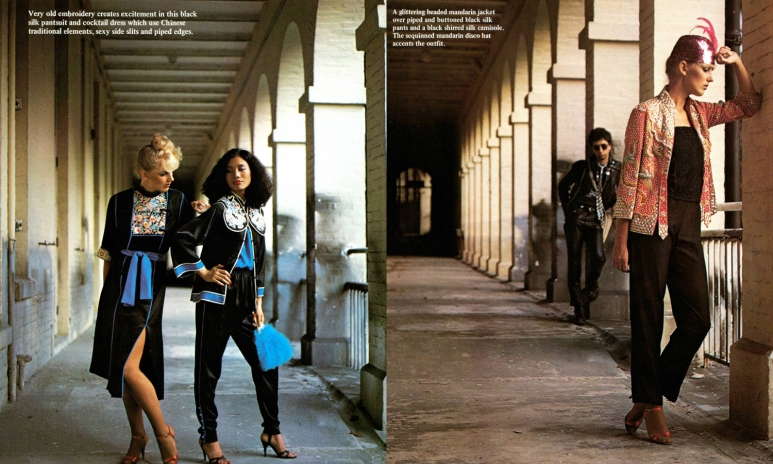 It "burst" onto the catwalks last year, and everyone has been mad about it since. But it's really another one of these trends that have always been around, from ancient times and across continents—embroidery has featured heavily in everything from ancient Middle East attire to English Renaissance costumes and Victorian gowns.
More recently, our Tatler archive reveals we were rocking embroidery during its last revival in the 1970s. We're going to leave the glittering Mandarin hat from our 1979 fashion shoot at home, but that jacket wouldn't look out of place today.
---
See also: 10 Photoshoots That Prove Monochrome Is Timeless
Sign up to our weekly newsletter and get our top tatler_stories delivered.