Watch Men: Carson Chan And Winston Koo Share Their Favourite Timepieces
Watches & Jewellery
Watch aficionados Carson Chan and Winston Koo speak exclusively to Hong Kong Tatler about how their obsession began
Having both grown up in Southern California before moving back to Hong Kong in the 1990s, Winston Koo and Carson Chan are living what some would consider parallel lives. They're both established in their fields, have many friends in common, and share a passion for collecting watches.
See also: Hong Kong's Top Watch Collectors
Winston Koo
Winston is "the definitive gentleman," according to Carson. "He's soft-spoken, always polite, well-mannered and constantly looking out for his friends. He's always stylish and has impeccable taste. If he hosts a party, you don't want to miss it." Unsurprisingly, given his penchant for looking sharp, it's the aesthetics of a watch that first attracts Winston's attention. Once he finds one he likes visually, he begins his research.
"I learn as much as I can about the piece I'm interested in—the materials, size and functions," he says. "And this is the fun part really–along with the process of trying to get hold of one, especially if it's a limited edition or limited production piece."
Winston's passion for watches started at a young age. His first was a Mickey Mouse timepiece his parents bought for him during a trip to Disneyland in Los Angeles when he was four. "I've been interested in watches for as long as I can remember," he says, "and I would always have one on."
See also: 19 Men's Watches That Were Built To Last
But it was in 1999, when his family moved back to Hong Kong from Los Angeles, that he started acquiring timepieces in earnest.
While managing his family's faux botanicals and home decor business, Winston was also collecting watches. He had amassed about 200 by the time his girlfriend (now wife), Oceane, discovered his collection.
"She was helping me do some spring cleaning and cataloguing of my watches, and was surprised at the number of pieces I had in what I thought was a very modest collection. She asked me if I would ever be able to wear them all, and it was then that I decided to edit my collection, keeping only the ones I actually wear."
See also: The Black List With Winston Koo
Today, the father of two owns about 50 watches, mainly black. "For me, black is simple and clean. Not only does it represent the absence of colour and is void of distractions, it is also pure in its own way and has a Zen-like quality."
Winston is reluctant to be called a collector. "There are many other individuals out there who are better qualified to be considered one, with their vast and valuable collections. I would say I'm more someone who's passionate about watches—an enthusiast or hobbyist, perhaps, would be more appropriate."
Winston looks up to his friend Carson as the expert on all things mechanical. "It was through conversing with him that I discovered that he possessed a wealth and depth of knowledge not just on watches, but cars, motorcycles, cameras, etc." Winston says.
"From taking apart a Porsche and reassembling it, to building a watch from scratch. Personally, I don't know anyone more well-versed and knowledgeable about horology, and I'm honoured to call him a friend and confidant."
Carson Chan
Carson is somewhat of a rock star in Hong Kong's watch community. His opinion carries weight among watch brands and his advice is sought by fellow watch aficionados, and for good reason. He currently heads the Fondation de la Haute Horlogerie (FHH) China Mission, which provides professional training to sales teams at a retail level and offers enthusiasts a deeper understanding of watches and watchmaking.
Carson was introduced to the world of horology in his teens when his father bought him a digital Alba watch, which he has kept to this day. But he wasn't always into watches. Living in Los Angeles in the 1980s, he was a car fanatic, spending hours under the hood of his Porsche. "Out of necessity, I learned how to drive, and it was there I started to really get into cars," he recalls.
"I would take them apart and put them back together. This went on for 10 to 15 years. Then I decided to return to Hong Kong, where it was virtually impossible to maintain a car collection given the space constraints. I was still very keen on mechanical stuff but had no channel to express that passion, so I turned to watches."
See also: Highlights From The Only Watch Charity Auction
In the '90s, there was only one watch-focused publication in Hong Kong, and virtually no internet, making it difficult for enthusiasts to learn about the latest arrivals on the market. Such was Carson's determination to learn about new timepieces that every two weeks he would check the stands to see if that one watch magazine had a new issue out.
"It had a very irregular run and was expensive at HK$200. But it was that or nothing," he says. "I learned everything I could with the limited resources I had at the time. I approached brands and took on any related job they could offer. I just wanted to absorb all I could."
See also: Carson Chan On Watch Collecting
His thirst for learning led him to Bonham's, where he led the watch department for eight years, a period during which he became a serious collector. "It came to a point where I had let my collecting run wild and it just got unmanageable," he says. "I would wake up in a cold sweat suddenly remembering a watch I haven't seen in a while."
These days Carson limits his collection to a manageable 60 to 70 watches at a time, a good number of which are vintage pieces. "I try to create a collection in which each piece has a story because I believe these stories make them much more valuable, priceless even."
Winston's picks
Asked to select three special pieces from their collections, Winston nominated his one-of-a-kind Jaeger-LeCoultre Master Compressor Extreme Lab 2 Red, a Panerai PAM 396 Tourbillon, and a Breitling Superocean Heritage Chronoworks. All were customised in some way for him. The second counter disc of the Jaeger-LeCoultre watch, for instance, was made luminous.
At his request and with the approval of Panerai CEO Angelo Bonati, the PAM 396 has had the word "tourbillon" removed. "I wanted my piece to be low-key and understated, so I was thrilled when they agreed to my request." Winston ordered the Breitling "sight unseen" when it was presented at Baselworld in 2016—with a slight revision: its chronograph second counter was made luminescent.
Winston is quick to add that these watches are special not simply because they're one-offs.
"It was the process of communicating with the brands that I've admired for many years that made them distinct. I've always believed that all sports watches should have luminescence on their second hands to allow the wearer to know it's working and running smoothly at a glance. And for the brands to acknowledge and accommodate my request—and not dismiss them as merely a frivolous one—meant a lot to me and, of course, deepened my respect for them."
Carson's picks
Carson nominated his Heuer stopwatch, Universal Genève Tri-Compax, and an H Moser for our shoot. "The Heuer stopwatch is not the most highly sought-after rally timer style but I love it because it has a Minerva movement. The more popular ones are the later ones made in the '60s, '70s, which have a very different style. This stopwatch also ties in my passion for classic cars—more specifically, classic air-cooled Porsches."
The Universal Genève Tri-Compax is from the late '40s to early '50s and features a full calendar, chronograph and a moonphase, all within a 35mm case. "The watch is very small and I like that it reflects the style and technology possible at the time," Carson explains.
On the other side of the spectrum is the young brand H Moser. "This H Moser Blue is a very clean watch, but it's packed with cutting-edge technology. Very few brands manufacture their own hairspring, but H Moser does and this watch, in particular, features a double hairspring. It is an incredible watch to have in your collection."
Trending
Moncler's Genius Pop-up Cocktail Party
October 16, 2018 | BY Alexandra Purcell
photo_library
Les Mondes de Chaumet Cocktail Party
October 15, 2018 | BY Alexandra Purcell
photo_library
Transform Your Complexion With Lancôme's New Absolue Collection
October 15, 2018 | BY Hong Kong Tatler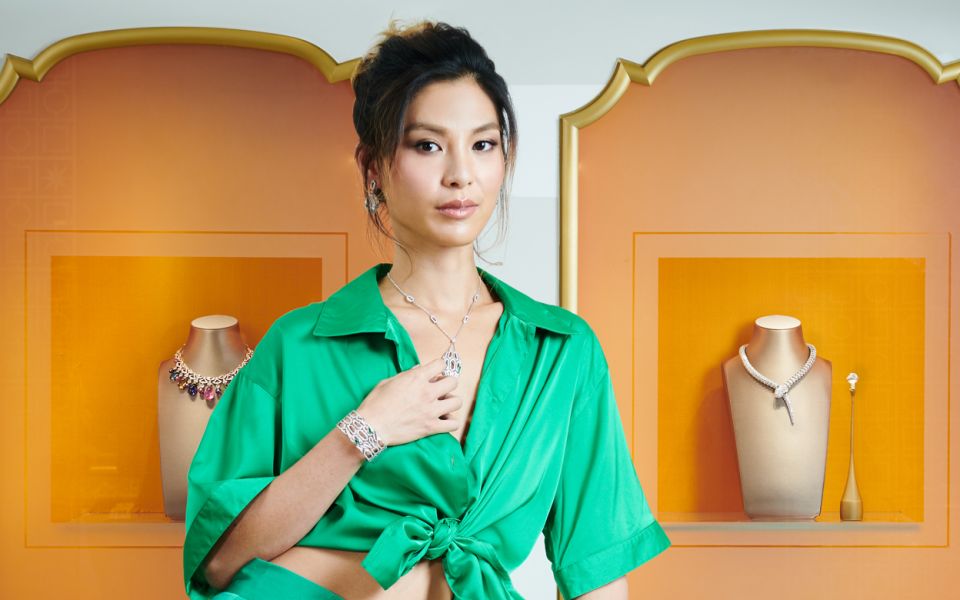 From Rome To HK: 5 Family-Friendly Destinations In Rome
October 9, 2018 | BY Hong Kong Tatler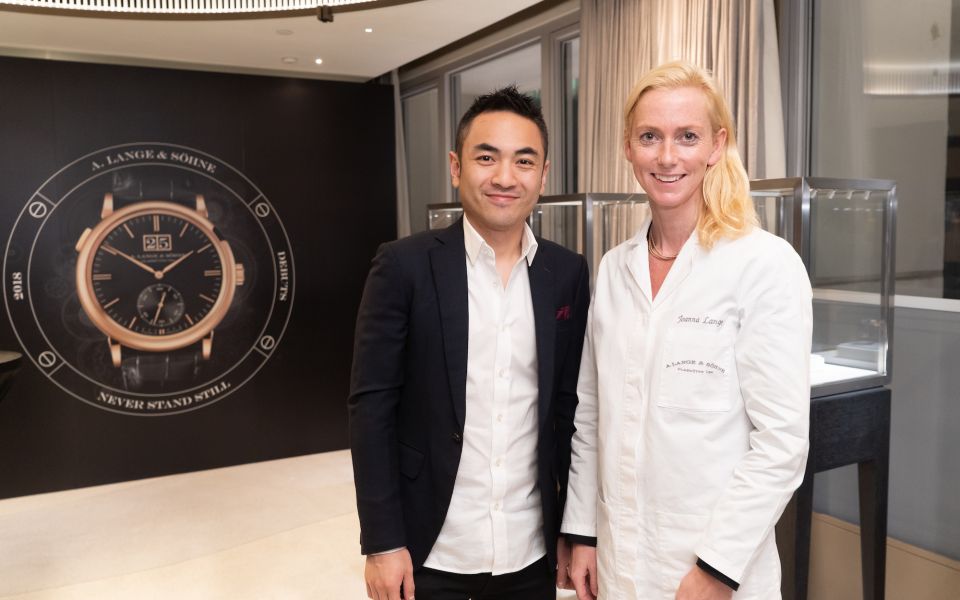 A Lange & Söhne Connoisseurs Akademie
October 8, 2018 | BY Christian Barlow
photo_library
Asia Miles Presents: Up Close With Dragonfly's Ashley Sutton
October 3, 2018 | BY Hong Kong Tatler
play_arrow