A Gift of Beauty and Brilliance: The Aerial Collection by Hearts On Fire
Hearts On Fire's Aerial Collection brings a new level of Christmas sparkle
Hong Kong comes alive with radiant colour for the holidays — buildings and skylines awash with dazzling lights and swathes of neon brightness. The city is transformed into a spectacular backdrop for a story of love and wonder.
Amidst all the holiday glitter, there is one sparkle that stands out — Hearts On Fire's Aerial Collection, in particular, aims to bring that holiday radiance closer to your everyday lives through a collection inspired by natural elements and the power of light. Recreating heavenly details such as sun, rain, snowflakes and stars in diamond form, designer Ilaria Lanzoni has created an ethereal elegance that transcends any type of occasion.
The winter scene in Hong Kong is missing just one essential tradition of the holidays — the falling down of glistening snowflakes. The Aerial Collection, however, brings this frosty fantasy to life with the Aerial Cluster Stud Earrings and the Aerial Cluster Pendant Necklace. The designs of these pieces imitate the delicate structure of a snowflake through a cluster of diamonds, providing a dainty sparkle and a perfect gift for any woman in your life.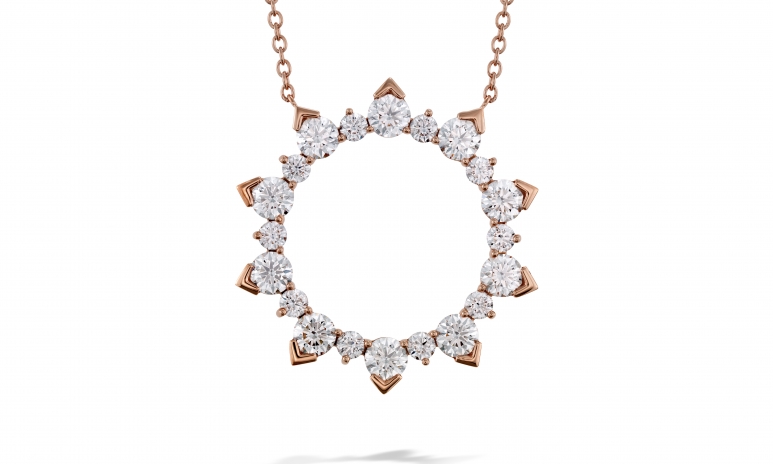 Meanwhile, the Aerial Eclipse Large Necklace brightens up the mood in greyer winter days when night falls upon us more swiftly. This piece, a true showstopper, features diamonds radiating from the centre like rays from the sun. A ring of diamonds encased in rose gold creates a timeless piece to be worn on its own or layered for an accentuated brilliance.
The next piece in the collection, the Aerial Diamond V Necklace, is stunning in its delicacy and evokes an alluring air of sophistication. The pointed procession of the perfectly cut diamonds call to mind a series of raindrops and is sure to add a touch of subtle sparkle and radiance to any outfit, be it for day or night.
The Aerial Diamond V Drop Earrings evoke a glamour that both classic and modern at once. As the holiday season is the best excuse to sport a bit of sparkle, the chic elegance of these earrings will not fade with the passing of time, and moves along with the slightest of movements.
Hearts On Fire jewellery is famed for its impeccable quality, supreme craftsmanship and stunning design, making the collection a superb gifting option for loved ones. Let beauty and brilliance take over this Christmas, for a memorable holiday season with the most precious people in your life.
Available at:
Chow Tai Fook, Shop G06, K11, 18 Hanoi Road, Tsim Sha Tsui
Tel: (852) 2526 8649