Is This the Coolest Burberry Store in the World?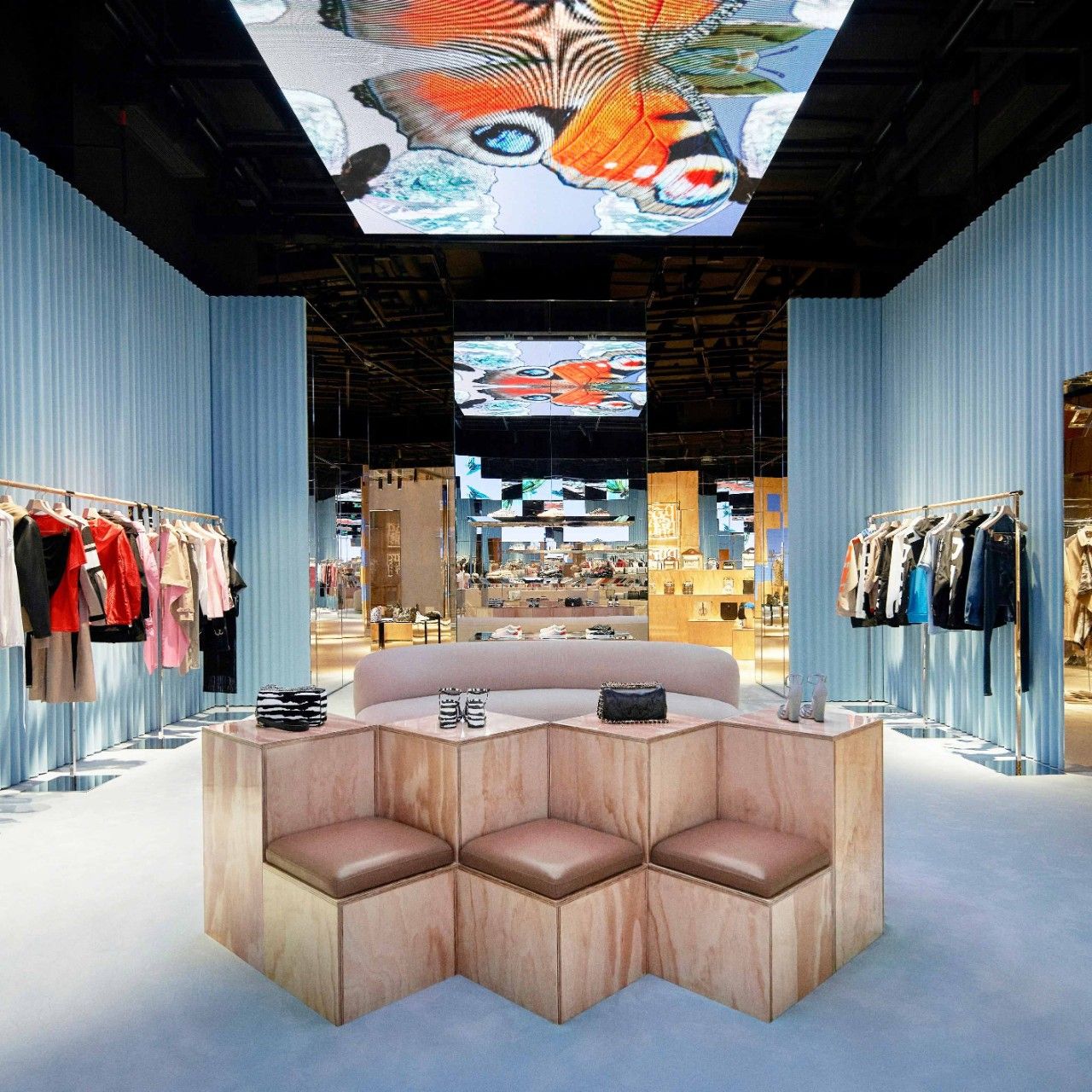 The British luxury brand's newest flagship in Shenzhen is powered by Tencent and dubbed the company's first "social retail" shop
Burberry debuts its first "social retail store" in Shenzhen today—an interactive space that seamlessly blends brick-and-mortar shopping with social media and virtual digital experiences. Developed in partnership with and powered by Tencent, the shop at the Shenzhen Bay MixC in the HouHai District can be activated digitally through a dedicated WeChat mini-programme—which unlocks site-specific content and shareable assets.
"Burberry has always been a brand of firsts, built on a belief that creativity has the power to open spaces," Burberry CEO Marco Gobbetti said in a statement. "We test new ideas and push the boundaries of what's possible. When it came to innovating around social and retail, China was the obvious place to go as home to some of the most digitally savvy luxury customers. Together with Tencent, we have pioneered a new concept that will redefine expectations of luxury retail. The first step in an exclusive partnership between our companies, Burberry's social retail store in Shenzhen is a place of discovery that connects and rewards customers as they explore online and in store. It marks a shift in how we engage with our customers and we can't wait to share this innovative experience with the world."
The new Shenzhen concept features a "series of spaces"—ten rooms across 5,800 square feet, each with its own dedicated virtual interactive experience.
Related: How Tencent co-founder Charles Chen Yidan is transforming education
"I am fascinated by the balance between nature and technology, and the energy that connects the two," Burberry Chief Creative Officer Riccardo Tisci said in a statement. "This store explores this relationship, blending the digital and the physical realms in an exciting new concept. I wanted to bring this love of the outdoors to life through all the elements of the store, which can be seen in the Burberry Animal Kingdom prints in the café as well as in the fully immersive Trench Experience and even in the small details of the design materials. I really wanted to draw upon these familiar house codes to bring our community together in an interactive journey of discovery."
To that end, fitting rooms can be pre-reserved using the WeChat mini-program; QR codes affixed to merchandise can be scanned to unveil additional information, content, and product storytelling; the store windows, which are a living sculpture inspired by Burberry's autumn runway show, respond to physical movements by the audience; and a personalised Trench Experience can be unlocked through building social currency through the WeChat mini-program. At the in-house Thomas's Cafe, which serves a selection of food and drink that celebrates Chinese and English tea culture, guests can reserve tables as well as unlock special menu items using the WeChat mini-program. Also available at the new shop is an exclusive Burberry Shenzhen Capsule Collection—men's and women's ready-to-wear casual separates including jackets in the Thomas Burberry Monogram made in the brand's Econyl fabric, which is a nylon yarn recycled from materials including fishing nets and industrial plastics.