Emilie Duchêne on Business, Travel, and the Power of Instagram
The creator and artistic director of Thea Jewellery tells us how she got started and where she's going next
Interested in fashion from a young age, Emilie Duchêne has experienced every side of the industry from designer to it-girl to magazine editor. Now married and a mother, the Belgian designer's latest adventure is of a much more personal nature: luxurious customised jewellery. Since Thea launched in 2011, it has been warmly received by customers across Europe and the USA, with celebrities from Cara Delevinge to Beyonce all ordering their own unique items. Now looking at expanding the business to other regions, we meet up with Emilie to find out how it all began.
---
What brings you to Hong Kong?
I came here many years ago, but I haven't been for a long time. I have friends who are living here now, so mostly I came to visit them, though I also want to get a feel for the market and explore business opportunities in Hong Kong. This weekend I'm just looking at the jewellery fairs and the art exhibitions and getting to know the city.
How did Thea Jewellery get started?
My background is in fashion: I was designing clothes in Paris, but after I got married I moved to working in the office of the family company. I was working there for a few years, but I missed creation and design: I wanted to go back into something creative. I was pregnant at the time with my first daughter, and I was looking for a personalised ring with her name on it: Thea. There was no product like this on the market, so I decided to make it myself. I designed every aspect of the ring – even the calligraphy is my own writing, so it's very personal. People really admired it; I was always getting asked, 'Where can I get one?' or 'Can you make me one like this?' and so I began taking orders, making personalised products for others; and now two years down the line, I'm doing this full time.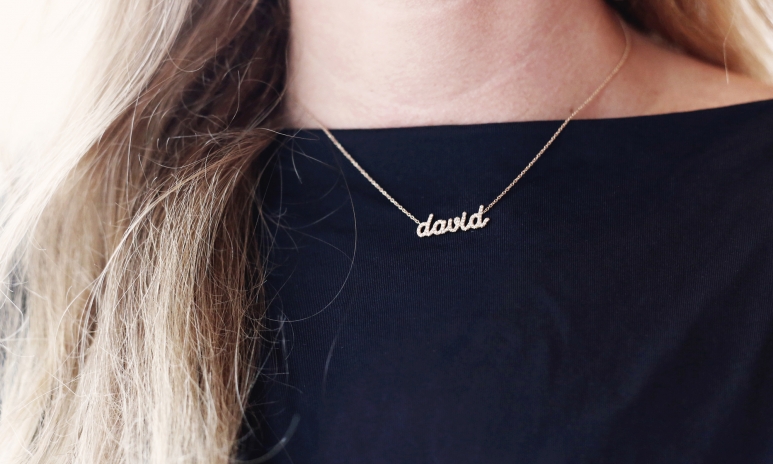 What is your favourite Thea item?
I love the rings – it was what started it all, back in the beginning. For a while, it was the only thing that we did and is still 80% of what we sell in Europe. It was only when one customer requested a necklace that I began to look at other types of jewellery. One customer asked me if I could design her baby bracelets – she didn't like anything she had seen in stores. That was when we started branching into children's items. It's not a big sell for the company, but I think it's cute and my girls like it – they have a necklace each.
How important has social media been for your success?
Every piece we make is unique, so there is no prototype to show off – the customers bring their desires and ideas, so we really rely on people posting on Instagram to show off what our jewellery looks like. Our customers are always sharing beautiful images; it's so inspiring for us as designers and for our new customers. It's great to be able to share in these moments of their lives: the jewellery they order celebrates everything from marriage to having a baby, moving house or friendship. That's the nature of Thea – it's about celebration.
What are the next steps for Thea?
I like to take everything one step at a time – I don't want to expand too fast. We are definitely interested in doing business in Hong Kong, but it is a difficult market. I came to see if it's like Europe – and it's not at all. I want to learn about it before we do anything. Most of our customers are in Belgium and France, although around 40% of our orders come from the USA now, too.
Who are your favourite designers?
I love the Stone designs by Marie Poniatowski. It's a French jewellery brand, very delicate, very beautiful. I wouldn't say it inspires me, but I very much admire the women behind the brand, and her designs. For fashion, I love the collections from Greek designer Mary Katrantzou – she's doing amazing things. I love prints, and everything she produces right now is so bold.
What is the best piece of advice you've ever been given?
I was told that if you believe you can do it, you can do it – but also, if you find that you can't, don't worry because you can find another thing. There will always be something else, another path, a new direction, nothing is set in stone. So I guess be patient and never give up – I wouldn't be where I am if I didn't push through.
What is your favourite thing about Hong Kong?
I forgot that the city is so green - there's so much jungle. There are so many trees and parks, so many open spaces and then the jungle right there behind you: I love the wild, fresh feeling it gives the city. It's beautiful.
Where is your favourite travel destination?
Italy is probably my favourite place - I like the people, the fashion, the food. I also enjoy exploring new destinations though. Travelling is one of my favourite hobbies, whether it's with my family or for work - I'm so lucky that my job takes me all over the world. I think it's so inspiring to meet people from different cultures, and it's important when you are a creator that you keep finding new experiences and perspectives.