Hublot Loves Art: 5 Of The Watchmaker's Most Stunning Artistic Collaborations
We highlight some of the most interesting timepieces to result from watchmaker Hublot's ongoing collaborations with artists and creative thinkers
Hublot Focus
Cutting-edge Swiss watchmaker Hublot operates according to a philosophy of 'The Art of Fusion'. The 'fusion' element is embodied in the brand's use of innovative and unexpected materials alongside more standard precious metals, and the virtuosity of its forward-thinking yet traditionally inspired in-house movements.
Meanwhile, 'art' is evident not only in Hublot watches' craftsmanship and uncompromisingly contemporary aesthetics, but also, in the company's deep appreciation for and frequent collaborations with leading artists and notable creatives from various fields.
According to Hublot's chairman, Jean-Claude Biver, "Unlike technology, art never becomes obsolete. A painting by Matisse or Renoir may not be liked by the new generation but it can never be obsolete."
Thus, artistic collaborations bring a sense of timelessness to Hublot's timepieces—a fusion of the new and the perennial. "Fusion is life. It's a philosophy. A concept so simple that it is child's play. Therein lies the key to success: innovation which reveals this self-evident premise," Biver says. "From time immemorial, the greatest achievements have grown out of the simplest ideas."
These are a few of the most outstanding timepieces to have resulted from Hublot's ongoing interplay with the world of art, design and imaginative self-expression.
Tristan Eaton & Hush
The most recent Hublot Loves Art collaborations, timepieces representing the United States' east and west coasts' fixations on Fortune and Fame—respectively created in partnership with leading street artists Tristan Eaton and Hush—were presented in Geneva earlier this year. Creative studio chief, cult toy designer and prolific aerosol muralist Eaton handled east coast, fortune-themed duties.
His Classic Fusion Bronze chronograph takes a cue from Wall Street's iconic Charging Bull sculpture with its brushed-bronze case finish, polished gold-plated appliques adorning the dial, and collage of financial-themed imagery on the case back.
It's Eaton's second collaboration with Hublot, following the presentation of a Classic Fusion with unique concrete bezel in 2016. "It is exciting for me as an artist to have the opportunity once again to partner with Hublot and collaborate on another timepiece with the brand," he remarked. Fellow street artist Hush, meanwhile, sought inspiration from Los Angeles celebrity culture, his Spirit of Big Bang West Coast Ceramic Black and White bearing the image of a glamorous Hollywood beauty on the caseback.
"The image I created for Hublot has a multitude of ideas which represent 'Fame, individuality and strength to the iconic personality' as well as placing itself in time through my contemporary street art influenced aesthetic," Hush stated. The 42mm, tonneau-shaped watch boasts a skeletonized 'Aerofusion' dial surrounded by a white ceramic bezel.
Richard Orlinski
A sculptor whose work focuses on the theme of 'Born Wild', Richard Orlinski is one of the most popular artists practising today. Held to be the best-selling French artist alive, Orlinski collaborated with Hublot in 2017, co-creating two limited-edition models (with 200 pieces each in mirror-polished titanium and blue ceramic cases), inspired by his vivacious, pop art-inflected sculptures.
Described by the brand as "a 45-mm work of art designed to be worn on the wrist," the Hublot x Richard Orlinski watch's case, crown, bezel and push buttons feature the facets that are a frequent leitmotif of Orlinski's scuplture, while the dial is cast from sapphire crystal.
Hublot CEO Ricardo Guadalupe calls the Classic Fusion Aerofusion Chronograph Orlinski "Original, bold, intriguing, unique." Boasting an entirely beveled case structure, Gudalupe said, "Its three-dimensional silhouette meant completely redesigning the construction of the case, whose facets have been extended to all the contours of the bezel."
The result of this painstaking work? A portable, miniaturised, mechanical time-telling rendition of Orlinski's remarkable sculpture.
Maxime Buchi
Maxime Buchi is a Swiss designer and creative director (for clients including Arena Homme + and Self Service magazines, and brands such as Miu Miu and Chloé), who also founded and heads the cult London tattoo studio, magazine, clothing brand and creative agency known as Sang Bleu.
Of the 200-piece limited-edition Hublot Big Bang Sang Bleu, Buchi said, "For me, the coming together of Sang Bleu and Hublot is a match made in heaven, insofar as the two projects, in their respective domains, represent the highest level of technical and creative innovation without ever compromising the quality of their aesthetics.
See also: 5 Things To Know About Maxime Buchi
A feature of Sang Bleu and Hublot is the principle of 'fusion', in their manner of building bridges between materials, techniques and cultures. As a watch lover, I have always dreamed of such a collaboration, and I cannot imagine a greater opportunity to further develop my creative scope and the reach of Sang Bleu."
The titanium and black composite resin watch reflects Buchi's geometric, linear tattoo aesthetic, displaying time not with hands, but instead using rhodium-coated octagonal discs which point at hour and minute markers in a font of Buchi's own design. It's one of Hublot's most critically acclaimed collaborative timepieces to date.
Romero Britto
Even the most casual art observer will be familiar with the vastly popular work of Brazil's Romero Britto. His visuals brimming with colour, life and optimism, the painter, serigrapher, sculptor and philanthropist gleans inspiration from diverse sources including graffiti, cubism and pop to create art that he hopes will make the world a happier, more vibrant place.
Explaining his positivity-filled approach, Britto once said, "I believe that every human being should try to do good for someone else. There are so many different ways to do it. My art can be an instrument for helping people... What a good feeling — that I can do that with my art."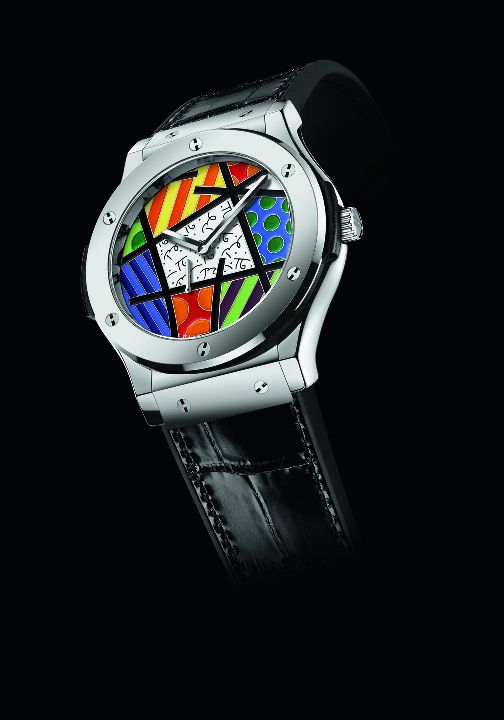 Collaborating with Hublot in 2015, Britto's Classic Fusion watches (made in limited editions of 50 in ceramic case, 30 in platinum) feature intricate champlevé enamel renderings of the artist's signature graphic motifs. Powered by manual-wound manufacture movements, both platinum and ceramic editions are borne on a glossy black alligator leather strap.
Hublot also worked with Britto on their one-off contribution to the 2015 Only Watch auction, an annual charity sale featuring timepieces from the world's leading watchmakers, which raises money for muscular dystrophy research. The singular timepiece was auctioned in conjunction with an original Britto artwork, the significant sum raised furthering the artist's goal of bringing a little more joy into the world.
Chen Man
Described by the New York Times as "China's Annie Leibovitz", Chen Man is a visual artist and photographer whose work has appeared in i-D, Vogue, Marie Claire, Elle, Harper's Bazaar and Esquire magazines, amongst others. Highly in demand as a celebrity photographer, she has applied her hyper-real style to portraiture for top names such as Zhang Ziyi, Rihanna, Nicole Kidman, Fan Bingbing, Li Bingbing, Victoria Beckham and Benedict Cumberbatch.
Her studio has also produced ad campaigns for brands including Dior, Gucci, Mercedes-Benz, adidas, Absolut, Shiseido, L'Oréal, MAC, Canon, Guess, Sharp, Beats, Cadillac, Volkswagen, Converse, Budweiser and Maybelline.
Her 2017 collaboration with Hublot on the Big Bang One Click 39mm Chen Man (a limited edition of 100 pieces) was an elegant Oriental-influenced timepiece, playing off the artist/photographer's penchant for rendering traditional Chinese motifs in a modern manner. In a stainless-steel case with a mother-of-pearl dial, peach blossom-shaped appliques at 3, 6, 9 and 12 o'clock marks represent the flower's cycle of life. Switching between the supplied light green and white rubber straps is as simple as 'one click'—much like snapping a photograph.
See also: Hublot Gets Inked With Maxime Buchi