The Alchemist: How Iris Van Herpen Has Redefined Couture Craftsmanship With Modern Technologies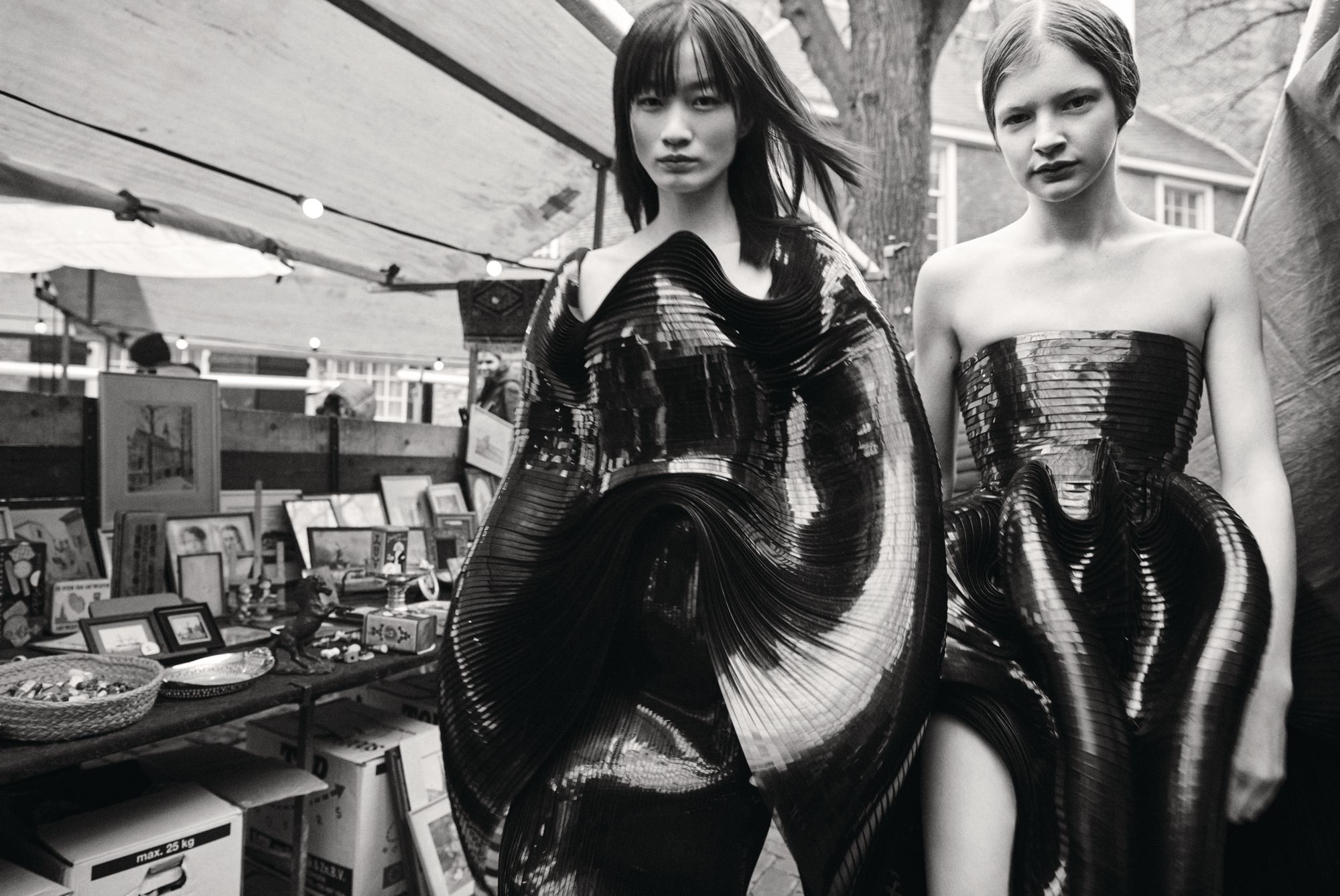 By Rosana Lai
April 08, 2020
Dutch designer Iris van Herpen uses the latest technology to create poetic collections inspired by everything from the depths of the ocean to the solar system
From across the bridge, a jumble of sinister, inky snakes seemed to be writhing around the model, ensnaring her thin frame as she teetered on the edge of an Amsterdam canal. But she was not in any immediate danger of suffocation, because on closer inspection, the snakes were in fact folding acrylic tubes made to imitate a serpent—and also, according to the designer, to evoke the mental shape of confusion. Such is the poetic and sometimes unsettling power of an Iris van Herpen dress.
On a squally Monday morning I visited her atelier, located next to Amsterdam's Centraal Station overlooking the IJ river and nestled in a nondescript building occupied by other fellow craftsmen like a piano maker. Based on her reputation for melding cutting-edge technology with traditional couture techniques, I had expected to see industrial fabric printers stationed everywhere, but there were no whirring machines in her brightly lit studio, just the quiet chatter of two assistants painstakingly gluing pieces of comma-shaped silicone onto tulle.
The months immediately after a show are usually the calmest for Van Herpen, who recently vacationed in La Gomera in Tenerife to recharge. Dressed in a mohair jumper and black jeans, her long, slender face kept bare save for two dashes of eyeliner, she appears as willowy and unexpectedly beautiful as one of her dresses.
Hers is the face of innovation in fashion. In just a little more than a decade, the 35-year-old Dutch designer has become known for spinning daring couture that combines both experimental fabrics and unorthodox collaborations. Many fashion enthusiasts will have seen her pieces displayed in museums (her next exhibition is slated to open in 2021 at Paris' prestigious Musée des Arts Décoratifs) or on eccentric artists like Bjork and Tilda Swinton.
Few, however, actually know what goes into her fantastical designs, partly because she purposely operates somewhat outside the system, showing her collections in Paris at the haute couture fashion weeks, but residing and working in Amsterdam.
Expanding Possibilities
"I think there's a lot of mystery behind my pieces," says Van Herpen in a soft lilt. "Actually 80 per cent of them are made by hand and the rest by 3D printers. I consider both the hand and machines as tools with advantages and limitations, but that together can expand the possibilities of craftsmanship."
These tools have engineered breathtaking dresses that are powerful to behold. Bustiers resembling aquatic exoskeletons curl around the body like tentacles, plissé dresses of pulsating soundwaves flutter with every breath and handblown glass-bubble gowns seem impossibly suspended from the waist. To achieve these effects, Van Herpen had to go beyond the traditional realm of stitching.
In her work, she has pioneered the use of ultrasonic welding, which uses the acoustic vibrations in high-pitched sounds to reorder and connect molecules. Other pieces were made by mixing magnetic powder with liquid silicone to form 3D shapes as they dried. Her ability to transform the nature of fabrics—or wholly create new ones— has made many observers liken her work to alchemy.
Despite her love of technological exploration, the subjects she tries to capture with her clothes are often ephemeral, theoretical or emotional in nature. The "cymatic" dress is a case in point, using a vibration technique that is both futuristic and based on historic references at the same time, in this case recalling the Chinese tradition of singing bowls.
She has also attempted to capture water in its various forms, casting a frozen splash ring around a dress in a 2011 spring ready-to-wear collection called Crystallization, for example, or commented on the digital age by making dresses with dark, hollow crevices in her 2011 couture collection Escapism. It's no wonder she counts Leonardo da Vinci as a role model—"designer" is too narrow a word to describe her.
"The ideas in my head are always a bit outside reality, but that's also what drives me," she says. "That's how I began to delve into research and science, because I wanted to understand the materials I was working with."
See also: Shanghai Fashion Week Experiments With First-Ever Livestream-Only Format And We Have Some Thoughts
Collaborative Community
As the morning passed, an incessant rain beat horizontally against the windows, delaying our departure from the atelier for a portrait shoot at a house we've rented to photograph her collection. Van Herpen says she had walked 30 minutes from her home to the atelier that day, as she always does, rain or shine. Perhaps because we're running late—or to spare a visitor unaccustomed to the Dutch downpour—we hopped into her office manager's car, passing picturesque roofs sardined along the canal.
When we arrived, a hushed reverence fell over the crew and even the landlady rushed down the narrow stairs to pay her love and respect to the designer. Unfazed by the attention, she was perfectly cordial and even decided to stay for lunch with the crew. Her team, a young group hailing from all over Europe, supported by an army of interns, all speak fondly of their mentor.
"I enjoy sharing ideas and fostering a collaborative environment," says Van Herpen. "Thanks to technology I also see these new fashion students more conscious about the world and other disciplines than I was. They're now learning about growing materials at school, which I find so amazing."
The Power of Dance
Van Herpen was born in a tiny village outside Amsterdam to parents who swapped television and computers for creative pursuits. "My mother was a dance teacher, and I'd also learn the violin or paint in my spare time," she says. "My upbringing has given me confidence in expressing myself creatively." She discovered fashion for the first time in her grandmother's attic, where she unearthed a treasure trove of reclaimed garments and costumes that spanned decades ("It was a like a mini-museum").
Until the age of 12, she had dreamed of becoming a classical ballet dancer. "I think dance has a transformative power that really attracted me," she explains. "Till today, in every piece, I look for movement, emotional expression and that aliveness." As we dressed a model in one of her creations, this one looking suitable for a mermaid with its ribbed tendrils spilling across the body, Van Herpen was giddy, expressing pleasure at seeing this archival piece from her fall 2011 collection—which had been borrowed from a museum for this occasion—come back to life. "It's nice to have it breathe again."
Creative Beginnings
After graduating from the ArtEZ Academy of Art & Design in Arnhem, she was swiftly recruited by the notoriously challenging and creative designer Alexander McQueen in 2005 as an intern. This experience in London was hectic and rigorous, but also eye-opening. Having been a student who was expected to produce entire collections herself, she was amazed at the number of hands that touched each piece at McQueen, and marvelled at the intricacy in craftsmanship. It was also there that she got the itch to start her own label. "I'm a very curious person and I have ideas of experiments I want to try out every day," she says. "But at McQueen, I had to shelve them for four years. I really got this urge to be independent and create for myself."
When she began her label in 2007, sustainability, though already a topic being discussed in fashion, did not have the urgency it has today, and was therefore not something she consciously incorporated into her brand. In retrospect, her decision to create innovative materials has made her a part of the conversation nevertheless. "Couture has held different meanings over the last few centuries and today, I think, it should be a laboratory to create techniques and materials to not only perfect fashion to its rarest form, but also help minimise our environmental footprint."
In the coming decades, this could manifest itself in the form of 4D printing, an evolution of 3D printing whereby a piece of lace, for example, could be coded to change over time, whether under the influence of heat, water or even movement of the body itself. Imagine a jacket that could adapt to the temperature of each day, meaning we'd only need one instead of, say, five. "We already know we need less clothes, but it's quite another thing to convince people to want less clothes," she says.
See also: Talents of Tomorrow: 10 Emerging Asian Fashion Designers You Need To Know
Traversing Boundaries
Over the years, Van Herpen's work has been defined as well by her collaborative spirit, and she continues to find "magic" in the meeting of minds, particularly in projects involving her passion for dance, like creating costumes for productions by choreographers Benjamin Millipied and Sasha Waltz. "When a garment inspires a dancer, whether emotionally or functionally, that's when I feel fashion and dance intertwine and it's a really magical moment."
Indeed, as our model draped her arm over the chandelier and rocked her body to and fro, she seemed encouraged to dance, the dress coaxing her to wave her arm like a tail fin. They were, for that brief moment, in conversation with each other.
In the past decade, Van Herpen's collaborators have grown to include entire organisations like CERN—where the Large Hadron Collider's ability to accelerate particles with magnetic forces inspired her latticework pinafores in her spring 2015 collection, Magnetic Motion—as well as with other talents like renowned Canadian architect Philip Beesley. Beesley had seen Van Herpen's Hybrid Holism collection that was inspired by his immersive installation art and decided to pay her a visit. It felt like a meeting of old friends.
"With a rapidity that still astonishes me, we formed a common language," says Beesley. "The beauty and sensitivity of her couture reflects the beauty from under the skin all the way to outer space. And even with something as empty or cold as space, in her hands, it could be made into something charged with radiant energy."
Visions of the Future
Her Sensory Seas collection, shown just this February, is a great example. Van Herpen says she mentally dived into the sea and emerged with dendrite-like dresses that oscillated with the grace of jellyfish. "It was also partly inspired by the drawings of Santiago Ramón y Cajal, a scientist from the 1800s who illustrated our nervous systems," she adds. "I loved the idea of connecting the emotional world inside us with the medusa forms of the sea, creating this beautiful collision." There seems to be no idea or field that is too farfetched for her to translate into clothing.
Before we left her studio that morning, I'd asked: having tapped the minds of artists, architects and scientists, what field is she most interested in next? She pondered the question for a long minute, blonde hair tousled over one shoulder as she stared into the distance at her mannequins—not quite at the clothes themselves, but at the space in between, searching it for words.
"Philosophy," she says finally. "I've never had personal encounters with philosophers and seeing how the scientists at CERN opened my mind, I think a philosopher would do the same. I love how, like science, philosophy asks more questions than it answers."
After a day spent with her, it became abundantly clear that Van Herpen's greatest impact lies neither in her technological dexterity nor even creative talent, but in her openness towards differing voices, curious attitude and excitement towards the unknown, where others only see fear and doubt. At a time when borders are closing at the slightest tremor, and suspicion and distrust cast shadows over societies, it's perhaps more useful than ever to look to Van Herpen not just for beautiful dresses but also for a little perspective.
"Ceaselessly exploring and inventing, she shows me how to be fundamentally optimistic," says Beesley. "And the sheer fertility of her designs encourages me to dream of new, hope-filled futures."
See also: Eco-Friendly Style: 8 Sustainable Fashion Brands To Shop Now

---
Want to see more from Tatler Hong Kong? You can now download and read our full April issue for free. Simply click here and use the code THKApril2020 to redeem your free issue.
Please note, the free download is available from 6 April, 2020 and is valid until 30 April, 2020.
Photography Kiet Duong at Witman Kleipool for Tatler Hong Kong
Styling Rosana Lai
Hair Daan Kneppers at N.C.L. Representation
Make-Up David Koppelaar at House of Orange
Production Elsbeth van Nieuwenhuijsen at Witman Kleipool, Marina Fairfax Fashion Consultancy
Model Fedde Betting at IBTM Models and Yi at Wild Management