Milan Fashion Week Fall/Winter 2020: Day 3 Highlights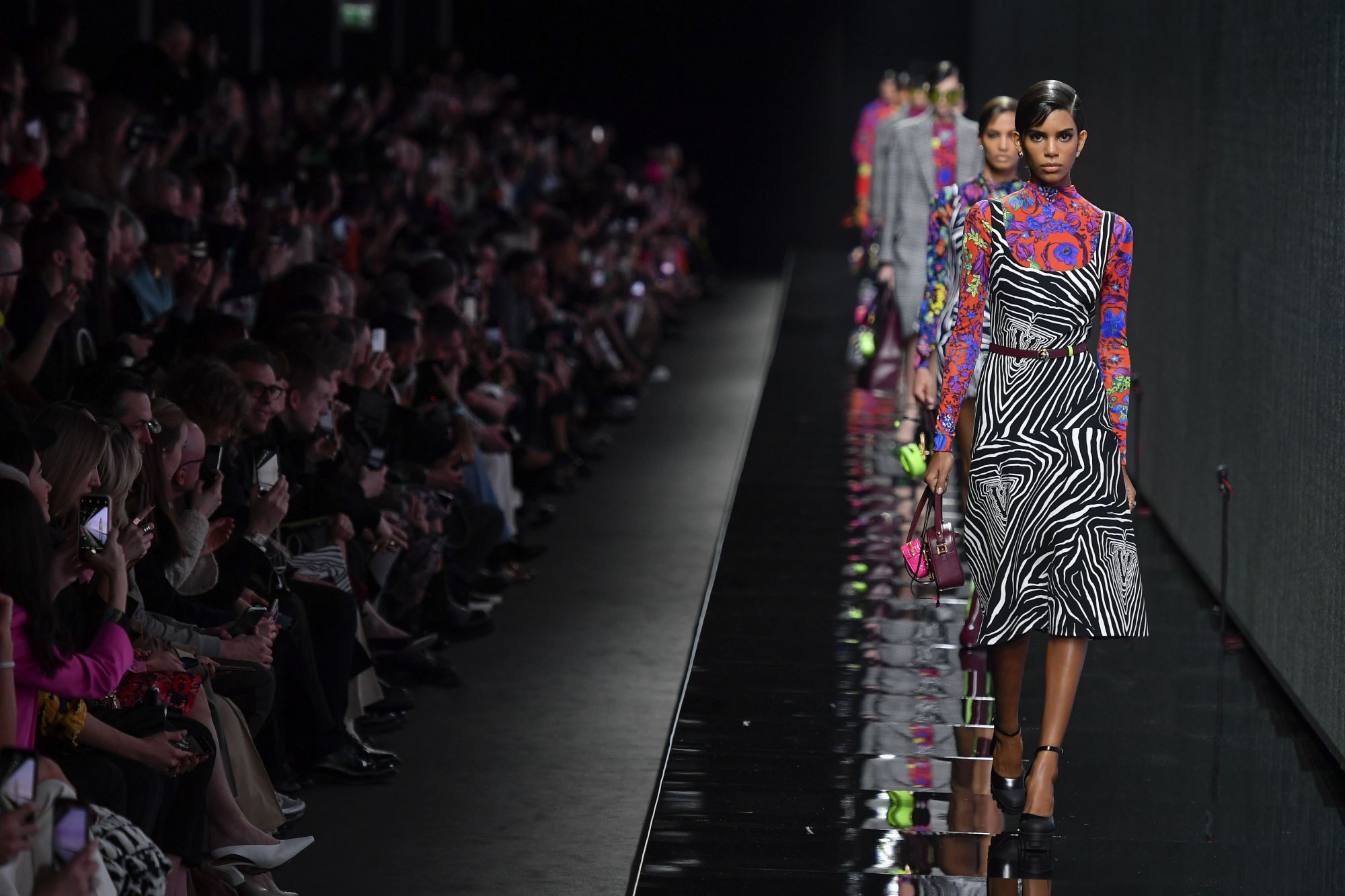 By Rosana Lai
February 24, 2020
Tod's new creative director Walter Chiapponi debuts his first collection, Versace delivers a standout collection with an immersive setting and more
TOD's
Slouchy corduroy trousers and masculine silhouettes dominated newly appointed creative director Walter Chiapponi's debut collection for Tod's. There were giant coats of every sort (puffed long coat on Kaia Gerber, a glossy, padded anorak, two-toned trench) some cinched at the waist and paired with barely-there shorts. But, in keeping the house's legacy, the patchwork leather skirts and jackets were some of the highlights still.
See also: Milan Fashion Week Fall/Winter 2020: Day 1 Highlights
Emporio Armani
Also putting traditional menswear garments on women, Mr. Armani showed women dressed as dandies, complete with high-buttoned blazers and culottes topped off with bowler hats. But the collection inevitably eased back into what he does best—classic eveningwear, this time in forest greens and turquoise of embroidered, velvet separates and flouncy mini-dresses.
See also: Milan Fashion Week Fall/Winter 2020: Day 2 Highlights
Loro Piana
Sportmax
Spliced wool jackets, cut-and-paste leather panelling and the occasional harness—this season's Sportmax collection is not unlike the last but with an unexpected dose of disco glitter at the end, sprinkled onto tuxedo jackets and trailing frocks, alongside metallic toga dresses.
Etro
Etro's seasonal wanderlust takes us to Navajo country for fall, heavy on the fringe and cross-stitched embroidery found on everything from denim to jacquard jackets. Of course, the house's paisley still wove its way onto most pieces, from quilted smoking jackets to velvet wrap dresses. Egyptian gold lame ended the show on a high note.
Versace
On an endless, mirrored runway set against an LED screen, what seemed like an endless line of models strutted in bedazzled tracksuits, a few, preppy plaid and houndstooth uniforms, zany zebra and psychedelic floral prints. The stripe-panelled denim was flattering on men and women alike, while the club-ready frocks (slime green and too-mini or adorned with crystal shoulders) on every supermodel under the Versace sun, kept with tradition and closed the show.
See also: These Fashion Giants Have Donated Millions To Battle Coronavirus