Paris Fashion Week Fall/Winter 2019: Day 7 and 8 Highlights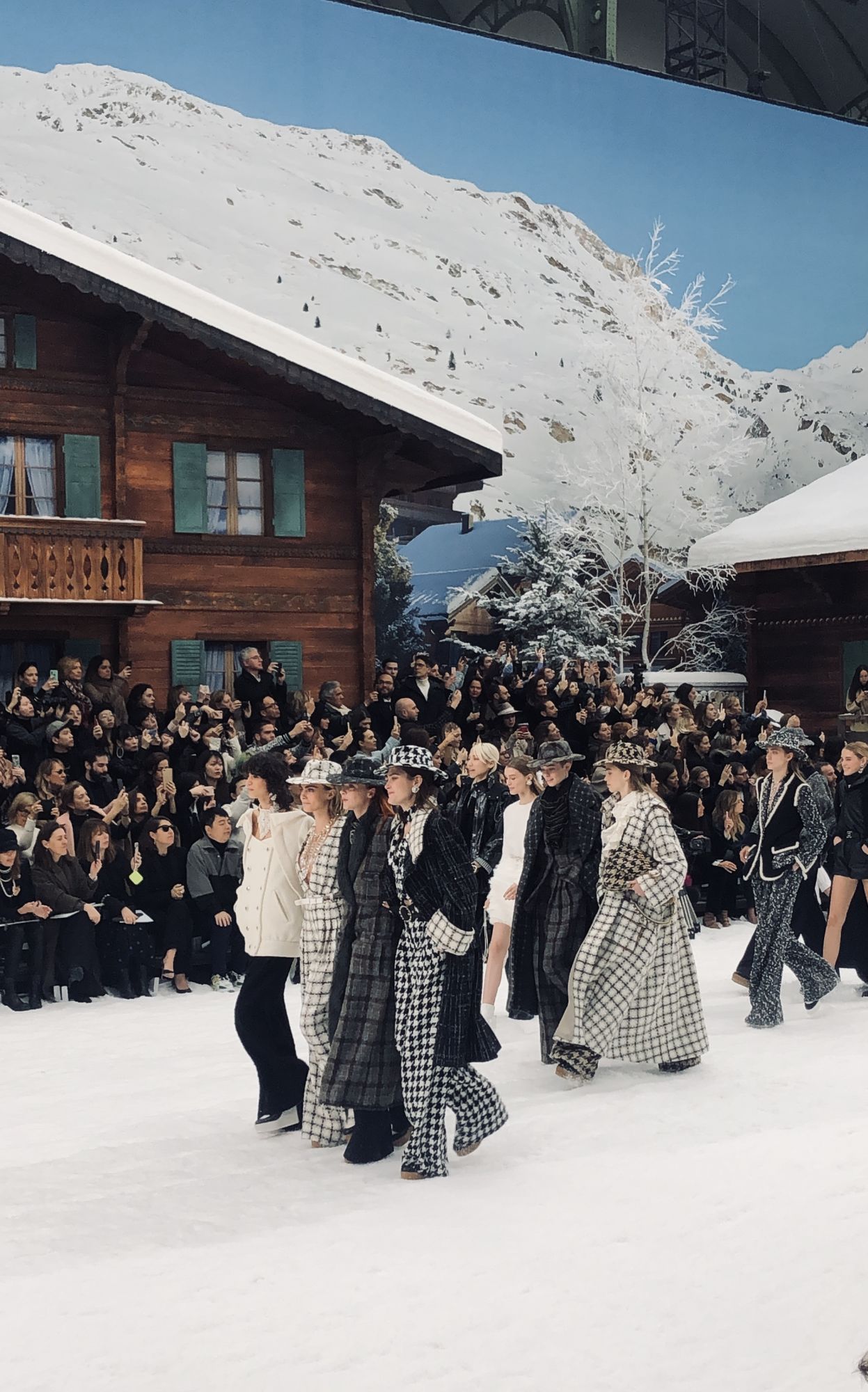 By Justine Lee
March 05, 2019
Wrapping up the week with mix-master Chitose Abe at Sacai, a back-to-the-future collection at Louis Vuitton, and last but not least, Karl Lagerfeld's final collection for Chanel
Sacai
There are a few things that Chitose Abe loves—bombers, chunky knits, pleated, flowing skirts and men's fabrics (suiting or shirts). She finds ways to incorporate them in each of her collection, no matter the season, and is always able to spin them around in exciting new ways.
Looks early on in the collection included long belted trench coats fused with bomber jacket trims and a corset, while turtleneck knits are belted with a nylon jacket corset.
See also: Paris Fashion Week Fall/Winter 2019: Day 1 Highlights
Alexander McQueen
Sarah Burton took her team at Alexander McQueen to her hometown in Northern England to inspire the new collection. Men's tailoring fabrics and wild blooms were a few things that jumped out—and that's what was transformed into the collection.
Trouser suits with sashes at the waist, silk taffeta dresses moulded into roses, and topped off with heavy metal-models' ears were all layered with hoops, alongside body chains and studded knuckle-duster clutches.
See also: Paris Fashion Week Fall/Winter 2019: Day 2 Highlights
Chanel
Arguably the most anticipated show this season is Karl Lagerfeld's last collection for Chanel. The Grand Palais transformed into the Alps—complete with snow, chalets and skis lined up on the side. The sound of wind chimes started the show, and models walked out from chalet doors in floor-grazing checked ensembles, then various styles of stylish apres-ski attire before finally, black and white ensembles that felt a little closer to home—reminiscent of Karl himself.
Models who Karl has come to favour were all in attendance; Cara Delevigne opened the show, Penelope Cruz made an appearance on the runway, and closing the show is Dutch model, Luna Bijl, whom he has been known to call one of his "Choupettes", after his beloved kitten.
See also: Flashback: Karl Lagerfeld's Chanel In Hong Kong Tatler Through The Decades
Anaïs Jourden
Anais Jourden is the only Hong Kong label to show on the official Paris Fashion Week schedule. The former Generation T Lister, Anais Mak, has honed into the brand's signature looks—playful dresses and skirts with assymetrical hems, but also introducing tailored lace jacket with matching pencil trousers.
Also topping our FW19 wishlist is Jourden's fabric puffer jackets and oversized faux fur coats.
See also: Jourden Designer Anais Mak On The Future Of Retail
Miu Miu
While plenty of Miu Miu's FW19 collection seemed prim and proper (think floor-length capes and military coats), they were playfully worn over mini hemlines and sheer skirts. Camo prints play a big part in the collection, often juxtaposed with dizzying floral graphics, silk taffeta and disco-ready glittered heels.
See also: Paris Fashion Week Fall/Winter 2019: Day 3 Highlights
Louis Vuitton
Retro/future—a dichotomy that Nicolas Ghesquiere loves to toy with, which was reflected in the choice of set and venue. The set was the colourful pipes of Pompidou, which stood out against classic structure of the Louvre.
The collection was equal parts back to the future—Ghesquire pumped up the volume with ruffled blouses and skater skirts, shoulders and lapels were exaggerated, jackets were worn with skinny ties and leather skullcaps finished just about every look.
See also: Paris Fashion Week Fall/Winter 2019: Day 4 Highlights