Milan Fashion Week Highlights: Karl Lagerfeld & Lisa Aiken
By Justine Lee
February 24, 2017
Our fashion director takes us from Fendi to Prada to Moschino
To say the second day of Milan Fashion Week FW17 was packed would be an understatement—starting off with our fashion director Justine's most anticipated show, Fendi. Then it was onto Roberto Cavalli, Pucci, Prada and finally Moschino, while catching up with a couple of familiar faces in between.
Finally Fendi
Fall/Winter for Fendi means layers and furs—what I love the most about the brand. I loved that they also took this opportunity to bring back the double F logo, which we haven't seen in years. (Trend to note: logo mania isn't going anywhere!) Heritage tweed suits, boxy-shouldered mink coats, and new and old F logos (seen on earrings and even a new Baguette-like handbag) are the perfect mix of old and new school.
Love those boots
Fendi's unique way of patch-working fur is just unparalleled. A coat like this will have no lining and the pattern on the outside will be identical on the inside. And those red boots! They were seen on almost every look—thigh-high red leather boots—I'll take them in a 37!
The 'It' girls
Fashion 'It'-girls of the moment Gigi, Bella and Kendall all made their rounds and took turns hitting the double F runway this afternoon.
Clap for Karl and Sylvia
An 83-year-old Karl Lagerfeld shows no sign of slowing down. Here he is alongside Silva Fendi for the final bow.
Gotta snap the Hadid sandwich
Cameras and mobs (myself included) backstage at the Fendi show trying to get a closer look at the Hadid sandwich—Bella, Karl and Gigi.
Pale vision
Roberto Cavalli's Fall/Winter 2017 collection was designed by the in-house team, as the Italian brand has yet to name a successor since Dundas' departure for the house. The in-house team presented an eveningwear-heavy collection with strong links to the house's codes—animal prints and skins, ruffles with exquisite embroideries.
Get it in white
A few months ago, Net-a-Porter's Fashion Director Lisa Aiken came to Hong Kong and presented the SS17 trends, one thing she said, which I clearly took to heart, was that it was all about a white shoe. Here's a twinning shot—Lisa is in Gianvito Rossi and I'm in Céline.
What a stunner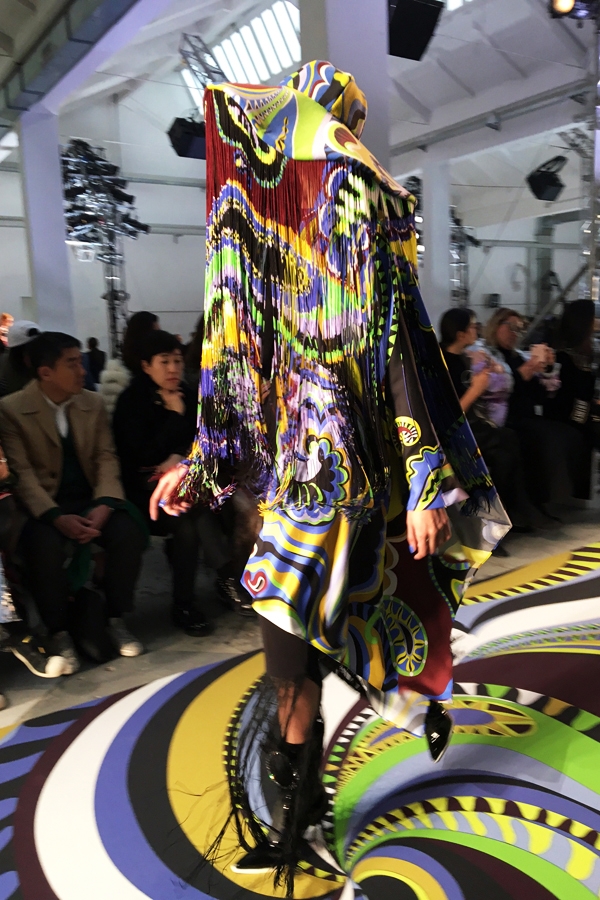 It's quite amazing what a stylist can do to a fashion show. Vetements' stylist, Lotta Volkova, sprinkled her magic into this afternoon's Emilio Pucci show.
Bag memories
Spent the afternoon after the MSGM show with good friend Bryanboy. Raided his hotel room and came across this Christian Dior saddle bag circa John Galliano's era. We reminisced on our first ever designer handbags as teenagers. Mine was a Dior and his was an LV Speedy—the good old days!
Keeping warm with Prada
Coloured shearling, ostrich fur hoods and scarves on almost every look at Prada.
Not trash but treasure
Jeremy Scott rummages through the trash for inspiration for this season's Moschino—quite literally, proving all things can be upcycled. Cardboard boxes paved the catwalk, while burlap fabrics, bubble wrap and trash bags were repurposed onto dresses. One of my personal favourites—the dry cleaning dress, complete with a tube sock bag.
Check out Milan Fashion Week Highlights from Day 1, Day 3 and Day 4. Follow @justinelee425 and @hongkongtatler for the latest updates.