5 Top Spa Treatments for Mother's Day
Express your gratitude this Mother's Day with an indulgent spa treatment
The most thoughtful way to say "thank you for being a great mother" is undoubtedly through arranging an indulgent spa package for your family matriarch. This Mother's Day, luxury spas around Hong Kong are pulling all the stops to make sure you'll get your message of gratitude across. Click through to discover the five best treatments to pamper the woman you so deeply appreciate.
---
Natura Bissé Oxygen Awakening Facial at The Oriental Spa
This intensive treatment at the Landmark Mandarin Oriental's spa is ideal for hardworking mothers whose skin deserves a much-needed break. The one-hour facial delivers a potent dose of oxygen — one that can be immediately felt in the pores — and brings forth a rejuvenated glow. The technician is skilled in adding extra touches with Natura Bissé products that will enhance results, from a purifying scrub to a serum massage.
To further lock in the elixirs used in the treatment, the spa's state-of-the-art facilities —ranging from a Hamam to crystal steam room — can be used afterwards to guarantee maximum absorption.
The Oxygen Awakening Facial is priced at HK$1,500 Monday to Thursday and HK$1,650 Friday to Sunday.
The Oriental Spa, The Landmark Mandarin Oriental, 15 Queen's Road Central; +852 2132-0011
---
Elemis Botanical Touch at Melo Spa
This nourishing 80-minute treatment will leave your mother smelling like a lovely English rose. A hydrating full-body scrub is followed by a revitalising massage, all using products from Elemis' essential oil range. Go the extra mile with the premium Elemis Botanical Spa and Tea package, which concludes the session with a relaxing herbal afternoon tea set.
The Elemis Botanical Touch treatment costs HK$1,199 per person, while the Elemis Botanical Spa and Tea package is priced at HK$1,368 per person.
Melo Spa, 5/F, Hyatt Regency Hong Kong, 18 Chak Cheung Street, Sha Tin, New Territories; +852 3723-7684
---
The Pampering Package at Ten Feet Tall
Spending quality time with mum is practically a given on this special day, but you can make the most out of your bonding session by making it more enjoyable for the both of you. This two-person pampering package, available exclusively at Bydeau, includes a foot massage for two at Ten Feet Tall and two glasses of Veuve Clicquot Champagne. Add in an order of a Bydeau bouquet to make her day extra special.
The Pampering Package for two is available for HK$890 at Bydeau.com.
Ten Feet Tall, 137-141 Queen's Road Central; +852 2971-1010
---
Be Present Day of Beauty Package at The Four Seasons Spa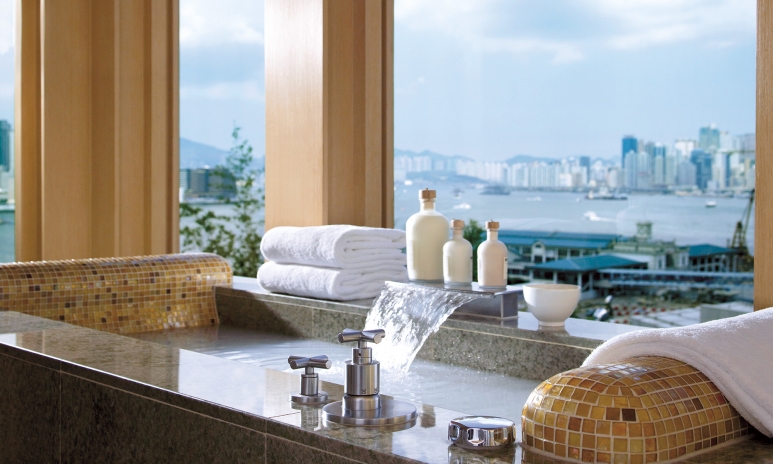 As the ultimate "thank you" gesture, indulge your mother with this half-day spa experience at The Four Seasons. The package includes a scrub and oil massage inspired by Ayurveda therapy, a shirodhara hair treatment, an Expresso Manicure and Pedicure at the Nail Bar, topped off with an al fresco lunch on the terrace. As our review can prove, there's no better gift than some interrupted "me" time.
The Be Present Day of Beauty package by Four Seasons Spa is priced from HK$4,300.
The Four Seasons Spa, The Four Seasons Hong Kong, 8 Finance Street, Central; +852 3196-8888
---
Instant Light Complexion Facial at The Peninsula Spa
This treatment takes inspiration from Cleopatra's fabled beauty routine, in which she wore a gold mask to bed every night. Featuring a 24-carat gold chain mask and luxurious skincare products from Margy's Monte Carlo, the treatment effectively delays collagen depletion and the elastin breakdown. The metallic chains provide a medium for electro-acoustic signals and ion conductivity, both of which stimulates cellular growth of the skin and helps turn back the clock.
The 90-minute Instant Light Complexion Facial is priced at HK$3,900.
The Peninsula Spa, The Peninsula Hong Kong, Salisbury Road, Tsim Sha Tsui; +852 2696-6682
---