Tom Ford Beauty's Latest Fragrances Are Anything But Skin Deep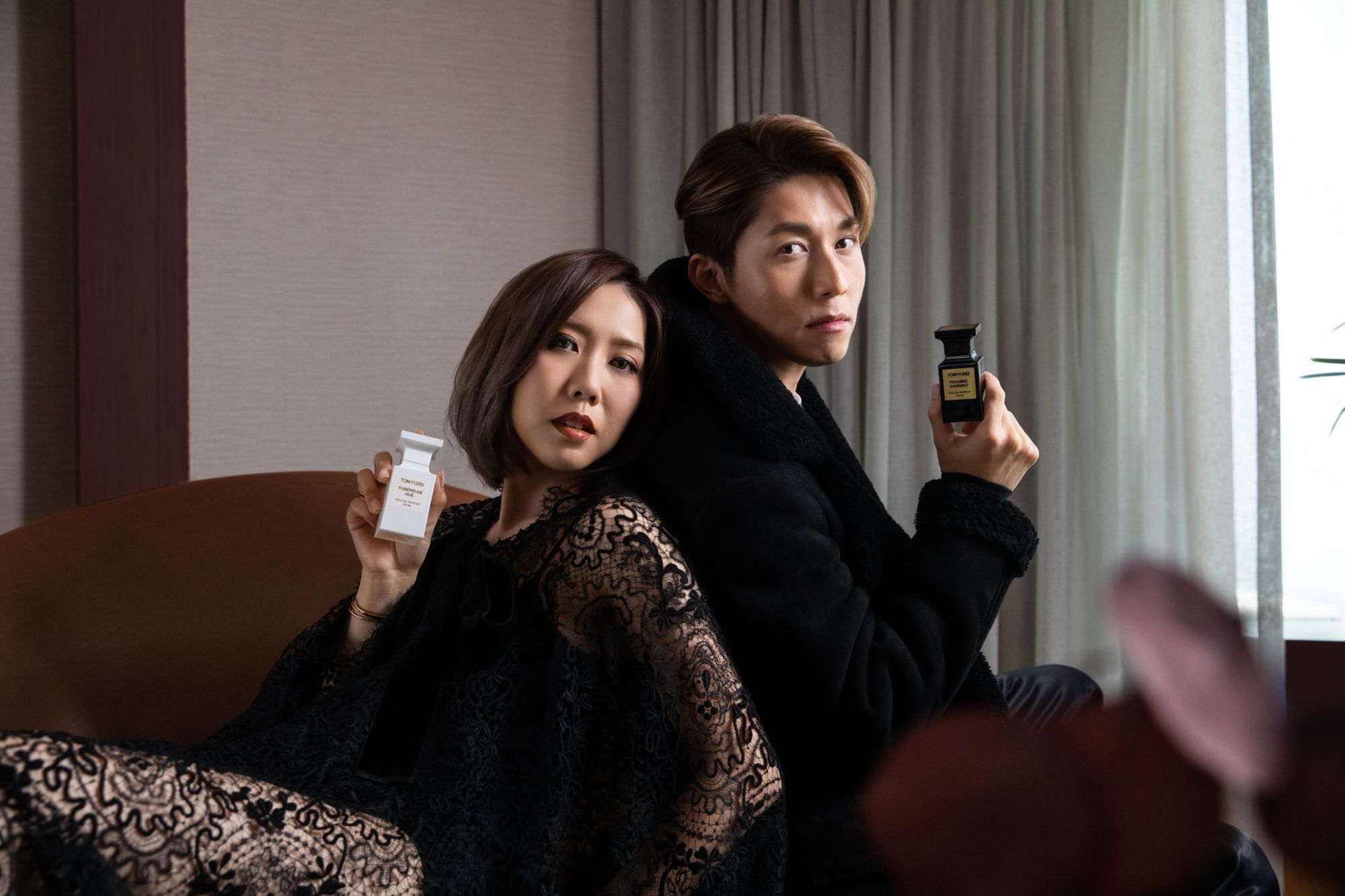 From aromatic woods to musky notes, The Private Blend collection by Tom Ford Beauty encourages Faye Tsui and Edwin Pun to walk down memory lane
A picture may be worth a thousand words, but a familiar scent is likely to leave you speechless; there's nothing quite like an intoxicating smell to make you feel nostalgic for a person, a place, a feeling.
Edwin Pun agrees, waxing lyrical about the scents that remind him of his former home and happy place, New York. "It's sultry and steamy", the 35-year-old director of Keyestone Group back reminisces. "There's definitely that smell of old leather and wood, as the city has a lot of old buildings and history to it."
Faye Tsui holds firm to the belief that an air of luxury can be conjured by a simple scent. The stylist and fashion blogger is drawn to fragrances that express her personality, combining "a gentle side" with an air of the "wild and sensual." Her sentiments are shared by Pun. "There's more than just one side to me," he explains, "so there should be a complexity to [my fragrance], too."
Watch the video below to learn more about Faye and Edwin's favourite fragrances:
It's perhaps unsurprising, then, that after exploring the new fragrances in Tom Ford Beauty's latest collection, they gravitated to some of its boldest scents—Tsui to the elegant, musky undertones and saffron spiced scent of White Suede, and Pun to more heady combinations of smoky woods and the sultry scents of amber and cardamom in Oud Wood. After all, Pun says, "When it comes to fragrance, more is more."
The Private Blend collection, a unique, carefully curated range Ford has labelled his 'scent laboratory', consists of 16 luxurious fragrances that develop over time, transforming from a singular scent to reveal complex undertones that defy convention. Tom Ford's latest fragrance, Tubereuse Nue, evokes the intense scent of night-blooming tubereuse and jasmine, peppered with spiced Akigalawood and Timut pepper to create a full-bodied, amorous scent.
While to many, luxury is synonymous with exclusivity and ostentation, for Pun, it's something altogether different. "To me, true luxury is when you feel completely authentic in your own skin," he explains. "You don't have to try to imitate another person," he continues. "Have your own personality. Be bold."
See also: Edwin Pun Talks Opening US$620 Million Hello Kitty Theme Park in Sanya
Staying authentic to her own personality, Tsui gravitated to her favourite fragrance for the feeling it creates. "It feels like I'm wearing a suede jacket," she explains. "It feels warm and soft and at the same time, like a second skin I can wear from day to night."
Whatever your favoured fragrance, it will likely leave a lasting impression. "I remember one time I was living in Los Angeles," Pun recounts, "I was trying a new fragrance, and someone stopped me and asked me what I was wearing. I thought she meant my outfit, but she said no—your fragrance—what are you wearing? It really leaves an impression on people. Fragrance is fashion for the nose."
Discover more about The Private Blend collection here
Hair Ziv Yeung
Make-Up Meegan Seak